Body Language Expert Describes The Big Change In Kate's Relationship With Charlotte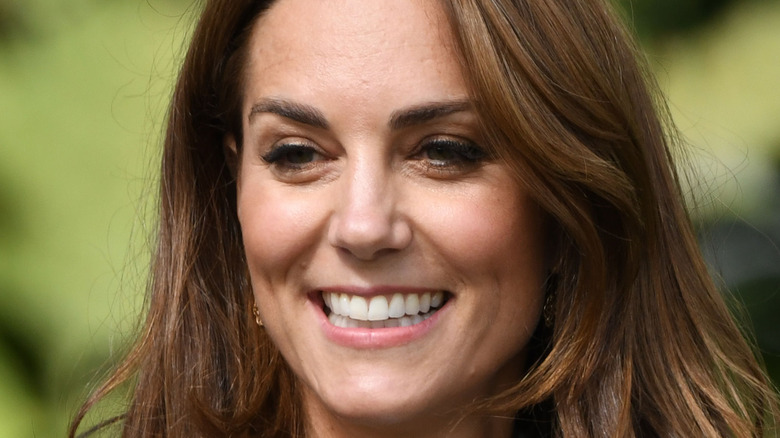 LINGTREN.COM/Shutterstock
Amidst all the drama and the who's-angry-with-whom within the adults in the British royal family, it's a welcome change to see how the youngest members are growing up. Prince William and Catherine, Duchess of Cambridge, are the parents of "an heir and two spares:" 9-year-old Prince George, 7-year-old Princess Charlotte, and 4-year-old Prince Louis. William and Kate are said to be strict parents when it comes to manners and protocol, but according to experts who spoke to The Sun, the royal couple prefer a talk-it-out approach rather than yelling.
In recent months, the public has seen more of the young royals at important public events. During Queen Elizabeth's Platinum Jubilee, the Duke and Duchess of Cambridge were accompanied by George and Charlotte at the Trooping the Colour ceremony and the spectacular Platinum Party at the Palace concert. Most recently, William and Kate brought their daughter to some of the events at the Commonwealth Games, an Olympics of sorts involving athletes from the British Commonwealth nations. Although the events themselves were thrilling, the public was even more enthralled by the funny expressions Charlotte made when she was excited with the action.
British body language expert Judi James saw something even more significant, however. She told The U.S. Sun, "Kate is known for her smile and laughter in public, but these poses show her looking a lot more spontaneous." In fact, there were moments when she and her daughter looked exactly alike — and that shows just how close a bond the two share.
The mother-daughter mirroring speaks volumes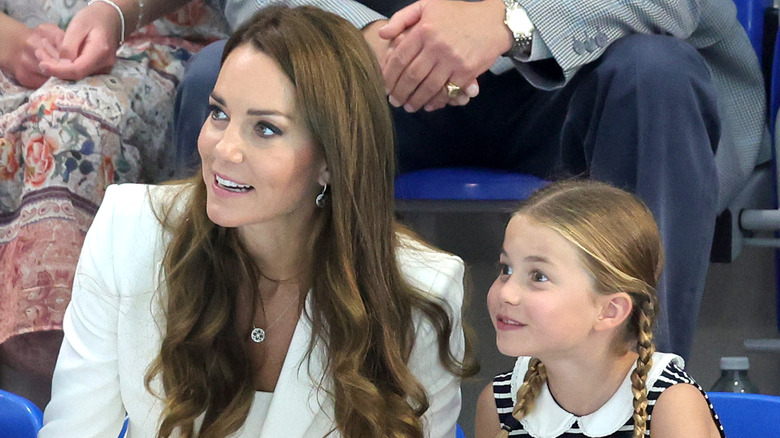 Chris Jackson/Getty Images
Judi James is a noted British body language expert who regularly appears within the U.K. media to discuss the signals sent by celebrities and politicians through their gestures and expressions. She recently spoke to The U.S. Sun about the interactions she noticed between Catherine, Duchess of Cambridge, and daughter Princess Charlotte when they sat together at the Commonwealth Games. 
James explained that Charlotte's grimaces and wide-eyed stares "could only come from a lack of shyness and self-awareness." But more significantly, the duchess appeared to be unconsciously imitating those facial expressions herself. This phenomenon is known as "mirroring," a mimicry that's hardwired into our systems from the womb, according to Forbes. Far from being an annoying habit, mirroring indicates a personal feeling of connectedness or empathy. (If a potential boss imitates your arm or leg position during a job interview, it's a good sign that you're on their short list).
James explained, "Kate appears to be taking her lead from Charlotte and mirroring her slightly, which clearly shows they are sharing the fun and losing themselves in the moment ... It is so good to see Kate following suit, even in a more subtle way."
It also bodes well for the duchess's future. Kate Middleton already emulates Queen Elizabeth in her dignified manner and her "never complain, never explain" discretion. But her willingness to let her guard down and have fun with her children indicates that she'll be an approachable queen when the time comes.