The Bold And The Beautiful's Kelly Kruger And Darin Brooks Share A Hilarious Video About Parenting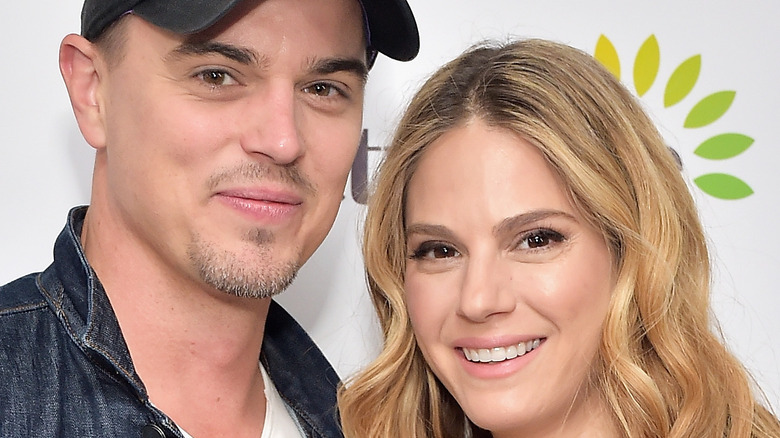 Stefanie Keenan/Getty Images
Long-time fans of "The Bold and the Beautiful" will recognize Darin Brooks as Wyatt Spencer, the adored son of notorious schemer Quinn Fuller (Rena Sofer) and half-brother of the romantically challenged Liam Spencer (Scott Clifton). However, the actor's home life with wife Kelly Kruger is far less dramatic than his on-screen family. Kruger is also a soap vet, having played both Mackenzie Browning on "The Young and the Restless" and Eva on "The Bold and the Beautiful" over the years.
Having first met on the set of "Blue Mountain State" in 2010, Brooks and Kruger finally tied the knot in 2016 (via Soaps in Depth). They couple has two children together, a daughter Everleigh they welcomed in 2019, and a second named Gemma born in February 2022. Life with two little ones at home is undoubtedly chaotic and Brooks often praises his wife on social media for being a rock-star mom to their girls. Kruger recently shared a hilarious video on Instagram detailing how much their perspective on parenting has changed since becoming ones themselves, according to Soaps.
Many parents can relate to Kelly Kruger and Darin Brooks
In an Instagram story Kelly Kruger posted in early August 2022, she and hubby Darin Brooks laughed about how difficult it is to wrangle their two little ones and get out of the house — especially since they are entertaining Brooks' family from Hawaii (via Soaps).
Kruger shared how much her judgment of on-screen parents has changed since she became a mom. "The first time I saw 'Home Alone,' I did not understand how on earth it was possible that they forgot a kid," the actress said regarding the classic 1990 Christmas movie starring Macaulay Culkin as the single kid in a family of fourteen children that gets left behind when leaving for vacation (via IMDb). She continued, "Then I became a mom and try getting out of the house at a certain time ... And now I understand how, if you have that many kids, it's possible to forget one!"
Brooks, smiling from behind the wheel of their car with both their 2-year-old and infant daughters safely in tow, made sure their viewers knew, "We didn't forget a kid!" Before adding, "It's just remembering the sunscreen, the hats, all the food we could possibly need and all the people in our house right now. It's a lot."
Kruger added a poll to her post, asking her followers if anyone else thought the premise of "Home Alone" was unrealistic until they became parents themselves. The results? A whopping 92% said "Yes!"