This Drugstore Staple Is Nearly 30% Of People's Favorite Skincare Brand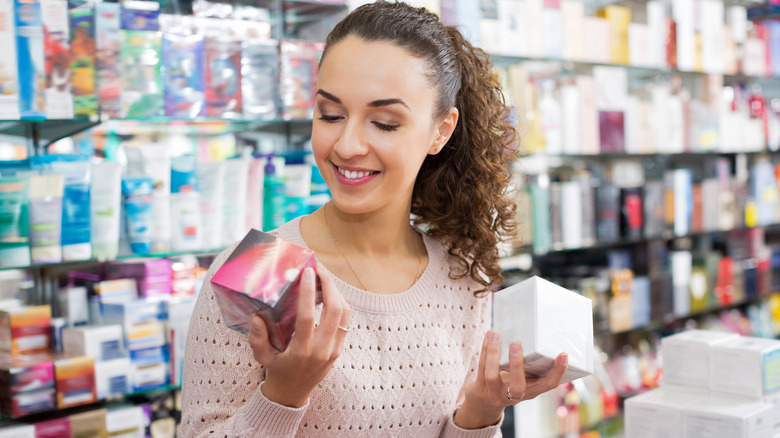 BearFotos/Shutterstock
"Treat yo self" has become our go-to motto when we want to indulge in an expensive experience or need a little bit of pampering. But when it comes time to invest in daily beauty and skincare products, treating yo' self doesn't have to hurt our wallets. Good quality skincare products have gotten a bad rap of being expensive and unattainable. Luckily, really good skincare brands don't just belong on the shelves of luxury retailers; some of the best products can be found nestled between hand soap and mascara at your local drugstore.
Let's face it: in many cases, the only real difference between high-end skincare found at a luxury retailer and drugstore skincare is the price (via Ciel Spa). Oftentimes, the formulas and ingredients used are extremely similar, if not the same, but you end up paying more for a designer label. While you may be tempted by influencers and celebrities who swear these high end products are life-changing, it just isn't in everyone's budget. Drugstore skincare brands can offer you the same clean face and dewy skin at a faction of the price.
So the question becomes, which drugstore skincare brand is a favorite amongst our beauties on a budget? The List conducted a survey asking 573 people, "Which is the best drugstore skincare brand?" The results have us ready for a Walgreens shopping spree to pick up all the supplies for our next spa day.
From cleanser to eye cream, one skincare brand reigns supreme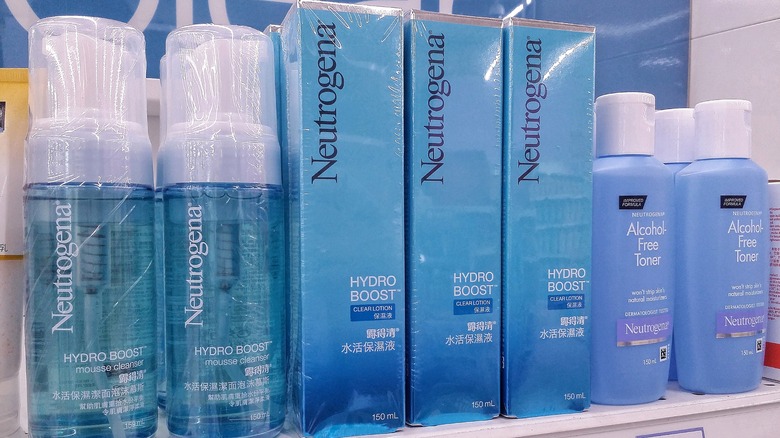 Faizal Ramli/Shutterstock
When it comes to skincare, there are hundreds of brands to choose from with a wide range in price tags. When it comes to the best drugstore skincare brand, The List's survey crowned a clear winner. With almost 30% of the vote, Neutrogena is the favorite budget brand in the skincare game. According to The Derm Review, Neutrogena holds the title of "#1 dermatologist-recommended skin care brand." With products ranging from face wash to sunscreen, Neutrogena is a top tier, cost-effective brand for people with all skin types and sensitivities.
In second place with almost 23% of the vote was CeraVe, another high quality skincare brand found at your local drugstore: Per Business of Fashion, the brand had a moment on TikTok back in 2020 as Gen Z discovered the wonders of CeraVe's line of high quality skincare.
In third place was Cetaphil, another popular drugstore brand that earned 17.45% of the vote. 14.31% of people voted for Aveeno, an oatmeal-based skincare brand that's been around since 1945 (via Johnson & Johnson).
Skincare brands La Roche-Posay (8.55%) and Bliss (7.68%) trailed behind the other brands, possibly due to their slightly higher price point compared to the other brands on drugstore shelves. While Neutrogena is the current drugstore staple, other brands are just one TikTok trend away from peak popularity — we're just happy to have so many to choose from!
Perfecting your skincare routine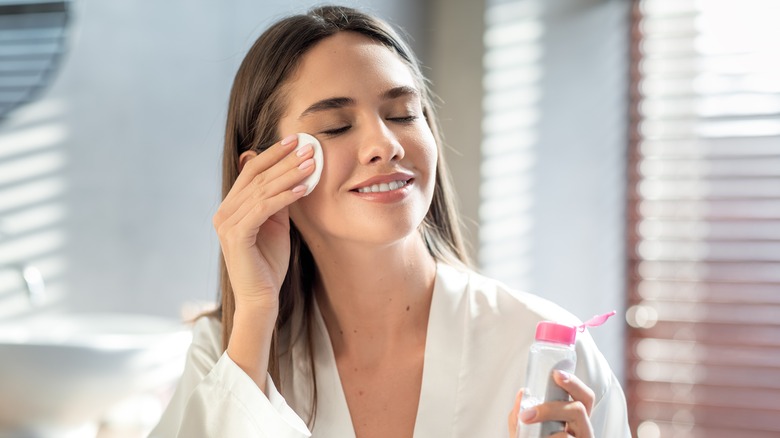 Prostock-studio/Shutterstock
Once you find a skincare product that works for you, use it with pride (and remembering how much money you saved is a good reason to smile, too). A good skincare routine is essential to long-lasting beauty and healthy skin, but the most important thing is not the products you use, it's how you use them.
The New York Times outlines the five basic rules to follow for an effective skincare routine: Cleansing, toning, treating with serums, moisturizing, and applying SPF. Cleaning your face with a well balanced wash will remove dirt and oils, followed by the toner which will close your pores and balance your skin. Toners are full of helpful nutrients your skin likes to drink, things like vitamin C and retinol are highly recommended to keep your skin looking bright and smooth. Moisturizers rehydrate your skin, and SPF protects from sun damage.
The products you choose to use can vary by brand or ingredients based on your skin's needs: If you suffer from seriously dry skin, you might not want to borrow your bestie's products aimed at tackling acne and excess oils. And once you find the right skincare for you, dermatologist Michele Farber shared with Allure the importance of a consistent daily routine, and encourages you to have patience as your skin adjusts to all the new products. Your skincare should be as personal and unique as you are, and you definitely don't have to break the bank to achieve glowing healthy skin.