The Truth About Cara Delevingne's Sexuality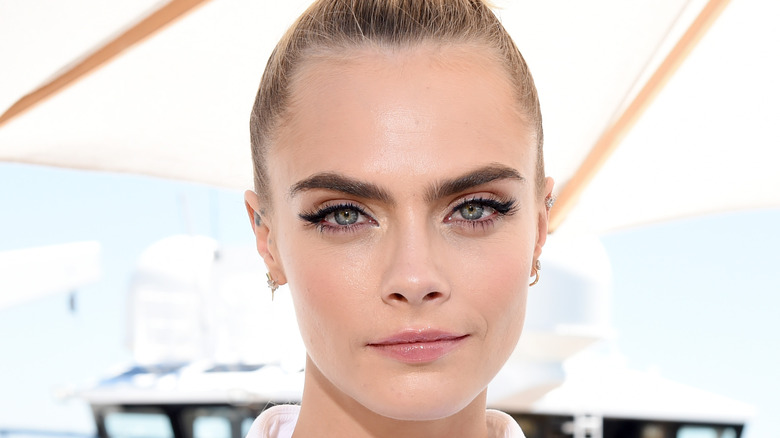 Michael Kovac/Getty Images
Ever since she walked her first runway in 2011 (via Business of Fashion), Cara Delevingne has undergone a stunning transformation, becoming a confident role model for many. 
Although she started out as a model, Delevingne also branched out into acting, and now has over 30 impressive credits to her name (via IMDb). One of her most famous roles is Margo in the film adaptation of John Green's YA novel "Paper Towns," which was first released in 2015 (via IMDb). Though Delevingne seems to have mixed feelings about playing Margo, the role gained her more media attention and led to roles in "Suicide Squad" and "Carnival Row," in which she starred alongside Orlando Bloom. Despite her busy schedule, Delevingne has not given up modeling, and most recently walked at AMI's catwalk show in June (via Grazia). 
The actor and model is known for her spirited personality and refusal to conform to media expectations, both of which have sparked interest in her past and present relationships as well as her sexuality. 
The model has been open about who she is attracted to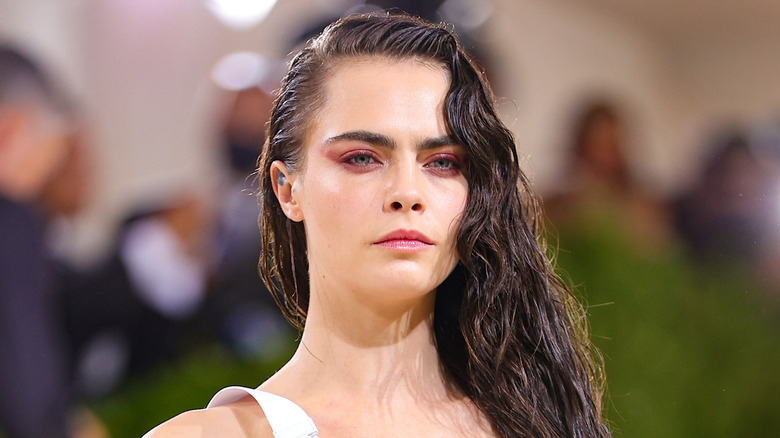 Theo Wargo/Getty Images
As revealed by ELLE Australia, Cara Delevingne identifies as pansexual. In an interview with Variety, the "Only Murders In The Building" star stated, "I fall in love with the person — and that's that. I'm attracted to the person." 
Rolling Stone defines being pansexual as loving someone regardless of their gender or identity, meaning that Delevingne doesn't confine herself to a single gender. Moreover, in a special Pride celebration issue of Vogue, Delevingne opened up a little more about her sexuality. She happily spoke about being a part of the LGBTQIA+ community, calling the experience "joyful." She went on to say, "Being in that community is one of the most important, incredible things in the world. Family is important. But that community is more than family."
As for her view on relationships, Delevingne told Variety that she "felt bad for anyone [she's] ever been in a relationship with" due to the public pressure that comes from being a celebrity and the inevitable scrutiny surrounding who she is dating.
Cara Delevingne's love life has always been in the public eye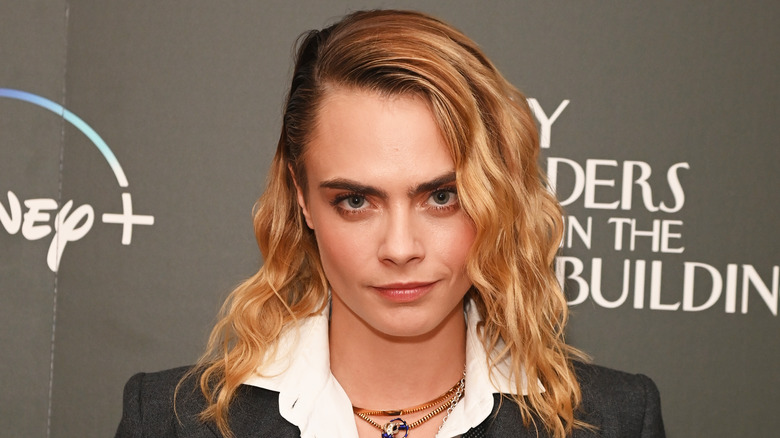 David M. Benett/Getty Images
Cara Delevingne has been linked romantically to a number of other celebs. One of her most public relationships was with artist St. Vincent, real name Annie Clark. The pair dated for just under two years, from 2015 to September 2016 (via InStyle), with Delevingne tweeting in 2015 that she was "very much in love." 
Delevingne later went on to date "Pretty Little Liars" star Ashley Benson. According to People, the relationship also lasted just under two years. In 2019, just a few months before they broke up, Delevingne gushed to ELLE about Benson, saying, "I'm just better when I'm in love." "It just feels incredible when you're not alone, when you're facing the world with someone else," she said. In the same interview, Delevingne called her love life "sacred," and revealed that she likes to keep things more private to protect a good relationship from the opinions of others. 
As of 2022, Delevingne is potentially dating singer and songwriter Minke, who she has been spotted out with on several occasions in the past couple of months (via Metro). Whoever she is dating, it's clear that Delevingne is comfortable with herself and proud to be who she is, something we should all strive for.