Why Cara Delevingne Said She 'Hated' Her Role In Paper Towns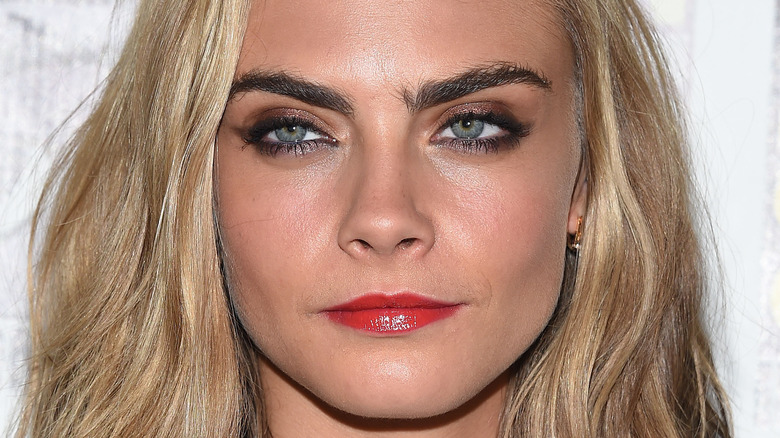 Shutterstock
Cara Delevingne may have gotten her start in the modeling industry, but she's proven time and time again that she's not just a pretty face, but a multi-talented and multi-faceted actress — as evidenced by her incredible performances in films like "Paper Towns," "Kids in Love," "Suicide Squad," "Tulip Fever," "Her Smell," "London Fields," and more (via IMDb). Not only has Delevingne shown off her acting chops on the silver screen, the 28-year-old leggy supermodel has also flexed her talents on the small screen, playing the character of Vignette Stonemoss on the Amazon Prime Original Series, "Carnival Row," which also stars Orlando Bloom, Simon McBurney, Tamzin Merchant, and more.
"I don't want to be that cliché model-slash-actress," she told The Wall Street Journal in 2015. "I basically gave up on acting, because trying to get an agent was impossible. Everyone said, 'You're just a model.' Once I had my mind set that I was going to do this modeling thing, I really wanted to beat it, if that makes sense? Win it." She added: "I want to prove that you can be anything you want to be. I love working, and I love what I do. If I f*** it up now, it's all my fault."
Delevingne's outspoken nature is one of the reasons why fans adore her, but one comment she made about her role in 2015's "Paper Towns" left people a little shocked. Here's why.
Cara Delevingne's comments about her starring role in 'Paper Towns' raised eyebrows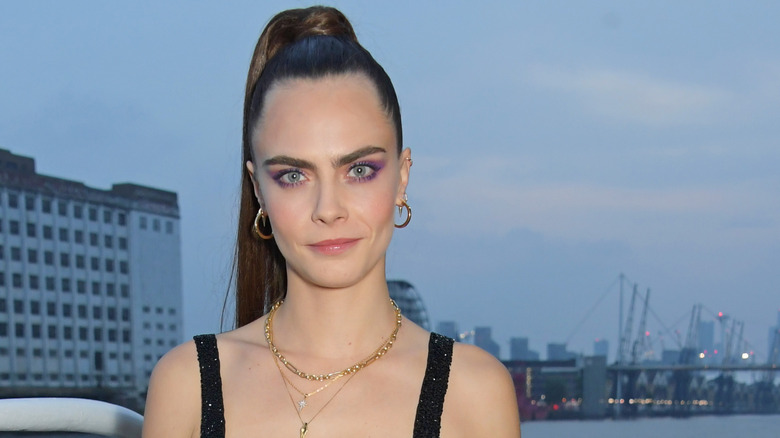 David M. Benett/Getty Images
While "Paper Towns" was one of Cara Delevingne's first big blockbuster hits, the model-turned-actress had some interesting things to say about her starring role in the film adaptation of John Green's beloved young adult novel of the same name. During a seriously awkward interview with CBS Sacramento, Delevingne opened up about playing the role of Margot, and her comments took both viewers and the news anchors who interviewed her by surprise. "What do you like about Margot?" one CBS anchor asked, adding, "Do you have anything in common with her?"
Delevingne issued a cheeky reply to the question, stating, "No, I actually hate her" (perhaps sarcastically?), before adding, "Yeah, I mean, we have a lot in common, we connected because a lot of the script I'd read, some of the lines I'd said them before, and with weird coincidences like that. But again, I watched the film, and if it was me, if I was actually Margot, the whole movie would be different."
The interview is actually pretty painful to watch, but to no fault of Delevingne's. If you watch the full segment, the anchors interviewing her started off on the wrong foot by mispronouncing her name (calling her "Carla"), asking if she's tired and if she even read the book, accusing her of "being in a mood," and essentially mocking the "Paper Towns" star the entire time.
'Paper Towns' author John Green came to Cara Delevingne's defense after her interview aired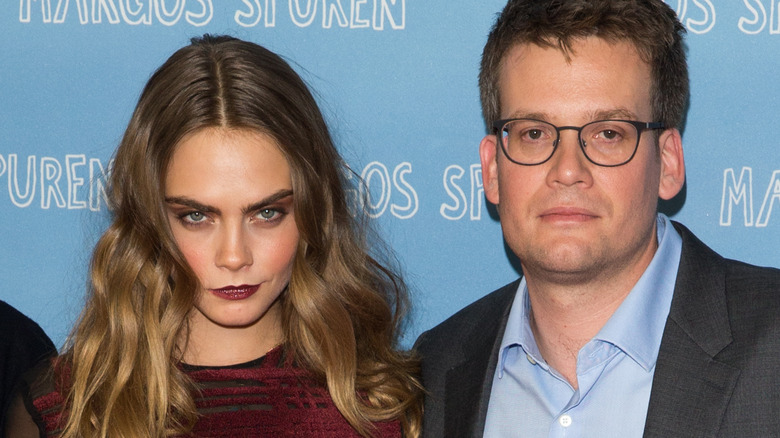 Luca Teuchmann/Getty Images
After Cara Delevingne's painfully awkward interview made the rounds online, "Paper Towns" author John Green defended the actress in an essay he penned for Medium. "Cara has read the book (multiple times), but the question is annoying  —  not least because her male co-star, Nat Wolff, was almost always asked when he'd read the book, while Cara was almost always asked if she'd read it," Green wrote.
"She refuses to indulge lazy questions and refuses to turn herself into an automaton to get through long days of junketry," Green added. "I don't find that behavior entitled or haughty. I find it admirable. Cara Delevingne doesn't exist to feed your narrative or your news feed  —  and that's precisely why she's so f***ing interesting."
Fans also came to Delevingne's defense, with one YouTube fan writing, "I love how the woman can mock her about reading, yet she can't even read her name correctly. How ironic." Another said, "Calls her the wrong name, insinuate she's not intelligent enough to read a book, straight up tells her she looks exhausted, ask her why she is so irritated, tells her sarcastically to go take a nap and drink a Redbull, AND continues to trash talk her once she's offline... so unprofessional. And of course Cara is irritated because she can sense you're belittling her."