The Most Important Place To Use Bronzer That You're Probably Missing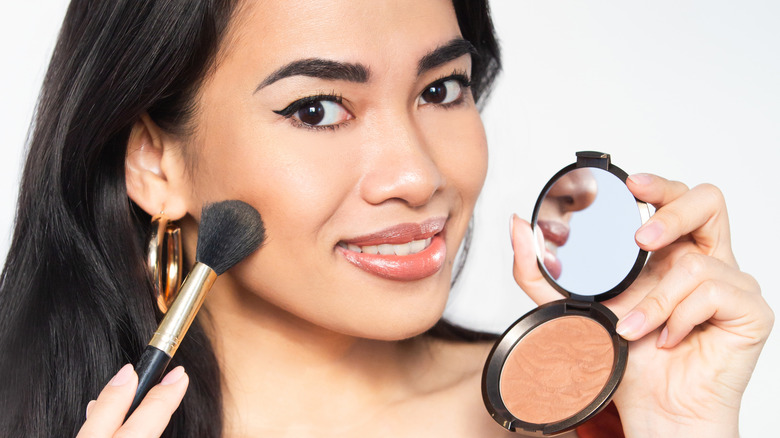 Tiwiplusk/Shutterstock
Bronzer can be a lifesaver. It can give you a warm glow when you're feeling tired, rundown, and just plain out of sorts. A little bronzer here and there can quickly produce a healthy, sunny glow. Celebrity makeup artist Renée Loiz tells The Everygirl, "Bronzers are warmer with a redder undertone and are used to warm up your face and give a sunkissed look." Bronzers can also accentuate your facial structure or even make it look entirely more contoured than it really is, creating an elegant and polished look.
Yet, in the realm of too much of a good thing, that can often be the case with using bronzer. It's not something that should be liberally applied all over the entire face. That actually defeats the purpose and makes the skin appear cakey and artificial. It's also important to make sure your bronzer correctly complements your skin tone (via Marie Claire).
There are specific points where bronzer should be applied and even if you've used it for years, you may be overlooking this one key area.
Start by applying bronzer to the basic areas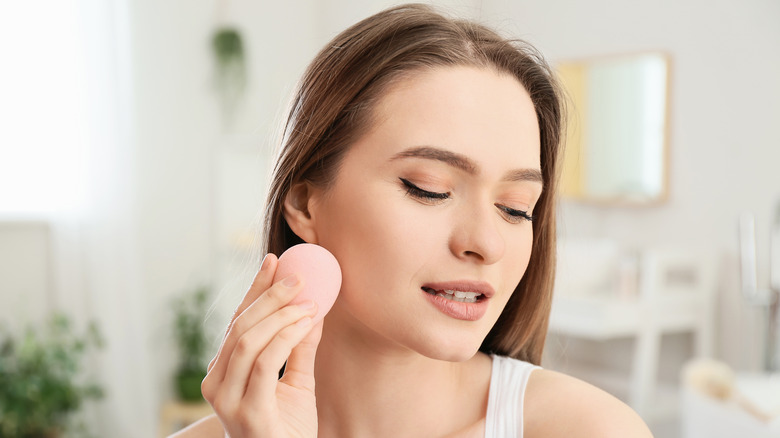 Pixel-Shot/Shutterstock
The goal is to use bronzer to highlight your features, not mask them, so you want to be prudent with where and how you apply it. You more than likely know to apply bronzer to your cheeks. With just the right shade and swipe of the brush, you can accentuate your cheekbones and create an alluring appearance.
After your cheekbones are taken care of, you can focus on the perimeter of your face (via Cosmopolitan). That means from the cheeks, swipe your brush along the temple areas and your forehead. To even it out, brush the bronzer along your jawline. It's safe to say that everyone can benefit from a bolder jawline. 
Celebrity makeup artist Daniel Chinchilla says contouring "warms up the skin and gives it dimension," (via Allure). This will not only give you an even sun-draped look, but it will accentuate your jawline for a sculpted look.
Don't forget the eyelids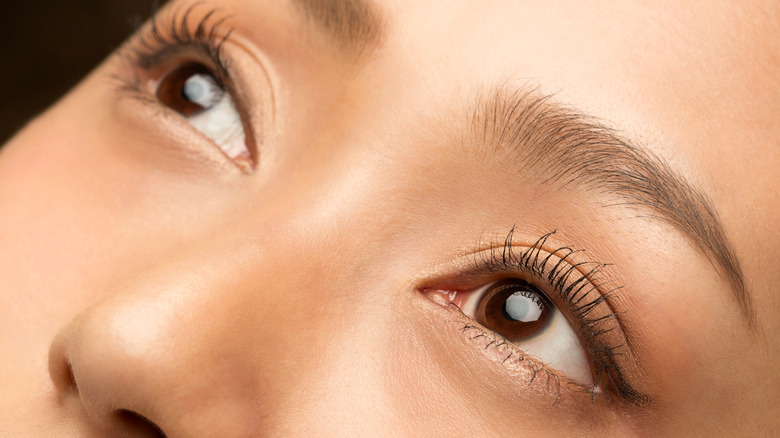 kei907/Shutterstock
You normally might not think of adding bronzer to your eyelids, especially since you may be sporting eyeshadow and mascara. The secret to bronzer is to make it glow in all the places where the sun would naturally hit your face, so that includes the tops of your lids. It also helps make tired eyes appear a bit fresher. However, if your eye makeup is on the dark side, you may want to skip the eyelids (via Byrdie).
One last place to try putting bronzer on is your clavicle and neck area. The sun would, of course, naturally hit the collarbone if exposed, but may not shade your neck. Still, the last thing you want is to have a clearly different neck shade than your face.
The best way to blend is to avoid red tones. "When choosing your bronzing product, I would avoid using anything extremely red-based," Lancôme Beauty Advisor Olivia Thompson tells Makeup.com. "Stick to neutral to cool undertones to sculpt, then highlight the higher points."