Kate Middleton's Nickname For Prince William Is The Last Thing We Ever Expected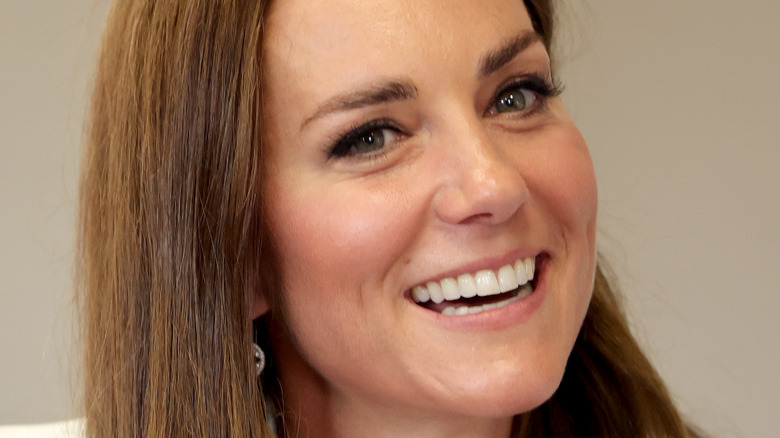 Chris Jackson/Getty Images
When it comes to Kate Middleton and Prince William, by all accounts the royal couple seems pretty buttoned-up. In fact, it was recently reported that the Duchess of Cambridge has mastered the art of not complaining or explaining, much like the family matriarch, Queen Elizabeth, who is regarded as a master of stoicism (via People). In all likelihood, the duchess' refined manner has to do with her having an eye on stepping into the role of queen consort one day — incidentally, Kate will also one day become the Princess of Wales like her mother-in-law before her (via British Heritage).
Meanwhile, in keeping with their reserved nature, we rarely see the parents of three show one another affection in public, which is why some recent PDA between them got royal fans' attention. Even a moment in 2017 when the Duchess of Cambridge wiped something from the future king's chin made headlines due to the few and far between instances of the spouses touching one another in public (via Elle).
With all of this mind,  if Kate had a nickname for her husband, the eventual king, we'd be surprised about that fact alone. But what she calls the Duke of Cambridge is pretty much one of the more shocking revelations about the royals in our memory!
Prince William has a funny nickname for Kate Middleton as well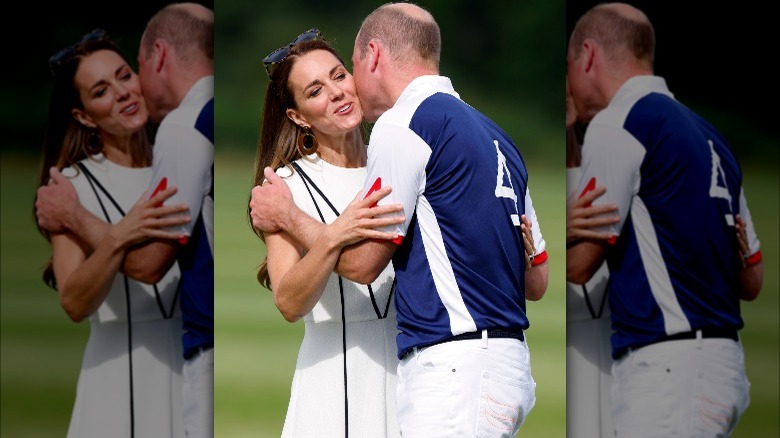 Max Mumby/indigo
We don't know for sure if she still uses this unexpected nickname, but looking back to when Kate Middleton and Prince William were a few years younger, The U.K. Sun reported in 2019 that she would lovingly refer to him as "baldy." At least this pet name proves that the Duke of Cambridge has a sense of humor about this long-thinning hair!
And yet, "baldy" isn't even the most eyebrow-raising moniker the future queen consort cozily has called her man
The U.K. Sun claims that before Kate Middleton and Prince William married, the future Duchess of Cambridge called her royal boyfriend "Big Willy." Could this be a play on the prince's height, as he stands at 6'3"? We're staying mum about any other inference!
So what does the Duke of Cambridge call his wife to get back at her? Reportedly his pet name for his princess is "Duchess of Dolittle," or "DoD."
Of course, this royal duo is just like any other couple in some ways, as the Mirror notes they are also prone to refer to one another with the conventional nicknames "babe" and "darling."
While we're on the subject of nicknames, another royal couple has let slip a few sweet monikers that made headlines.
Meghan Markle and Prince Harry are more touchy feely but their nicknames don't reflect that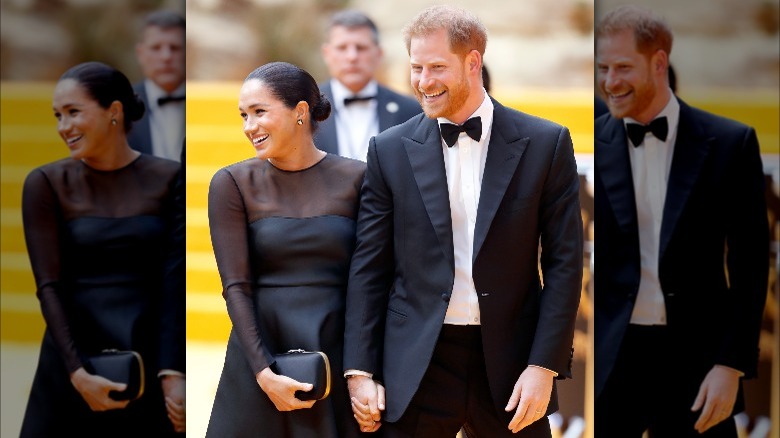 Max Mumby/indigo
Meghan Markle and Prince Harry are known to be a bit more affectionate toward one another than the Duke of Sussex's older brother and their sister-in-law. From holding hands and hugging and even kissing in public, the California couple seems far more comfortable with PDA than their London counterparts (via People). 
That said, the couple's nicknames for one another are far less cheeky than that of William and Kate, as it was revealed during Prince Harry's 2021 appearance on "The Late Late Show With James Corden" that Meghan's pet name for her husband is simply "Haz" (via Marie Claire).
The Duke of Sussex also has a nickname for the Duchess of Sussex, referring to her with a conventional expression of "my love" on stage at the most recent Invictus Games opening ceremony. While it's nothing too creative, this pet name sure is sweeter than what it's been reported that Meghan's California neighbors call her!