The Resort's Nina Bloomgarden Recalls Her Awkward First Scene With Skyler Gisondo — Exclusive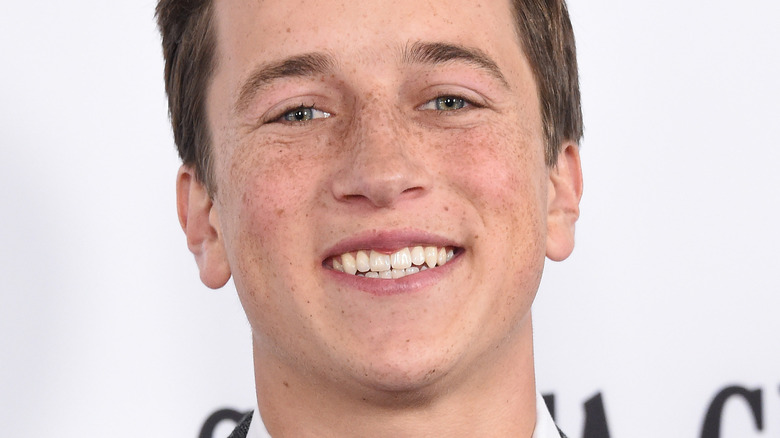 DFree/Shutterstock
Who doesn't love a little time warp mystery served on the rocks during their tropical vacation? Peacock's "The Resort" delivers everything from a turbulent and stagnant relationship between a couple vacationing in real time to the plight of the disappearance of a young couple 15 years prior. Throw in some early 2000s tech, and you've got yourself a TV show. 
Nina Bloomgarden plays Violet, a college-aged woman mourning the loss of her mother alongside her dad (Nick Offerman) on vacation. Cue the entrance of Sam (Skyler Gisondo), who has a meet-cute moment with Violet over a head injury. That's how most couples meet, right? But just as much as Violet and Sam (awkwardly) hit it off, Gisondo and Bloomgarden have a fun first scene, too. 
During an exclusive interview with The List, Nina Bloomgarden revealed what it was like working with Skyler Gisondo and recalled their hilariously awkward first scene that added authenticity to the moment. 
Stomach growls and ad-libbing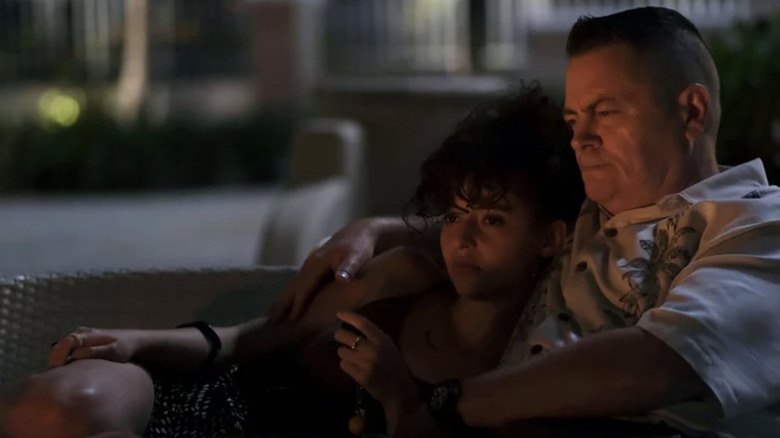 Peacock
On working with Skyler Gisondo, Nina Bloomgarden said, "Oh, my God. Skyler is so fun to work with. Our first day that we were working together was the first day that we met, and it was the scene where we're in the hotel room, and I'm gluing his head back together." You know, the usual way people meet their love interests. 
"That scene, already, for those characters — because they're meeting for the first time — is really uncomfortable and awkward," she added. "Then for us, me and Skyler, although we had great chemistry pretty much right off the bat, it was still like, 'Is this okay? Are you good?'"
While the duo had a ton of chemistry, there's nothing like filming a scene in close quarters when you're hungry. "I remember while he was lying in my lap, my stomach was growling so much because it wasn't lunch yet. I was like, 'Everyone can hear this, and Skyler probably thinks ...' I don't know," Bloomgarden noted. "[There were] little things like that. But before each scene, we'd discuss what we wanted to add or what we wanted to throw in." It's always a good time when a set lets actors play around with ad-libbing and improvisation. Bloomgarden recalled, "If he had a funny idea, I would add to it, and then we'd create a scene before, and then Andy [Siara] would be happy to have it. It was great." 
New episodes of "The Resort" stream Thursdays on Peacock.