What We Know About Anne Heche's Children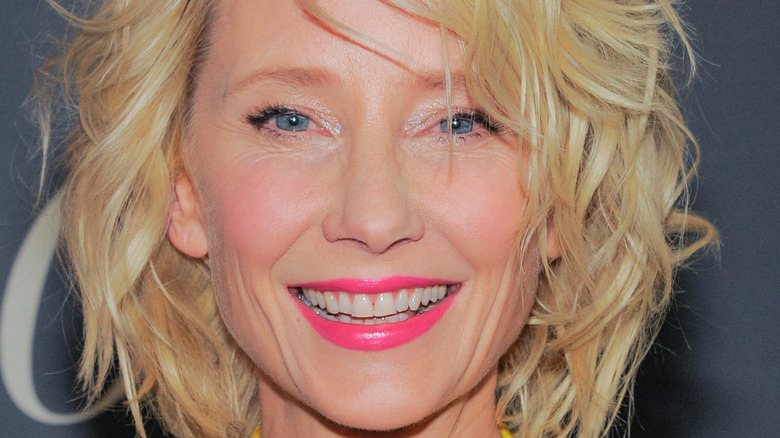 lev radin/Shutterstock
The untimely death of Anne Heche on August 12 sent shockwaves through the entertainment world. The actress had a long and varied career, from the soap opera "Another World" to such TV series as "Ally McBeal," "Nip/Tuck," "Quantico," and "Hung," and movies including "Donnie Brasco," "Six Days, Seven Nights," and the remake of "Psycho." She also had a number of projects in postproduction at the time of her death, per IMDb.
Heche perished after driving at high speed into a private house. Suffering from severe burns and brain injury caused by smoke inhalation, she was declared brain dead a week later but was kept on life support until it was determined whether her organs were viable for donation (via NPR). 
Friends and family flooded social media with messages of grief and memories, including ones from her past partners. Her ex-partner, James Tupper, posted an ode to Heche on his Instagram account, calling her "a lovely woman, actress and mother." Coley Laffoon, her former husband, posted, "It's important to remember the real love in the best times. Thank you Anne. Peace on your journey."
Anne Heche left two sons, one with Laffoon and one with Tupper. Not much has been reported about them because they've grown up out of the media spotlight, but we do know that they were Heche's joy, and they lost their mother far too soon.
Homer Laffoon posted a heartbreaking tribute to his mom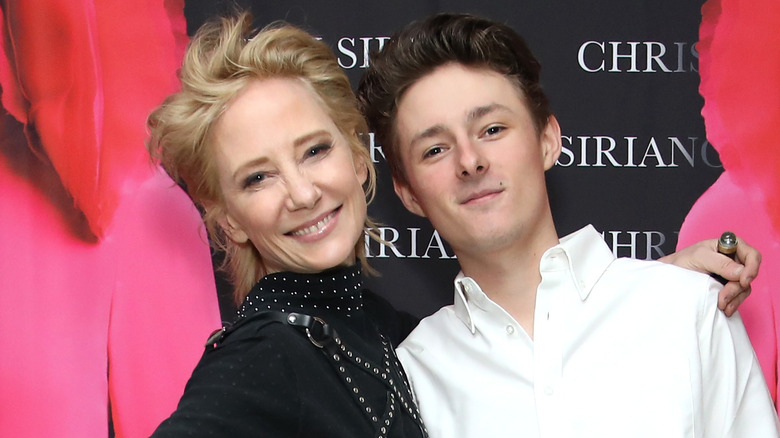 Rachel Murray/Getty Images
Anne Heche left behind two sons. Her oldest, Homer Laffoon, was her child with her ex-husband Coleman (Coley) Laffoon, a realtor. Now 20, Homer gave a heartbreaking statement to People after his mother's death. "My brother Atlas and I lost our Mom," he said. "After six days of almost unbelievable emotional swings, I am left with a deep, wordless sadness. Hopefully my mom is free from pain and beginning to explore what I like to imagine as her eternal freedom."
Heche often took her children to movie screenings and other events, per InTouch Weekly, but as yet, neither of her sons have shown an interest in becoming performers themselves. Homer has an Instagram account in which he sporadically posts pictures of outings on the beach and poses with his group of friends, showing typical teen swagger. A photo he shared in 2017 is especially poignant now — it shows him as a boy of about 4 or 5, standing in front of his mother as she holds his hands in a reassuring hug. 
Dad Coley offered an update on his son in an Instagram video, saying, "Homer is okay. He's grieving, of course, and it's rough. It's really rough, as probably anybody can imagine, but he's surrounded by family, and he's strong, and he's going to be OK."
Atlas Heche Tupper is a talented teen ballplayer
Anne Heche's relationship with James Tupper was a fraught one. The couple was together for 10 years before splitting up, agreeing to share custody of their son, Atlas Heche Tupper. Trying to maintain some semblance of normalcy for Atlas, they alternated weeks of living in the same house. But, according to Radar, things went south when Heche took her ex to court, accusing him of squandering nearly half a million dollars of their money, as well as changing the locks on their home. Tupper countered by denying the charges and suggesting that Heche's behavior was related to substance abuse.
One constant in the couple's lives, however, was their love for Atlas. In an interview (quoted by NBC's "TODAY"), Heche praised her son's sense of humor and lovingly described playing with him in their yard as he hit Wiffle balls for her to fetch. Atlas and his mom also loved to dance together. "He's a dedicated, devoted child," Heche said.
Tupper, a star of "Big Little Lies," shares plenty of pics of Atlas on his Instagram account: vacationing, visiting movie sets, and just chilling. Now 13, Atlas is proving to be a contender on the baseball mound. In a 2021 post, Tupper wrote, "Please forgive a father but he Faced 3 batters. Struck em out on 14 pitches. We have been working on this skill for the last 6 weeks. So proud of this young man geez. ...#proudfather."