The Best Ways To Style Your Favorite Flannel Shirt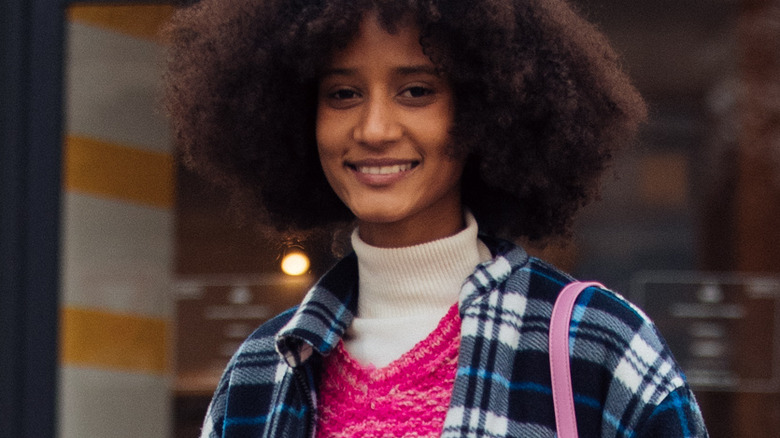 Melodie Jeng/Getty Images
Come fall, you might find yourself drawn to a staple piece in many people's wardrobes — a flannel shirt. There is also a mainstay of several trends, including the cozy cabincore trend that branched out from cottagecore earlier this year. However, if not styled properly, a flannel shirt can look as though you're having a lazy day every day. While there's no problem with looking comfy, a flannel shirt styled in a different way instantly becomes cuter whilst remaining comfy. 
There's a difference between plaid and flannel, too, though most people associate them with the same thing. According to Lands' End, the key difference is that plaid is the pattern on the fabric, whereas flannel is the fabric itself. In simple terms, you can have a plaid dress or trousers in different materials, but flannel tends to be reserved for coats to make them extra thick and warm. Plaid shirts can look similar to flannels, but they won't be anywhere near as thick or have that cozy brushed feel to them.
Flannel shirts are more versatile than you may think when it comes to styling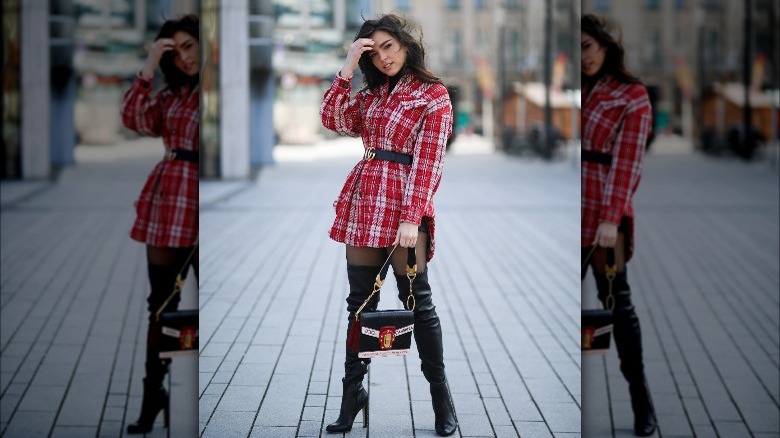 Jeremy Moeller/Getty Images
As reported by Insider, flannels are a great option for any casual event. If you don't want to look too casual, match them with dark wash or black jeans. The darker the jean, the more formal your outfit will look, so light wash jeans are ideal for those days hanging out with friends. If you feel your flannel shirt looks a bit bare by itself, layer up with a t-shirt underneath. For a cohesive look, pick out one of the colors in your flannel and choose a t-shirt in that color.
For colder days, Marie Claire recommends wearing a turtleneck underneath your flannel shirt for a fall-ready look. This combination will keep you warm whilst looking aesthetic for any impromptu Instagram photos — one pumpkin spice latte, please!
For an updated take on a classic look, a red flannel shirt will always look good paired with white boots and a cool beanie (via Byrdie). Pair your flannel with either black cargos for a throwback look or some straight leg jeans for a more modern one. You can also style a flannel as a dress for a fun night out and pair it with over-the-knee boots and some bike shorts underneath for extra coverage (per Seventeen). 
You don't have to stick to one rule when it comes to styling a flannel shirt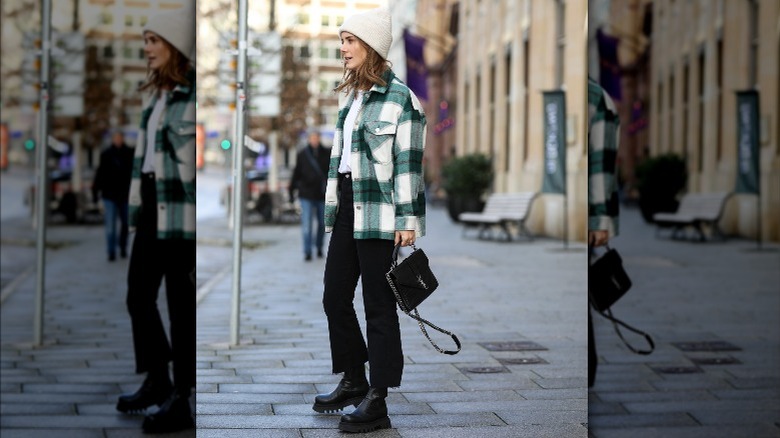 Jeremy Moeller/Getty Images
If tight flannel shirts aren't your thing, take a note from the '90s grunge trend and pair your shirt with a pleated skirt and chunky boots for a look that still holds up today (via Marie Claire). As outlined by Glamour, flannels were everywhere in the '90s, and were heavily popularised by Claire Danes on the hit TV show "My So-Called Life." Take a note from the show and use your flannel as the base for an iconic grunge look — think ripped tights, Dr. Martens, and lots of black. 
The beauty of a flannel shirt is that you can wear almost anything on your bottom half, from a black A-line skirt to retro-style wide-leg pants. As long as you balance out the silhouettes on your top and bottom half and keep your color palette matching, your flannel shirt outfit is guaranteed not to fail. Fall is approaching fast, so start jotting down your favorite flannel shirt ideas now to ensure you have a variety of outfits for each day.