Do Meghan And Harry Have Any Plans To Visit William And Catherine In The UK?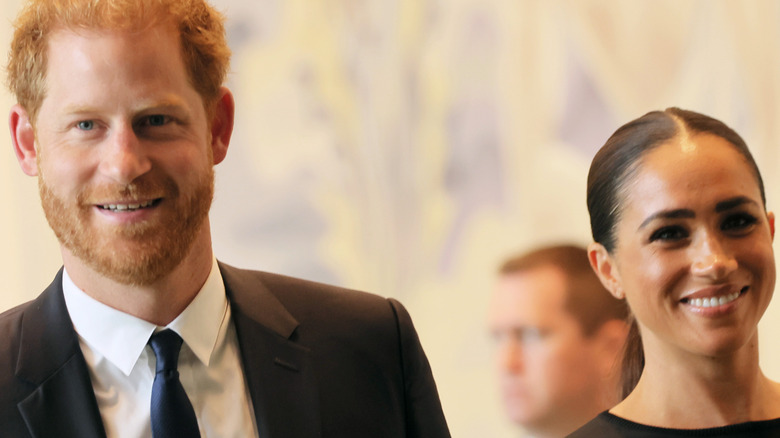 Michael M. Santiago/Getty Images
Meghan Markle and Prince Harry's upcoming U.K. visit looks like it's going to be jam-packed. People confirmed the Duke and Duchess of Sussex are returning to their old stomping ground, alongside making a quick stop in Germany, early next month to support "several charities close to their hearts," per a spokesperson. The celebrity couple will attend the One Young World Summit in Manchester, then the Invictus Games "One Year to Go" event in Dusseldorf, and finally head back to Britain for the Well Child Awards. The last time they traveled across the pond was for the queen's Platinum Jubilee.
Her Majesty will be enjoying her summer break in Balmoral Castle, in Scotland, when Meghan and Prince Harry are over, but their paths may cross if she chooses to return to London to meet with the new British Prime Minister, whose confirmation should also come in early September (via People). Funnily enough, the Duke of Sussex visited his beloved grandmother around the time of the fifth Invictus Games, earlier this year, as reported by Today. During an appearance on the show, Harry caused major controversy by telling host Hoda Kotb that he was concerned about ensuring "the right people" were around the queen.
Notably, while celebrating her Jubilee, Harry neglected to spend much time with his brother, Prince William, and sister-in-law Catherine Middleton. Could he and Meghan be looking to pay them a visit this time around instead?
The Sussexes won't reunite with the Cambridges during their trip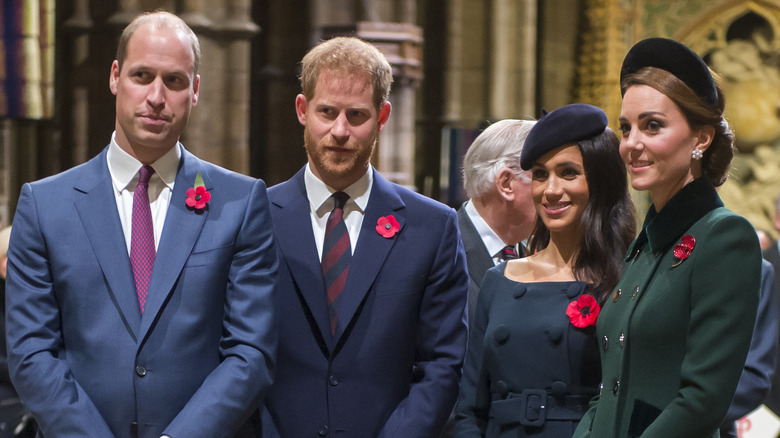 Wpa Pool/Getty Images
William and Catherine's days at Kensington Palace are numbered, with the fan-favorite couple planning a move to Windsor very shortly, to be closer to their respective families. And, when Meghan Markle and Prince Harry return to the U.K. next month for a number of charitable endeavors, they'll briefly be next-door neighbors. The Sun notes the Duke and Duchess of Sussex will be taking up residence in their previous home, at Frogmore Cottage, which is located on the queen's Windsor estate just a short walk from Adelaide Cottage, where the Cambridges will soon be living full-time. 
They're unlikely to be dropping by for a cup of tea, however, with Ingrid Seward, editor of Majesty magazine, explaining, "I don't think they would bump into one another unless it was pre-arranged." Seward told The Sun, "I suppose one could go round with some flowers as a peace offering, but remember what happened last time." She was referring to the long-rumored rift between Meghan and Catherine, which allegedly worsened after the Duchess of Cambridge flipped out over bridesmaid dresses in the run-up to her wedding. 
When Catherine brought Meghan some flowers to make amends, the former actor reportedly threw them out. As Harper's Bazaar reported at the time, when Oprah Winfrey asked Meghan whether she made Catherine cry in the days leading up to her wedding, as had been consistently reported up until that point, the duchess confirmed simply, "No, the reverse happened."
Meghan and Harry were kept at arm's length during the Jubilee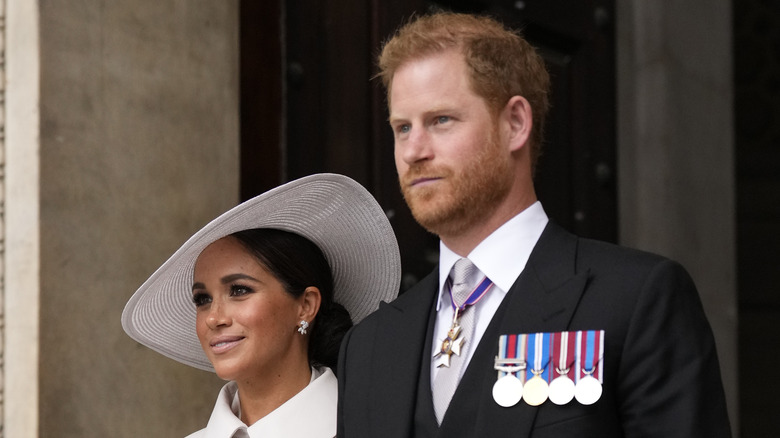 Wpa Pool/Getty Images
The Duke and Duchess of Sussex might be looking to keep their distance after feeling stung by how they were reportedly treated at the Jubilee. Speaking on GB News, royal author Tom Bower revealed the couple was specifically seated far away from Prince William and Catherine Middleton at the thanksgiving service to avoid any potential drama between them, per Newsweek. 
In fact, Bower claimed the Sussexes purposely arrived late to the event "so that they could make their own grand entrance." He divulged, "As they're walking down the aisle and they get to their seats nine and ten, they say 'well everyone should move up so that we can be on the aisle itself.' 'No' says the usher. 'No, you're to sit [in] nine and ten.'" When the prince questioned who had made the arrangements, the usher replied, "Your grandmother," according to Newsweek. 
Whether the queen intended to create any tension or not, their relationship seems to have broken down considerably, especially since it was recently revealed Meghan Markle and Prince Harry didn't actually receive the invite everyone thought they did. According to Page Six, in contrast to a previous report in The Sun, the couple was not invited to spend some time in Balmoral with the queen. 
Likewise, royal insiders also clarified Her Majesty won't have the time to catch up with the Sussexes during their upcoming visit either, pointing to her "busy diary" (via The Sun).