Which Hairbrush Is Best For Curly Hair?
Prostock-studio/Shutterstock
There's no doubt about it: Curly hair requires extra care and attention. Those with curly hair know that everything you do to it must be well planned out. Using the wrong product, too many products, or even not enough products can create a frizzy situation. You've really got to do your homework as you sift through the vast array of gels, creams, mousses, and oils on the market (via Allure).
Plus, you may also have to change up your curly hair care routine in the wintertime. Between the cold air outside and the dry heated air inside, your bouncy locks undergo a lot of stress. Moisturizing shampoos and deep conditioners can help combat dryness during the winter months (via Naturally Curly).
For the curly-haired, summer has its own special blend of drama. Between the humidity and hot temperatures, getting frizz-free hair can be a full-time job.
Even a relatively simple thing, like buying a hairbrush (or even brushing your hair) can become a quest as you seek one that will enhance your curls — not flatten or frizz them out.
Brush your curls when wet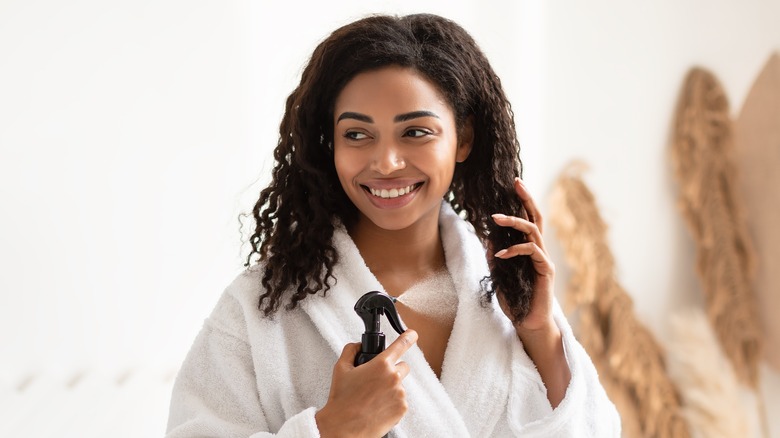 Prostock-studio/Shutterstock
One of the worst things to do with temperamental curly tresses is to brush them when your hair is dry. This not only causes dry hair follicles to break off, but it results in instant frizz (via Bustle).
Brushing your hair when it's wet helps prevent breakage and works as a natural detangler, plus it hurts way less when curls are wet. While in the shower, apply conditioner, hair cream, or oil, and gently glide a wide-brimmed flat comb through all sections of your hair.
Consequently, you should only brush your hair on days you wash it (via Curl Centric). On other days, you can spruce up your curls by applying gel, mousse, or oil and simply scrunching up each segment of curls.
One thing to remember is that curly hair varies in texture, so those with loose curls need different brushes than those with tight ringlets.
Detangle and style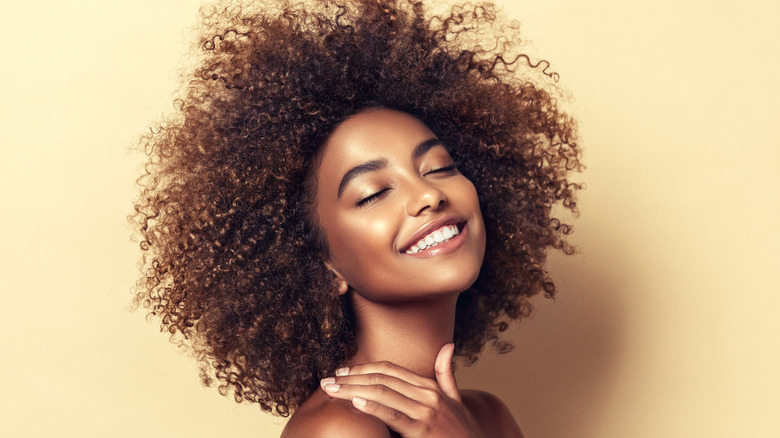 Sofia Zhuravetc/Shutterstock
Instead of a wide-brimmed comb, you can also opt for a detangler brush to remove knots. 
If you have extremely thick hair, you'll want to use a wooden paddle brush (via Elle). These brushes not only cover a wide surface area with one stroke, but they have extra long bristles, which help reduce breakage. However, they also have large bristles, so detangling first may be necessary.
If you're using a brush to do a blow-out at home, choose a Denman brush. These brushes were designed for curly hair (via Gena Marie), creating ringlets and helping smooth your hair with ball-tipped bristles, which work to separate, shape, and define curls. These brushes can also help disperse hair products evenly, boost definition, and minimize frizz.
Before purchasing a brush, consult your hair stylist to help choose the perfect type and brand for your unique set of curls.