The Word Of Warning Anne Heche Gave Portia De Rossi About Ellen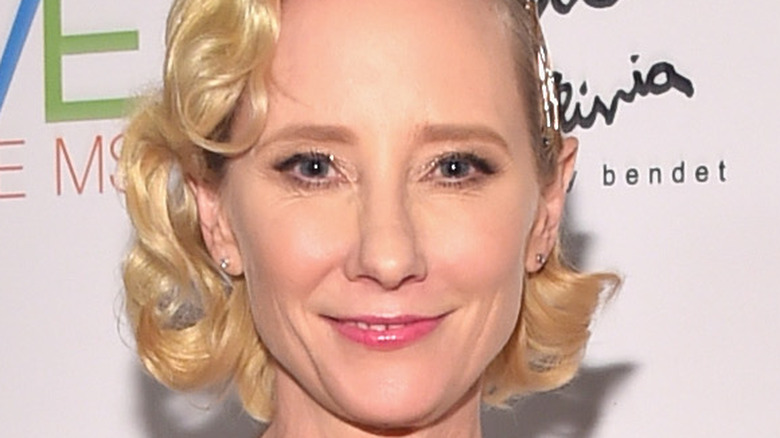 Alberto E. Rodriguez/Getty Images
Earlier this month, Anne Heche tragically died after a car crash that resulted in a house fire. The "Six Days Seven Nights" star remained on life support following the fiery crash to find a donor match for her organs, a longtime wish for Heche. Since her death, many in Hollywood have given public condolences, including Alec Baldwin, Taryn Manning, and her former partner, Ellen DeGeneres. Heche and DeGeneres met in 1997 and broke down barriers as a same-sex couple in Hollywood until they broke up in 2000, according to the Los Angeles Times.
Though DeGeneres went on to date her current wife, actor Portia de Rossi, back in 2004 (via Us Weekly), Heche was still reeling from the aftereffects of the relationship. Heche detailed this on a June 2021 episode of her podcast, "Better Together," which she co-hosted with her friend Heather Duffy Boylston. "There's one question people want to know; 'What do I think about Ellen,'" Heche said on the podcast. "In fact, I haven't said that yet. I have not rambled on about her for one single moment for 20 years."
This same episode is resurfacing after Heche's death, which shows Heche detailing a conversation she had years ago with de Rossi.
Anne Heche warned Portia de Rossi about a relationship with Ellen DeGeneres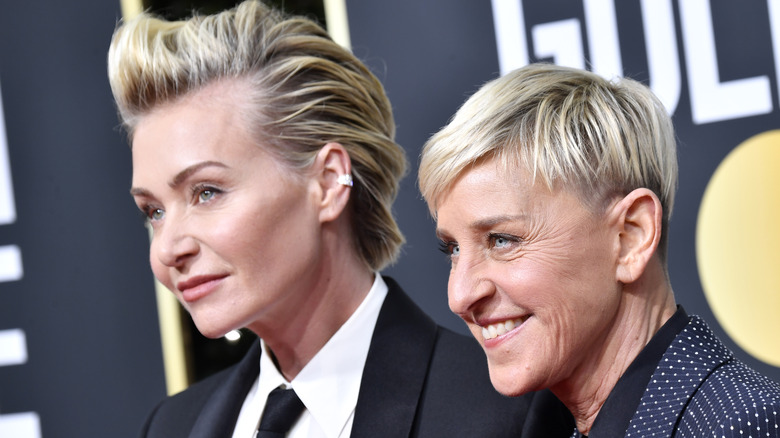 Frazer Harrison/Getty Images
Before Ellen DeGeneres and Portia de Rossi got married in 2008, DeGeneres and Anne Heche were LGBTQ pioneers by publicizing their relationship which lasted for roughly three years. While DeGeneres' success boomed, Heche's didn't explode with the same fervor as her ex-partner's, Insider reported. This, along with interpersonal relationship drama, caused a rift between the former couple.
Heche publicly spoke on DeGeneres briefly during a 2021 episode of her podcast, "Better Together." During one episode, Heche even detailed an interaction with de Rossi during Heche's wedding.
"Portia even asked me about Ellen," Heche confided in her co-host Heather Duffy Boylston. "Portia came to my wedding because I was on 'Ally McBeal' with her, and Portia even said, 'I'm gonna go after Ellen.' You won't be the poster child, girl. Because guess what? That poster child has already been taken, and by the way, it wasn't a great spot. But yours ain't gonna be any easier. And I'm telling you now, like, red flag, red flag, red flag!"
Neither de Rossi or DeGeneres have responded to these comments.