Why Dr. Oz Is Turning Out To Be One Huge Regret For Donald Trump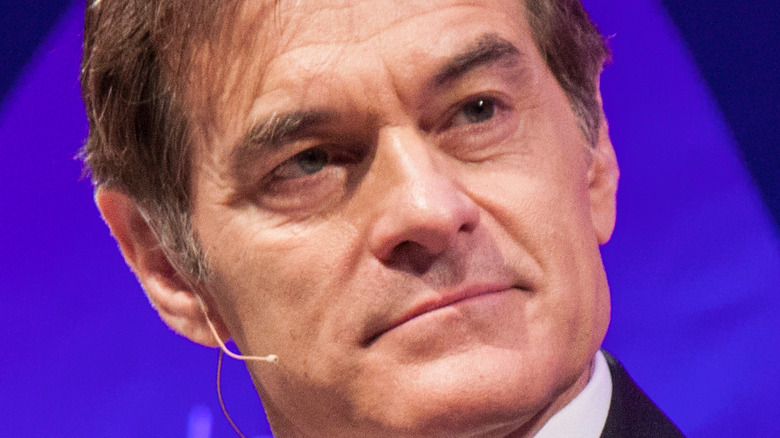 G Holland/Shutterstock
Even though he no longer occupies the White House, Donald Trump has proven to be a force to be reckoned with. His endorsements for key state and federal positions have helped candidates in the primaries; most recently, he helped Harriet Hageman win the Wyoming Congressional seat (via Politico). (Surprising no one, Trump mocked Liz Cheney over her loss.) The MAGA faithful seem willing to put their votes where the former president's mouth is — with one surprising exception.
Earlier this year, Trump threw his support behind Dr. Mehmet Oz, the popular TV doctor who gave up his talk show in order to run for a seat in the Pennsylvania Senate. Dr. Oz posted Trump's endorsement on his website: "Dr. Oz is Pro-Life, very strong on Crime, the Border, Election Fraud, our Great Military, and our Vets, Tax Cuts, and will always fight for and support our under-siege Second Amendment," he wrote in part. "Perhaps most importantly, I believe that Mehmet Oz will be the one most able to win the General Election against a Radical Left Democrat looking to do unthinkable harm to our Country."
Or, maybe not. A new report in Rolling Stone quotes inside sources who say the former president is regretting the endorsement, given that Oz is losing in the polls to his opponent. "The [former] president has used words like 'lousy,' and 'awful,' and 'doesn't make sense' to describe how Dr. Oz has been campaigning against John Fetterman over the summer," said a Trump adviser.
Critics say Dr. Oz isn't in touch with Pennsylvania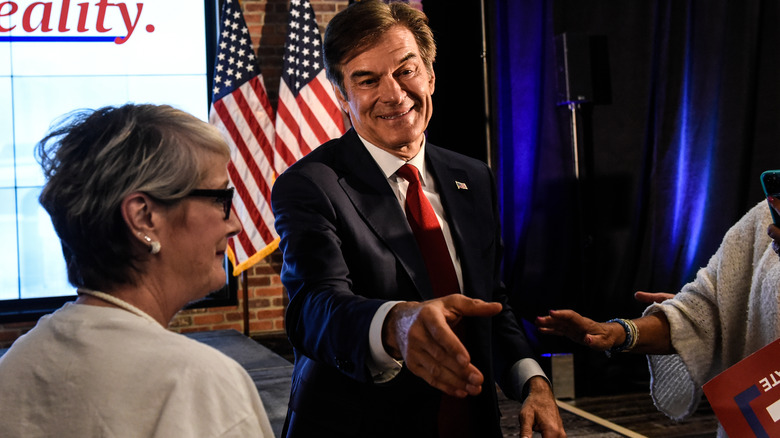 Stephanie Keith/Getty Images
Dr. Mehmet Oz isn't gaining as many fans as a candidate as he did as a TV personality — and Donald Trump is reportedly not happy about that. It's not for lack of trying: Dr. Oz is running on a right-leaning platform of law and order, fighting inflation, and securing borders. He frequently tweets photos of visits to local businesses. He also gets in plenty of digs at his opponent, John Fetterman. 
But a Trump source says (via Rolling Stone) that "there are major problems with this campaign and, more specifically, this candidate." One of those problems could be called AddressGate: Dr. Oz still maintains a huge estate in New Jersey, and doesn't have a permanent Pennsylvania address yet, per ABC News. In response, Fetterman has run ads featuring Snooki and Steven Van Zandt urging Dr. Oz to come back to the Garden State. The doctor has also been ribbed for visiting tourist-trap spots like Geno's Steaks instead of places favored by residents. As one Twitter user snarked, "Dr Oz getting a cheese steaks from Geno's is the equivalent of going to Sbarro to get authentic NYC pizza."
As a celebrity and a noted heart surgeon, Dr. Oz may also be seen by the blue-collar set as being too elitist. He was recently roasted for an ad over supermarket prices in which he not only misstated the name of the store, but also used the term "crudité" instead of "veggie tray" (via HuffPost). 
Donald Trump is reportedly upset that Dr. Oz might lose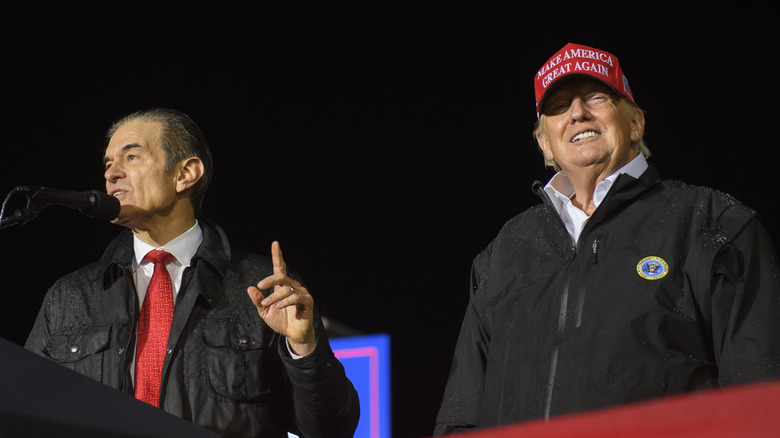 Jeff Swensen/Getty Images
Despite his efforts to hit all the right buttons with the MAGA set, Dr. Mehmet Oz's political aspirations seem poised to fail — and badly. According to My Twin Tiers, a poll conducted in August by Public Opinion Strategies shows the TV doc trailing John Fetterman by a full 18 points. This reportedly infuriates Donald Trump, who has said many times that he doesn't like losers. A source who spoke to Rolling Stone said of Trump, "[His] view is that it would be incredibly embarrassing for Oz if he loses to 'that guy' because he thinks so little of [Fetterman]. He thinks Fetterman is in poorer shape than Biden and has hidden in his basement more [than Joe Biden]."
Trump may also find it embarrassing that Fetterman is winning despite his physical condition. The Democrat suffered a stroke in May, and only after three months was he deemed well enough to return to campaigning (via CNN). Sam Nunberg, a former Trump adviser, told the outlet that the former president would have been better off not endorsing anyone for the Pennsylvania Republican nomination. "Instead he wholeheartedly endorsed one of the most flawed candidates the Republicans have nationally nominated," he said.
Melania Trump reportedly urged her husband to support Dr. Oz when he first announced his candidacy. She was a fan of his talk show, and a source told NBC News that Trump has always respected his wife's opinions. Now, they may both have reason to regret their decision to back the TV doc.