How Mourners Can Pay Their Respects To The Queen In Person When She Lies In State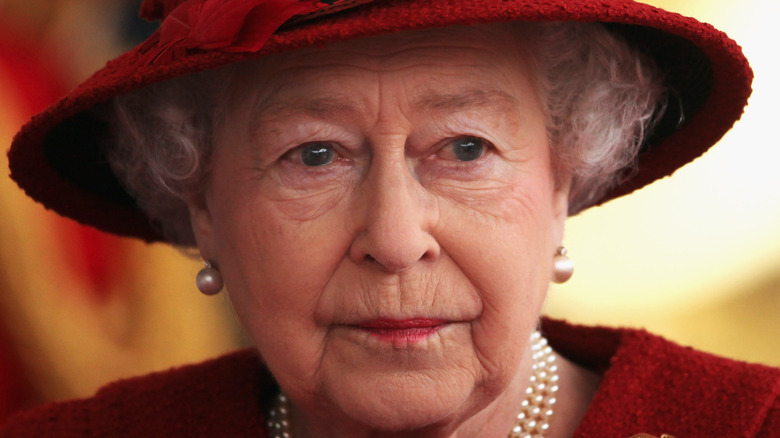 Dan Kitwood/Getty Images
Queen Elizabeth remains an active presence in the United Kingdom, and it is hoped that she will continue to be so for some time. However, her declining mobility and delegation of some royal duties hint at a future no one wants to consider. As difficult as it is to contemplate the death of the queen, it would be even worse if the country were caught unprepared when it happened. That's why the funeral of the queen has been carefully planned and rehearsed down to the last candle at Westminster Hall. 
From the official announcement to the news programming to the protocols for flying flags at half-staff, nothing is being left to chance. The Guardian reports that "Operation London Bridge," the not-so-secret code name for the queen's death, has been developed and revised for some 60 years. The 10-day series of events will include muffled bells ringing, a casket procession, receptions for visiting dignitaries, a national day of mourning, and the official proclamation of Prince Charles as king. If the queen isn't at Buckingham Palace when she dies, there are backup plans for that, as well. 
It goes without saying that the queen's death will be one of those "remember where you were when..." days. And those people lucky enough to be in London during that time may get the chance to pay their respects in person.
Millions of people are expected to pay their respects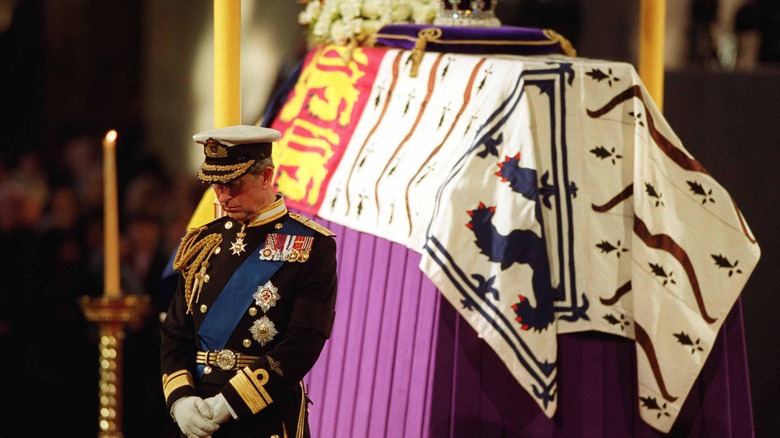 Avalon/Getty Images
Unlike Prince Philip, who insisted on a frill-free service (via Reuters), Queen Elizabeth's funeral will be a lengthy and tradition-filled affair. According to Politico, the royal coffin will make a solemn progression from Buckingham Palace to the Palace of Westminster on the fifth day following her death, with huge crowds practically shutting down London to watch the spectacle.
Once at its destination, the portion of the funeral known as Operation FEATHER will go into action and the queen will lie in state. For four days, the purple-draped coffin will stay in Westminster Hall, where it will lay atop a raised box called a catafalque. Official guards will watch over the casket constantly, and members of the royal family will keep "The Prince's Vigil" for short periods. The UK Parliament site explains that this is an honor given to British monarchs, as well as consorts, and sometimes Prime Ministers. 
This will also be the public's chance to pay respects to the beloved monarch. Politico explains that the vigil will be open to visitors 23 hours a day, with members of Parliament and other important guests getting special timed access through tickets. Visitation is free, but there's a catch: The Guardian reports that about half a million people are expected to file by the casket, creating "a wondrous queue" that will stretch for miles. Fortunately, porta-potties will be available along the route for when nature calls.