The Real Reason Steffy Slept With Bill While Married To Liam On The Bold And The Beautiful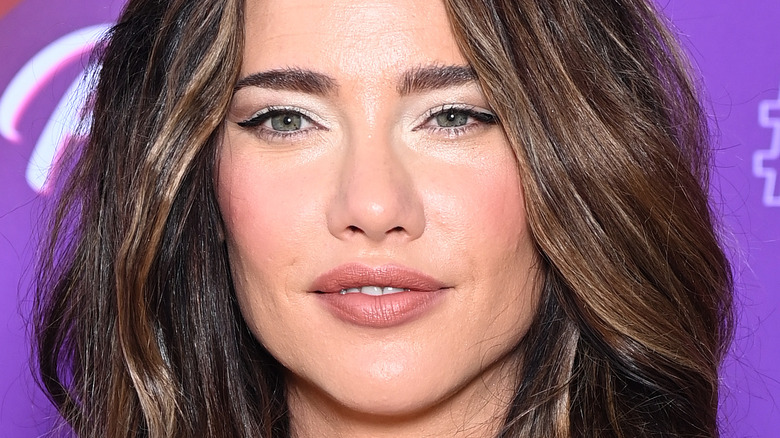 Pascal Le Segretain/Getty Images
When it comes to Steffy Forrester and her history with the Spencer men, it's definitely been complicated on "The Bold and the Beautiful." Even though she's been in a never-ending love triangle with Liam Spencer (Scott Clifton) and his other on-again, off-again lover Hope Logan (Annika Noelle), Steffy has had relationships with both Liam's brother Wyatt Spencer (Darin Brooks) and his father, Bill Spencer (Don Diamont). As many fans can recall, Steffy had a Malibu beach wedding with Darin back in 2016, as detailed by Celeb Dirty Laundry. In an interview with Soap Opera Digest back in 2020, actor Darin Brooks opened up as to why his character was so crazy about Steffy. He said, "Steffy was this carefree, strong, confident woman. He wanted to keep up with this badass."
And while there's no doubt that a lot of possible suitors out there would love to be with a woman like Steffy Forrester, she did have an illicit affair with her father-in-law Bill when she was married to Liam. However, she didn't sleep with him because she was totally in love with him, but rather because of something that happened prior to her jumping in bed with him.
Steffy Forrester had a wild ride with Bill Spencer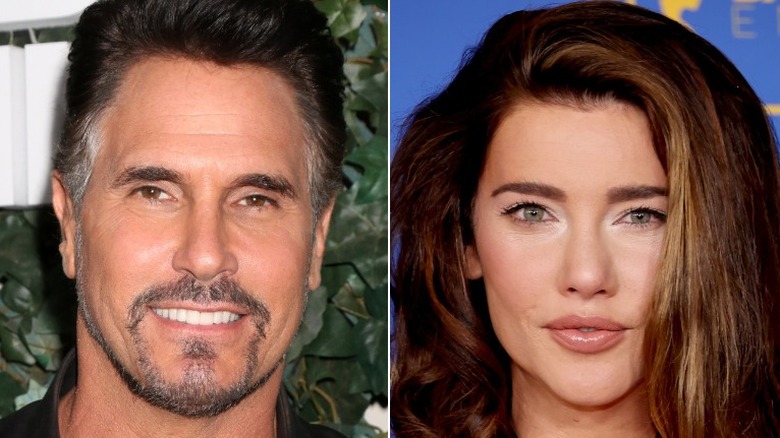 Kathy Hutchins/Shutterstock & Amy Sussman/Getty
While there's no doubt that "The Bold and the Beautiful's" Steffy Forrester and Liam Spencer have gone back and forth so many times that people have lost count by now, it's her affair with her father-in-law Bill Spencer that still has everyone talking. While Liam and Steffy's timeline has a few holes in them, Steffy decided to seduce Dollar Bill when she found out that her husband Liam had kissed Sally Spectra (Courtney Hope) behind her back. Even though it was an accident, per Soaps in Depth, it was enough for Steffy to destroy her marriage to the man that she supposedly loved. 
Despite all that had happened, back in 2021, actress Jacqueline MacInnes Wood admitted that a Steffy and Bill romance could happen again. She told Soaps.com in an interview, "To this day, we still hear from fans who believe that these two belong together," and added that Steffy was and still is "the one woman who could truly tame Bill."
But that's not the only reason why Bill and Steffy could possibly hook up again in the future.
Is Bill Spencer the baby daddy?
As many "The Bold and the Beautiful" fans can recall, Steffy Forrester ended up pregnant soon after her affair with Bill Spencer while she was still married to Liam Spencer. For the longest time, Steffy had no idea who her baby's daddy was, per Soap Dirt. Even though a DNA test proved Liam to be the father, there's still a possibility that Bill could be the father too, seeing how the two men are so closely related, as detailed by Soaps.com. 
Thankfully, Steffy is no longer worried about her complicated past with the Spencer men as she's moved on with Dr. John 'Finn' Finnegan in her life. Steffy and Finn later had a reunion in Monaco which left many "The Bold and the Beautiful" fans in a tizzy just because it was so memorable. They also have a baby named Hayes, according to Soaps.com. 
Although, if there's anything that we've learned about life in this fictional town, it's that each time someone takes a step forward, there's a chance they might also take two steps back. In other words, Bill's probably secretly waiting for Steffy to call him again. We wouldn't be surprised if she did, too. Watch this space.