Rihanna's Hairstylist Reveals How To Get A Snatched Ponytail Like The Star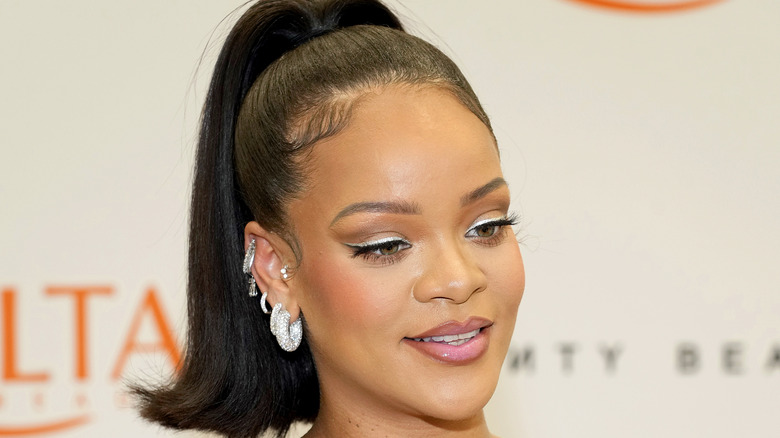 Kevin Mazur/Getty Images
Let's face it, we all want to look like Rihanna. Her iconic style proves that she rarely makes a fashion misstep, but it's her hair that we covet the most. As documented by ELLE, the singer and business mogul has traveled through the rainbow when it comes to colors and styles. Amazingly, she can pull every hairstyle off, a feat not managed by many. She started out with a sleek and glossy black bob, but since then has debuted blonde, red, brown, black once more, and lots else. We can't keep up with her hairstyles either, whether it's a slicked-back ponytail or voluminous curls that scream disco queen. Whatever her style, there's no doubting that Rihanna's baby has the coolest mom around.
Ponytails have a bit of a rep as a lazy day hairstyle and the go-to when you really need to wash your hair but can't be bothered. However, they've had a bit of a resurgence in the past few years, with the classic ponytail being updated to make it the hottest new hairstyle around. If Rihanna says ponytails are in, they're in. 
One of Rihanna's best hair moments took place when she had stunning red hair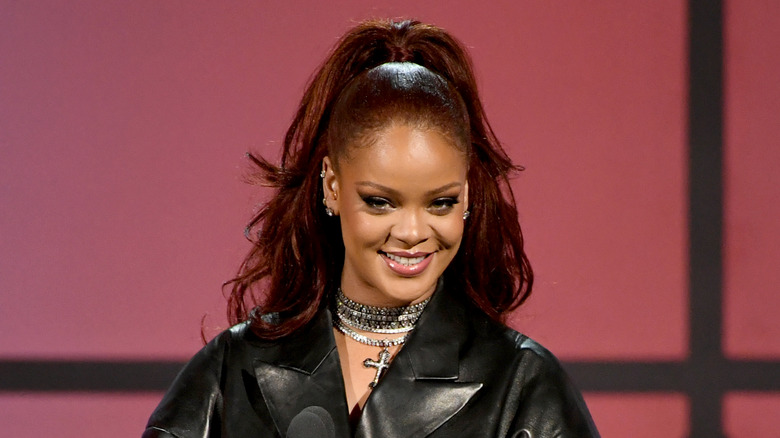 Kevin Winter/Getty Images
If you've ever been envious of Rihanna's hair, now you can recreate it for yourself. Speaking to Teen Vogue, celeb hairstylist Yusef Williams dished on how to achieve one of the singer's most iconic looks — a half-up and half-down ponytail look that's both flirty and cute. Describing her overall look at the 2019 BET Awards as "bad*ss baby doll," Williams stated he was inspired by Rihanna's black full leather ensemble and wanted to contrast the edginess of the outfit by opting for more softer hairstyle. He also wanted to keep things relatively simple with the style so Rihanna's gorgeous red hair could "speak for itself."
To start with, you'll need to prep your hair to create a good base. Williams specifically recommends the Suave Professionals for Natural Hair Sulfate-Free Cleansing Shampoo as well as the adjoining conditioner. This step will make your hair soft, clean, and ready to put up. When you have done your ponytail, make sure to tease it to create volume using a firm hold hairspray.
The singer and businesswoman has rocked slick hair on many occasions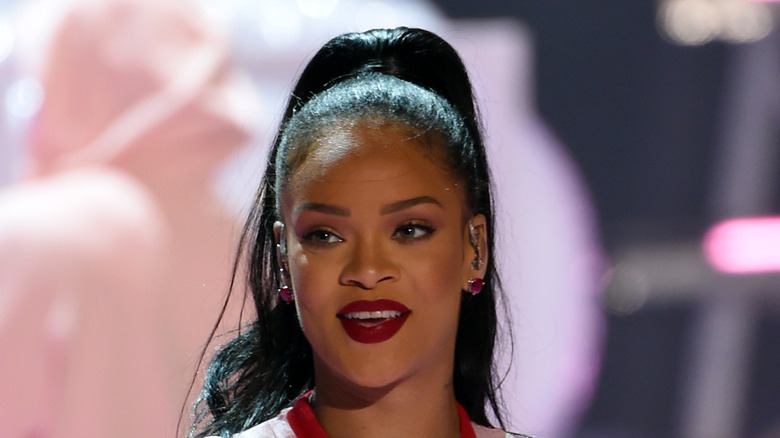 Larry Busacca/mtv1617/Getty Images
If you have your finished look but still feel that your ponytail is looking a little flat, stylist Yusef Williams recommends adding texture to your ponytail with a curling iron for a look like Rihanna's (via Teen Vogue). If that still isn't enough volume, opt for some extensions and use them to fluff out your ponytail for what Williams calls a "dreamy baby doll style." 
The 2019 BET Awards aren't the only time Rihanna has sported a ponytail. She has long been a fan of the style and has worn it on and off stage many times, notably during the 2016 MTV Music Video Awards, though this ponytail was soft and curled instead of slicked back and straight. As of 2022, she is still rocking ponytails. For the launch of Fenty Beauty at Ulta Beauty, Rihanna was pictured with her hair up in a chic and sophisticated ponytail that had super cute flicked ends.
No longer a lazy day go-to, now you can make your third-day hair ponytail look as good as Rihanna's.