Retro Styles That Age Women The Most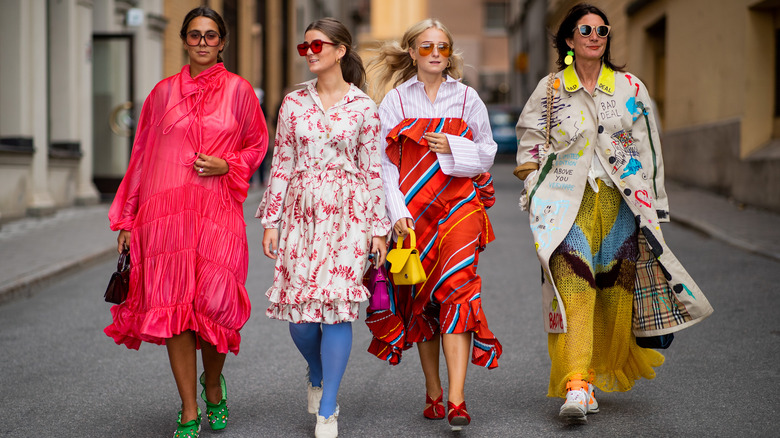 Christian Vierig/Getty Images
Fashion trends don't just disappear, they evolve. These days, it seems as though social media is constantly recycling tons of the retro trends we all used to know and love every single day, but with a modern twist, like cargo pants, puffy sleeves, patchwork, low-rise jeans, and large claw hair clips, just to name a few. If there is one thing that the ever-rotating trend cycle has taught us, it's that there are plenty of ways to give even the most retro and outdated wardrobes a fresh and modernized look, because the number one rule of fashion is that there are no rules.
It seems as though society is finally coming around to the concept that age really is but a number, as we're seeing an abundance of older women putting the rest of us to shame. If you don't believe us, take a look at Vogue's roundup of some of the most fashionable people on the scene over the age of 60. But, if you are of an older generation, please don't go running to TikTok to see what the youngsters are wearing these days — we beg of you. Instead, we have pinpointed some of the retro looks in your closet that you might not realize are actually making you look a lot older than you really are, while giving you the tools to find your own fashion niche, no matter what age you are.
Long skirts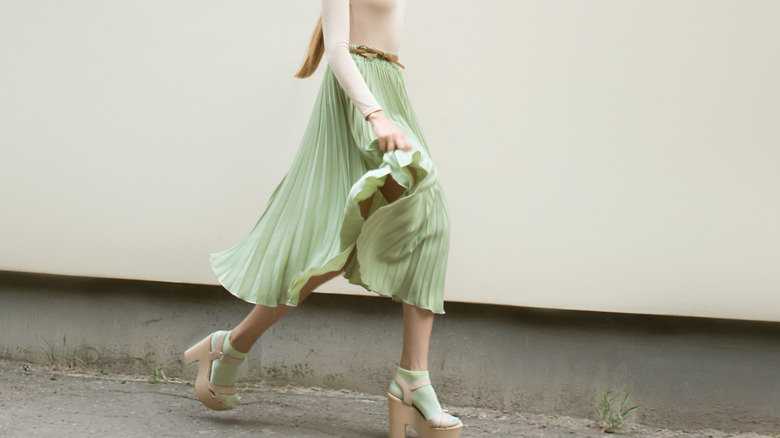 Oleksii Dubrovskyi/Shutterstock
Skirts have long been considered one of the most versatile pieces of clothing in one's closet. Although there will always be new variations of trends, skirts are something that doesn't seem to be on the way out any time soon. But sadly, the days of the maxi skirt may have come to an end. When your hemline goes just a little bit too far, it's easy to lose your curves in the fabric, leading to a frumpier and older appearance. In an interview with Oprah Online, celebrity stylist and fashion expert Lauren Rothman urged women to ditch the floor-length skirts for something more form flattering.
Rothman, the founder of Styleauteur and author of "Style Bible: What to Wear to Work," explains that in order to find the most flattering skirt length for your body type, your hemline should hit the slimmest part of the area around your knee. Utilizing a midi-length skirt can be flattering to your figure in a number of ways, when styled correctly. But, try to be aware of the location that your skirt length falls, in order to avoid losing your height in the outfit, as well as the tailoring to your specific curves. No matter how much you might want to cover your legs as you age, nothing ages a woman more than looking like she is dressed in a potato sack.
Silk scarves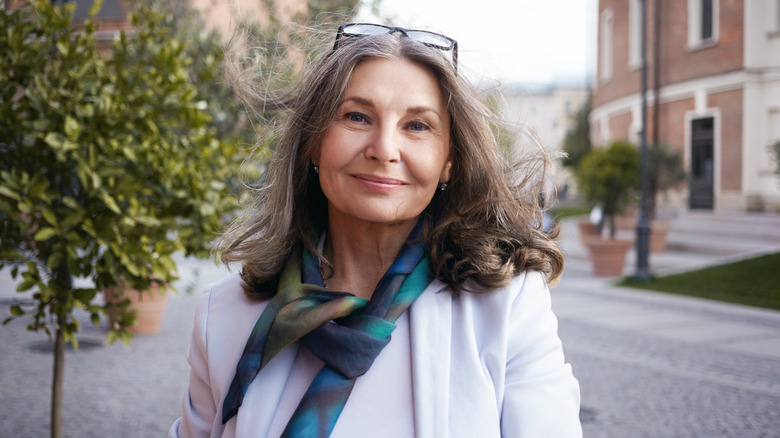 shurkin_son/Shutterstock
As women begin to age, a focal point for their insecurities tends to be their neck. If your main concerns are to reduce the noticeable appearance of wrinkles and fine lines, pieces like silk scarves will only draw more attention to those details and give your body the look of being top-heavy, which is never flattering. Picture "Catch Me If You Can"-esque flight attendant scarves. Perhaps they were acceptable for '60s era women in their early twenties, but not for real aging women of the 21st century. In an interview with Real Simple, stylist, author, and fashion journalist Lloyd Boston discussed the many ways in which you can make scarves fashion forward.
"The coolest scarves are made of an ethereal, lightweight knit, are long enough to be wrapped around several times, and come in unexpected colors and prints," Boston said. However, he shared that archaic patterns like "paisley, equestrian, and sailor themes can add years" to your look. But, there are still many unique ways to style your old silk scarves, such as by fashioning them into a headband, tying them around the strap of a purse, or using them in place of a necklace.
Monochrome accessories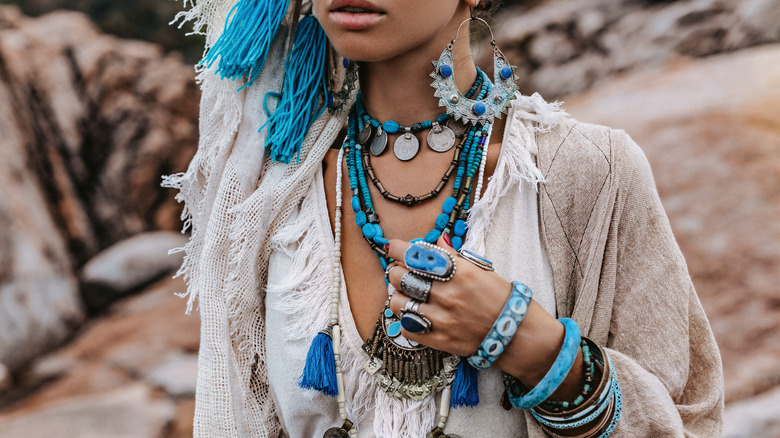 Zolotarevs/Shutterstock
A large majority of women that are aging seem to adopt the philosophy of 'less is more,' when it comes to beauty and fashion. In the wise words of Coco Chanel: "Before you leave the house, look in the mirror and take one thing off." A surefire way to add years to your appearance is by combining too many matching accessories into one outfit. Wearing accessories that are all the same color or pattern tend to weigh someone down and add years to their look — not to mention, it comes off as slightly lazy.
Expert stylist, Diana Melencio, advises you to avoid overly matching sets of jewelry. "Under 40, this can appear as a 'throw back' reference to the '80s and '90s when this was at its peak," she explained to The List. "After 40, it looks incredibly dated." 
Consider mixing and matching your jewelry pieces instead of wearing an entire matching set. Feel free to combine different types of metals for a more trendy and youthful look. Maybe skip the necklace one day in favor of some fun earrings and rings. Fashion experts recommend you focus on one bold statement piece and build the rest of the outfit around it. An obvious example being, there is no need to wear intricate necklaces when wearing a top with extensive detailing.
Sensible footwear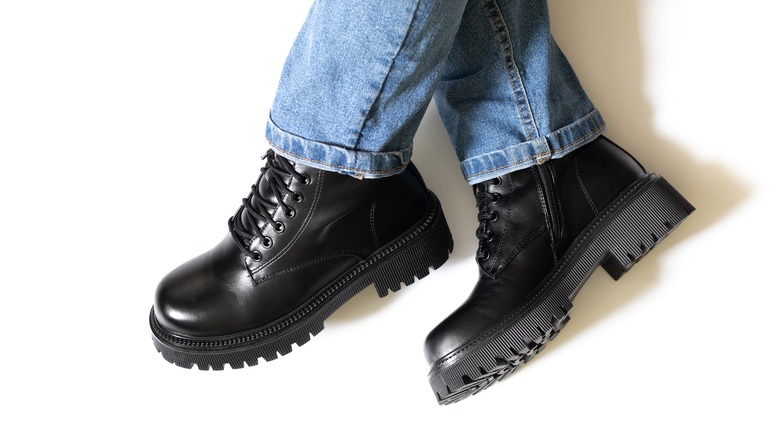 Lia_Russy/Shutterstock
"If they ain't hurtin', they ain't helpin'." Just kidding ... kind of. While there is no shame in the comfortable footwear game, it's important to be aware of the effects that our shoes have on our apparent age. Your friends might lie to you and say nobody will notice the shoes — but they will, and they do. Fashion faux-pas like clunky loafers, ballet flats or shoes that feature round or thick soles will do your legs absolutely no favors, especially for older women.
These days, there are tons of retro styles taking a modern approach. However, women over the age of 40 should be cognizant of how they style them. Who What Wear lays out the perfect substitutions to achieve age-defying footwear. Perhaps you could trade out wedges for heeled mules, or round-toed shoes for pointed toes. Or maybe even elevate some sneakers. With the return of the kitten heel, for instance, there are easy ways to be both comfortable and stylish, while elongating your legs and making you appear more youthful in the process.
Shapeless blazers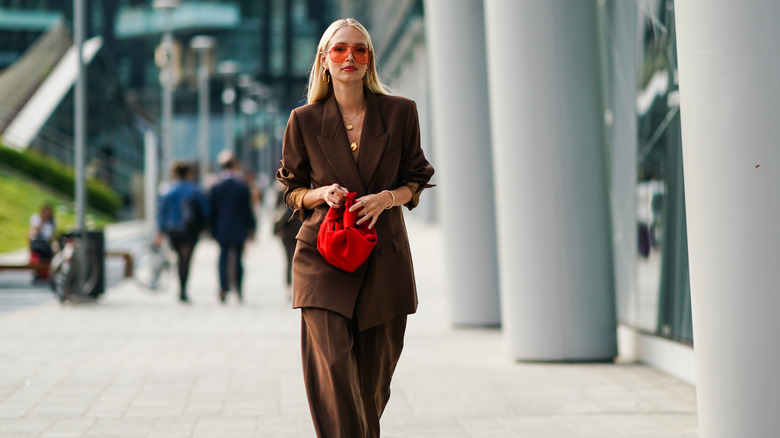 Edward Berthelot/Getty Images
An oversized blazer has the ability to elevate even the most boring of looks. But, there is a fine line between oversized and baggy. An oversized blazer paired with some high boots and the right accessories can double as a chic dress, but if it lacks the correct shaping for your silhouette, it has the ability to make you look a lot older and frumpier than you really are. Oprah Online spoke with Custom Tailor and Designers Association master Anita Kealey, who advised that if you're trying to cover up your upper body with a shapeless blazer, all you're doing is making yourself appear heavier.
There are plenty of ways to achieve the Hailey Bieber model-off-duty oversized blazer look without having to sacrifice your curves in the process. Tailoring makes just about everything better, so instead of hiding your body under a formless piece of fabric, opt for a more fitted blazer. A well-tailored jacket will hug you at the waist and showcase the most flattering parts of your body, while achieving the sophisticated yet stylish look you're after.
Wearing the wrong colors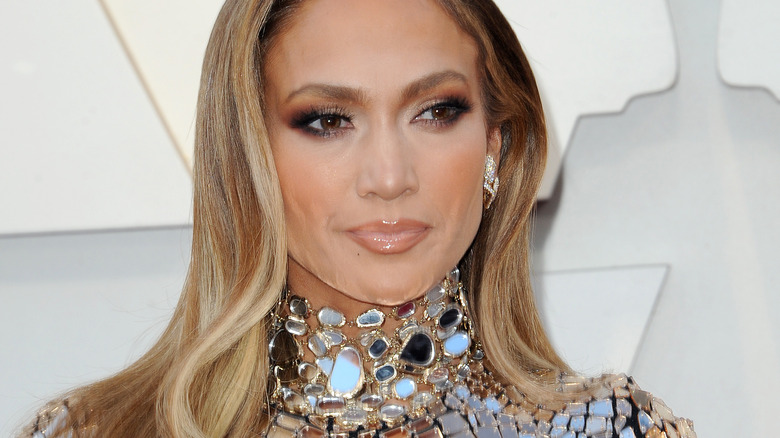 Tinseltown/Shutterstock
Whether your skin tone falls in the category of warm, cool, or neutral, there is always a color pallet that pairs perfectly with it. However, a common mistake among older women is dressing for the wrong skin tone, which can not only have an unflattering effect on your style, but also your age. Olive and golden undertones are considered to be warm, bluish hues fall under cool skin tones, and neutral is a combination of the two. Dressing your body for the right complexion will instantly lead to a brighter and more vibrant skin tone.
InStyle spoke to executive director of the Pantone Color Institute, Leatrice Eiseman, about the rules of color theory in fashion. She shared that, unsurprisingly, warmer undertones pair well with warm colors like orange, yellow, and gold, as well as earth tones like browns, deep reds, and different shades of green. Cool tones pair well with darker colors like charcoal, violet, and cool blues. Neutral skin tones, on the other hand, pair best with — you guessed it! — neutral colors. Think taupe, beige, peach, jade green, and soft pinks. If you're unsure of what category you fall under, check out our extensive guide to the best colors for your skin tone.
Floral and pastel prints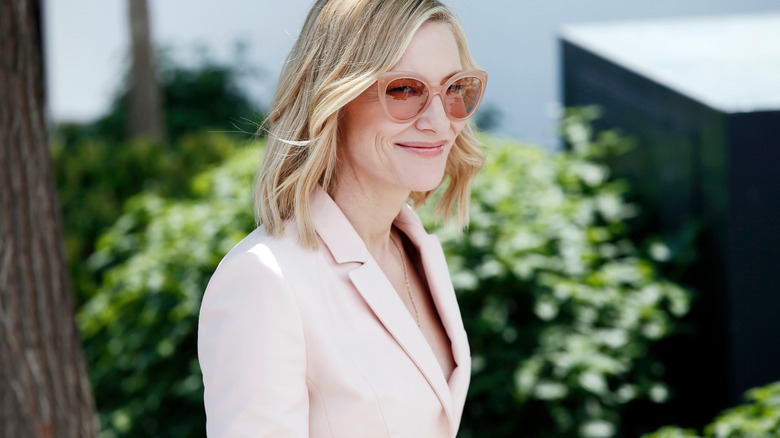 Andrea Raffin/Shutterstock
Pastels? For spring? Groundbreaking. If Miranda Priestly has taught us anything, it's that florals and pastels are heavily overused, especially in women over the age of 40. As women get older, their skin tones begin to naturally fade. Pair this with an overuse of pastel colors and the appearance of your skin tone will ultimately lose its vibrance, aging you immediately. While florals and pastels can still be extremely on-trend in moderation, when used in excess, they tend to wash out an individual's youthfulness.
Kate Smith, a color expert, consultant, and designer, gave Who What Wear some tips on how to identify the best colors to avoid looking older than you are. She names turquoise, red-violet, periwinkle, and what she calls "new black" (aka charcoal gray, navy) as the best substitutions for pastel colors. Although people might believe the opposite, bold colors will make your complexion appear tanner and more vibrant. But, if you simply cannot ditch the floral look, consider trying smaller floral patterns to achieve more of a subtle feminine vibe.
Loose-fitting jeans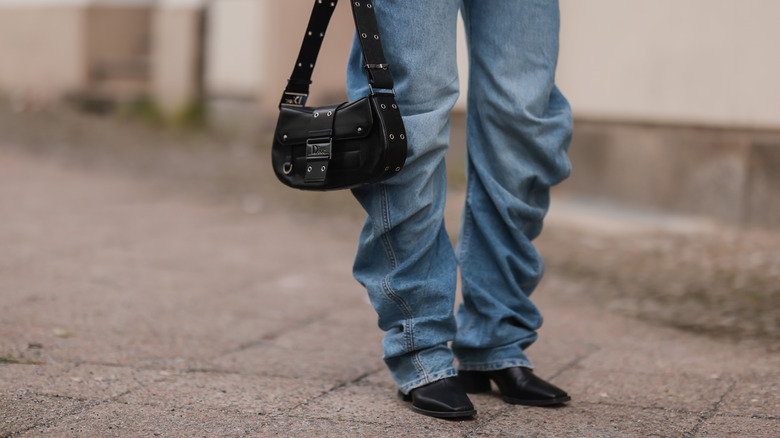 Jeremy Moeller/Getty Images
The days of the skinny jean might be long over, but mom jeans are not simply one size fits all, especially for older women. There is an art to finding the perfect denim fit for your body. Overly baggy jeans can not only be unflattering to your figure, but can also add years to your look. Looser jeans are becoming the new trend, as people begin to look for both comfort and style. But, when your loose jeans begin to border on baggy, it begins to hinder your curves.
Whether it's barrel leg, cropped, or a modern version of the boot cut jean, there are tons of stylish options for denim these days. Elle UK took an in-depth look at the most flattering yet comfortable denim styles we're seeing in this trend cycle. A common misconception is that skinny jeans will give you a more youthful appearance, when in reality, the right fit of jeans will follow your silhouette and have enough stretch that your legs won't be gasping for air. Experts recommend finding jeans with about 2% elastic fiber for the best results.
Wearing all black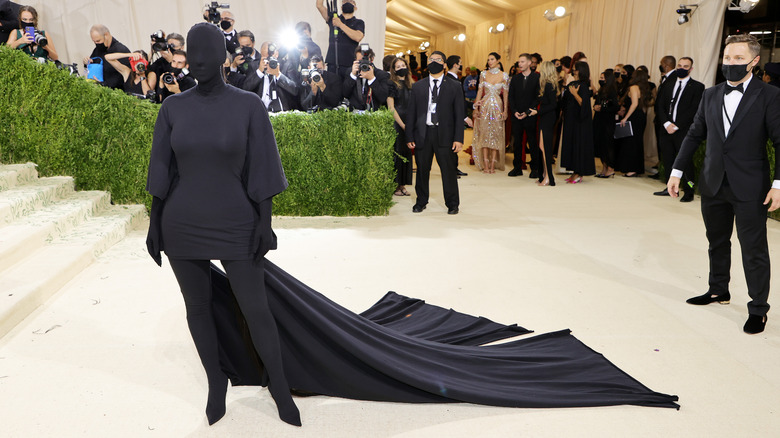 Mike Coppola/Getty Images
We've all been told since birth that black is the most slimming color for your body, and this still remains true. But believe it or not, style experts have actually said that for older women, wearing black can make your face look older by emphasizing shadows, dark lines, and wrinkles. As we age, our skin begins to lose its natural pigment and gradually become paler. Black acts as a harsh contrast that will undoubtedly bring more attention to the dark areas around the face.
Marie Claire UK spoke with Jules Standish, one of the U.K.'s leading Color Analysis experts, who explained how wearing too much black has the ability to make your face look less healthy by highlighting darker spots. 
To counteract this, consider adding a pop of color or a statement accessory to your look. If you're ever unsure of whether or not one of your black items will be flattering, Standish suggests holding the color up to your face and looking for any dark lines that are being emphasized. If there are none, you're in the clear.
High turtlenecks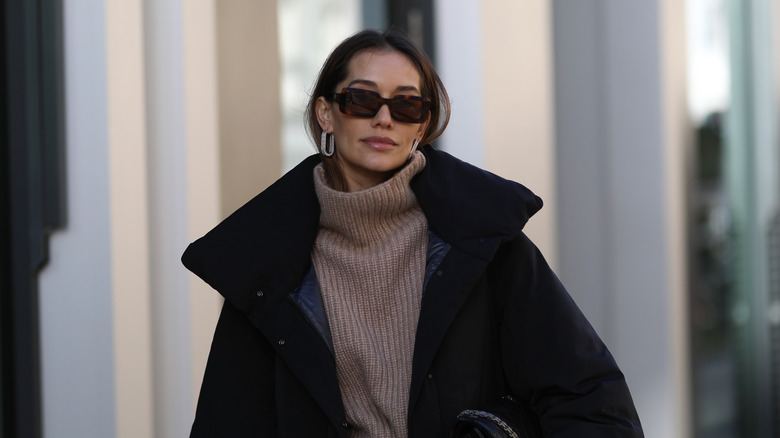 Jeremy Moeller/Getty Images
If decades of "Americas Next Top Model" reruns have taught us anything, it's that you always want to elongate the neck. While older women tend to want to hide their neck impurities as they age, this can actually have the opposite effect than might be intended. Not only do high turtlenecks make your neck look shorter and wider, but they also draw more attention to those unwanted areas. But, we're not telling you to toss out all of your turtlenecks, because, let's face it, that style is probably never going anywhere.
Instead of a high turtleneck, opt for a mock turtleneck to get the same look while avoiding any visible aging. Collared shirts, V-necks, and scoop neck tops also have the ability to draw attention away from the neck, acting as a subtle way to keep a fresh and youthful look. Turtlenecks have the tendency to streamline your look, effectively flattening your figure and taking away any curves you have in the process. Pairing a mock turtleneck with fun earrings and an updo has the ability to bring the attention off of your neck and chest and up to your face.
Capri pants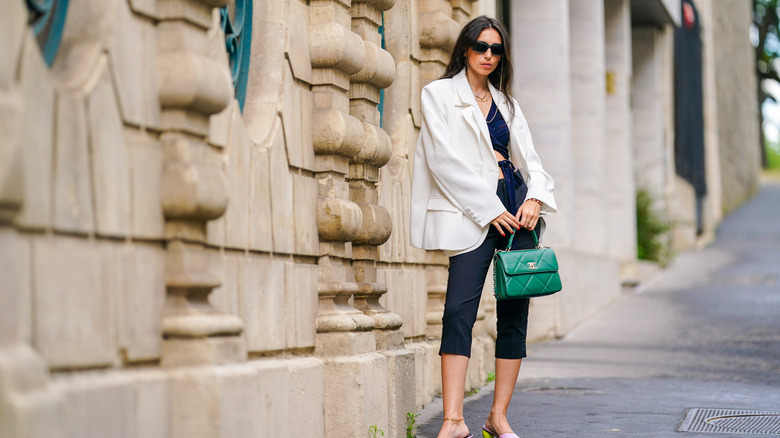 Edward Berthelot/Getty Images
This one should really go without saying, but in case you're still rocking the 2000's era cut off pants, this is your formal notice to throw them out. Not only are capri pants completely outdated, but they cut you off at one of the thickest parts of your leg, making your legs appear shorter and broader than they really are. This, in turn, will add years to your appearance. But don't worry, there are plenty of alternative wardrobe options to give you the same practical comfort while also providing a more youthful and trend-forward look.
The secret to keeping a fresh and youthful look is having longer and leaner legs. If you've maybe skipped the stair master for the past few years, there are easy ways to fake it till you make it. Opt for ankle-cut jeans that cut off at a much thinner part of your leg, giving your legs a more slender appearance. Ankle-cut jeans can also act as a staple in your closet that will most likely never go out of style, whether that you pair them with sandals in the summer or booties in the fall.