Rex Linn Opens Up About How He First Met Reba McEntire - Exclusive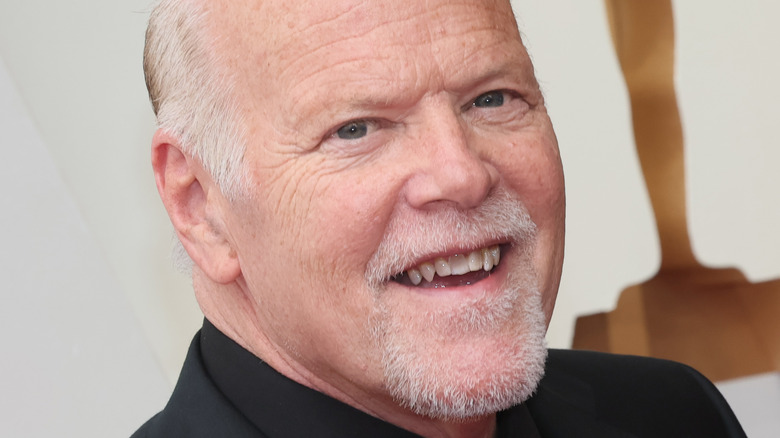 David Livingston/Getty Images
Rex Linn has the kind of Hollywood résumé any actor would envy. From his earliest screen roles in the late 1980s to the present, this veteran actor has appeared in a seemingly endless array of movies and TV series. As for the former, Linn can count such big-screen hits as "Cliffhanger," "Rush Hour," "Wyatt Earp," "Tin Cup," "Ghosts of Mississippi," "Django Unchained," and the horror-comedy "Zombeavers" among his extensive credits. On the small screen, among his many roles have been Frank Tripp on "CSI: Miami" (a character he portrayed for 10 seasons), Kevin Wachtell on "Better Call Saul," and Principal Tom Peterson on the hit CBS sitcom "Young Sheldon."
Lately, Linn has also become known as the boyfriend of Reba McEntire, having dated the country music icon since 2020. Linn and McEntire will soon be seen together onscreen in the made-for-TV Lifetime movie "The Hammer," with McEntire starring as a hard-nosed Nevada judge.
In an exclusive interview with The List, Rex Linn recalls first meeting his future love on the set of the TV movie "The Gambler Returns" way back in the early 1990s.
Linn thinks it's 'hilarious' that McEntire says they 'worked together' in 1991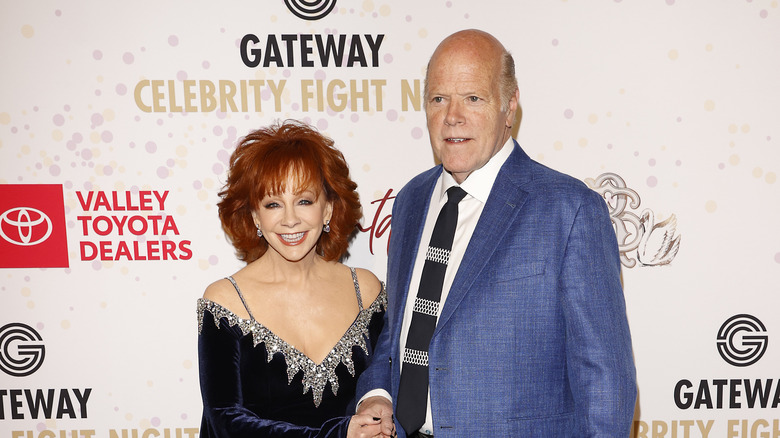 Michael Tran/Getty Images
Rex Linn and Reba McEntire first met, albeit briefly, back in 1991. That was when he was cast in a bit part in the TV movie "The Gambler Returns," in which McEntire starred alongside fellow country superstar Kenny Rogers. "Reba always says we worked together. We did, in 1991 on 'The Gambler Returns,' but [my name] wasn't on the call sheet," Linn explained. "My buddy directed it, and he said, 'I know you don't have an agent or anything, but I got a role for you on this Kenny Rogers/Reba McEntire show called "The Gambler."' I said, 'Great.' I went in there and worked one day. I had two lines."
During his single day on the set, Linn met McEntire. "I did meet Reba that day," he recalled. "Reba always says we worked together, which I find hilarious, but she always says, 'We worked together on "The Gambler."' We shook hands on 'The Gambler.' Then, they were telling me, 'Hey, dude. Get over there by that horse, and get on him, and wait until we can talk to you.' That's how we worked."
Linn and McEntire reconnected thanks to Young Sheldon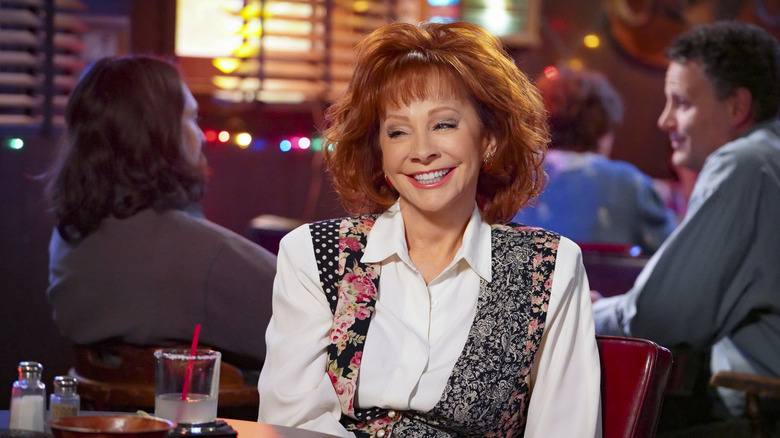 Bill Inoshita/CBS
When Rex Linn and Reba McEntire reconnected nearly 30 years after they first met, there was some serendipity at play. That's because both had been cast in recurring roles in "Young Sheldon," the CBS prequel to "The Big Bang Theory." "That's how Reba and I got back together," Linn confirmed. "We never worked together. We were friends for 28 years. She called and said, 'I'm going to be on "Young Sheldon,"' and I said, 'Great,' so we went to dinner. We've been inseparable ever since."
Interestingly enough, even though both Linn and McEntire have appeared in multiple episodes of "Young Sheldon" — he as the principal of Sheldon's school and she as June, the feisty ex-wife of Coach Ballard (Craig T. Nelson) — they've never actually appeared in a scene together. Linn, however, has an idea to change that. "Here's what I planted at 'Young Sheldon,'" he explained. "I said, 'Old Tom now, Principal Tom, he's ... June is over there in a hair salon. She's single. I'm thinking that old Principal Tom, on his day off, happens to walk by the salon.' So far, it hasn't happened."

Rex Linn and Reba McEntire will be seen together in "The Hammer," airing January 2023 on Lifetime.