Data Shows Aldi Is Going Through A Massive Downward Spike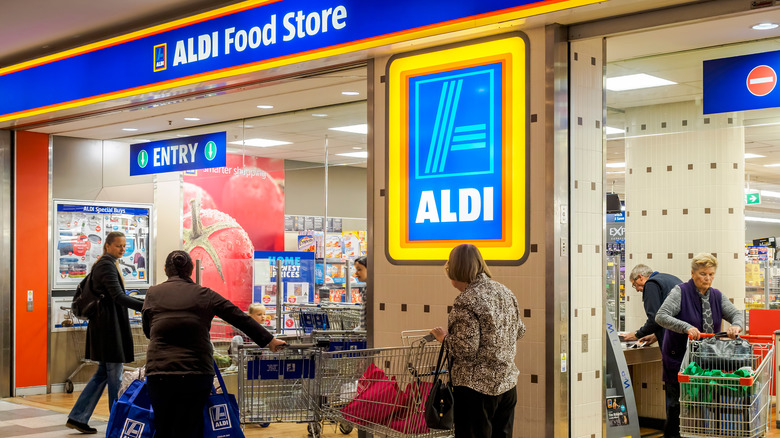 Dr. Victor Wong/Shutterstock
Some people might think that bargain shopping for groceries won't get you quality goods, but those people have likely never been to Aldi. Prices are low and grocery trips are short when you shop at Aldi, thanks to its dedication to reasonable prices and quality products.
Aldi has come a long way since its first store over 100 years ago. In 1913, Anna Albrecht opened the flagship location in Essen, Germany, and it was originally named Albrecht Discount (via Insider). As the business grew, it stayed in the family, and Albrecht's sons turned their mother's grocery store into an empire. Today, Aldi's grocery chain has expanded across the globe, becoming the third largest grocer behind Walmart and Kroger, according to the JLL Grocery Tracker.
Aldi is a favorite among organic shoppers and bargain shoppers alike, but can it retain shoppers amid rising inflation costs? The List created a graph with exclusive data that tracked monthly foot traffic trends at US Aldi locations over the past two years. The results show a surprising decline in visitors in recent months, making us wonder why shoppers aren't flocking to the grocery chain like they once were.
Aldi may be making promises it can't keep
According to The List's graph, Aldi had a quick and successful recovery from the COVID-19 closures in spring 2020. It's actually one of the few grocers to see its foot traffic increase since the pandemic, with averages reaching 950,000 unique visitors in spring 2022. But the graph illustrates a severe downward spike as Aldi foot traffic dropped by 200,000 in just one month.
When inflation began to rise, Aldi's CEO Jason Hart pledged that prices would remain reasonable. "No matter what happens in the world around us, ALDI will always be the low-price leader in every community we serve," he said in an April 2022 press release. Unfortunately, inflation continues to soar months after this price pledge, and, inevitably, shoppers have seen many of Aldi's goods become more expensive (via Mashed).
Even with the promise of steady prices, the German grocery store has some serious competition as it navigates changing consumer habits. People are shopping less often and spending less in the face of rising prices. While Aldi is the third largest grocer worldwide, there are only around 1,600 locations in the United States, per Forbes. 
Meanwhile, US grocery giants like Wal-Mart and Sam's Club, America's favorite wholesale club, have a combined store count of nearly five times the amount of Aldi locations (via Food Industry). If consumers have to choose between the stores, they may be more likely to spend money at a wholesale club that gives them more bang for their buck, leaving Aldi behind.