The Dangerous Reason The Bold And The Beautiful's Steffy And Finn Crossed Paths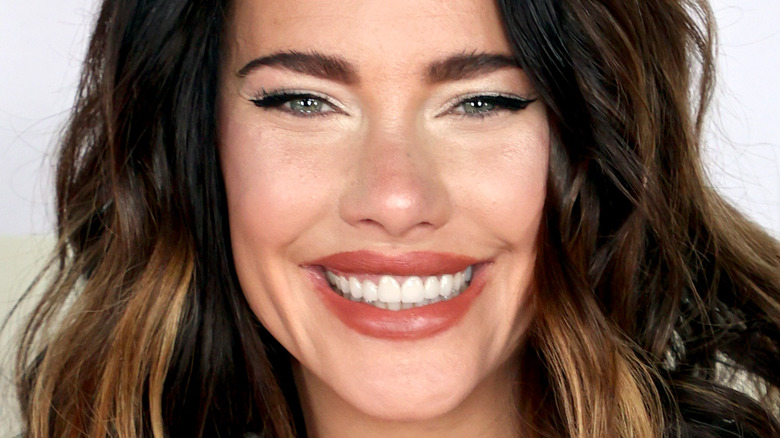 Kevin Winter/Getty Images
Steffy Forrester from "The Bold and the Beautiful" is someone who is a lot of things to a lot of different people. She's bold, she's resilient, she's beautiful, and she's independent. Back in 2017, her portrayer Jacqueline MacInnes Wood told Soap Opera Digest that it was nice to see her character develop into the strong woman that she is today. She said at the time, "Steffy's in such a transition, and just seeing her growth and where she has come from is pretty incredible. She is coming into her own and I feel like she's a woman now. She's strong, and she's not afraid to show her strength. I like that." 
And while fans have seen both her strengths and her weaknesses over the years — and especially her love triangle storyline with Liam Spencer (Scott Clifton) and Hope Logan (Annika Noelle) – it's her relationship with Dr. John "Finn" Finnegan (Tanner Novlan) that has really brought out the best in her. However, little do some "The Bold and the Beautiful" fans know that there was actually a dangerous reason why Steffy and Finn crossed paths when they first met.
Here's how Steffy first met Finn
Steffy Forrester has tried to find luck in her love life several times, but it hasn't worked out to her advantage. Even though Steffy has been romantically linked to Spencer men, like Liam Spencer, his brother Wyatt Spencer (Darin Brooks), and even their father Bill Spencer (Don Diamont), her relationships with them have fell flat for one reason or another (via Soaps.com). However, it's the truth about Steffy's relationship with Finn that every fan really wants to know. 
According to Soap Dirt, Steffy met Finn during the most unexpected circumstances: She was hit by Bill Spencer while she was on her motorcycle. Needless to say, there was an instant attraction between them from the very start. Jacqueline MacInnes Wood also admitted that having Finn on the canvas gave her character a chance to focus on someone else than a member of the Spencer family for once. She told Soap Opera Digest back in April, "I loved the Steffy and Finn romance. When Brad [Bell, executive producer] brought Tanner [Novlan] on board, everyone was excited that the Steffy, Liam, and Hope triangle would take a break."
And while there certainly was an attraction between Steffy and Finn from the get-go, the first few weeks of their relationship was anything but easy.
Steffy and Finn have become the ultimate 'The Bold and Beautiful' couple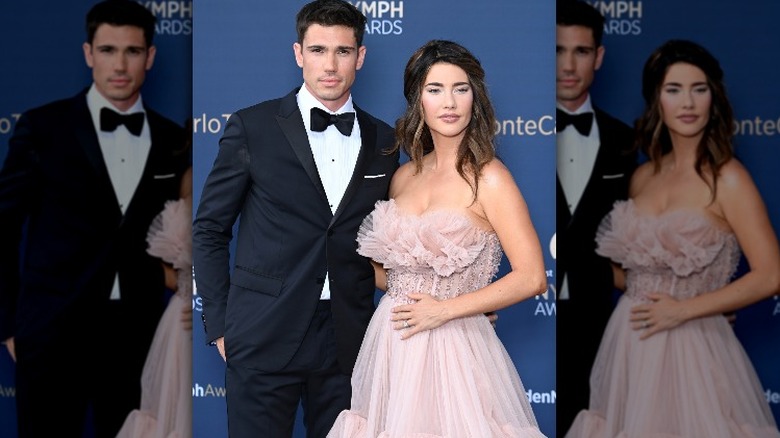 Pascal Le Segretain/Getty
As many "The Bold and the Beautiful" viewers can recall, Steffy Forrester was addicted to pain killers soon after she was hit by Bill Spencer while she was riding her motorcycle (via Soap Opera Spy). It was certainly a very dark moment for Steffy as she went on a downward spiral with her addiction. However, Jacqueline MacInnes Wood told Soap Central that her character's story was an important one that was worth telling. She said, "Before getting into those scenes, I was just thinking about the truth of everything, that this happens to so many people. I feel like we all know somebody, unfortunately, that suffers from addiction of some sort," while also adding, "Steffy is a misunderstood character and she was so broken."
Thankfully, Finn came into Steffy's life at just the right time. In fact, their long-awaited reunion in Monaco sure left a lot of "The Bold and the Beautiful" fans in a tizzy. That's because they never want to see Steffy and Finn unhappy or apart, for that matter. These two have become the ultimate "The Bold and the Beautiful" couple.