Mackenzie Dipman On Her Return To Love Island, Self-Elimination, And More - Exclusive Interview
There are some fixtures on the reality TV dating scene that define the very programs they're featured on. Take Nick Viall from "The Bachelor" franchise, who not only made an appearance on multiple seasons of "The Bachelorette," but also served as the leading man himself. There's also Cameron and Lauren Hamilton from "Love Is Blind" — the successful married couple is practically synonymous with the show's success. 
When it comes to "Love Island" USA, one such defining cast member is Mackenzie Dipman, the Season 2 star who almost made it to the very end. Coupled up with Connor Trott for about four weeks, then Jalen Noble for one, then Aaron Owen for her remaining time, Mackenzie entered the villa on day one and stuck around until day 26. Ultimately, she didn't find her special someone, and the then-24-year-old left single. Fans may not have predicted that Mackenzie would find her way back to the island, but Season 4 viewers were shocked when she dropped in as a bombshell towards the latter half of the island time. Was her person in the villa this time around?
While Mackenzie made quite the impression, her special someone ultimately wasn't among the cast members of "Love Island" USA Season 4. She didn't stick around too long after coming to the realization, either. As cast member Joel Bierwert was eliminated, Mackenzie chose to leave the show, admitting that her time had come to a close. After sending herself home, we spoke to Mackenzie exclusively about her decision-making, the biggest differences between her Season 2 and 4 experiences, and her predictions about the cast members' ultimate fates.
Mackenzie reveals how she found herself back on the show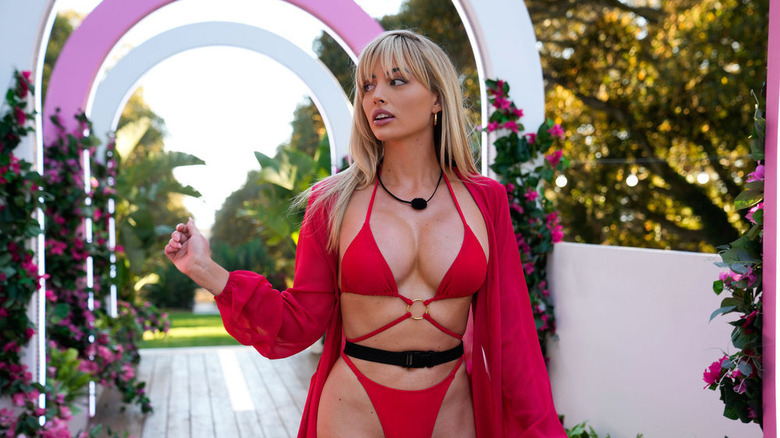 Casey Durkin/Peacock
This was a return to "Love Island" for you. Before we get into your connections in the villa, what initially made you want to return to the show?
Honestly, it was one of those things — it's not like you're going to text the producers and be like, "Hey, bring me back." I got a text message out of the blue from one of the people in casting that I was close to from my season. She was like, "Are you single? Are you vaxxed? What are your plans for the rest of the summer?" It happened in a matter of a couple of days that I ended up in quarantine, and two weeks later, I'm in the villa.
What a whirlwind.
Yeah. When you're single, why turn that down? I don't think I realized until watching the U.K. this season — and watching the start of Season 4 — that I felt like I wasn't finished. I had come to terms with being done, but then I felt like it all was opened back up for some weird reason this summer. It was almost like I manifested that text message, and I'm so glad that it happened like this.
The Love Island veteran reflects on personal growth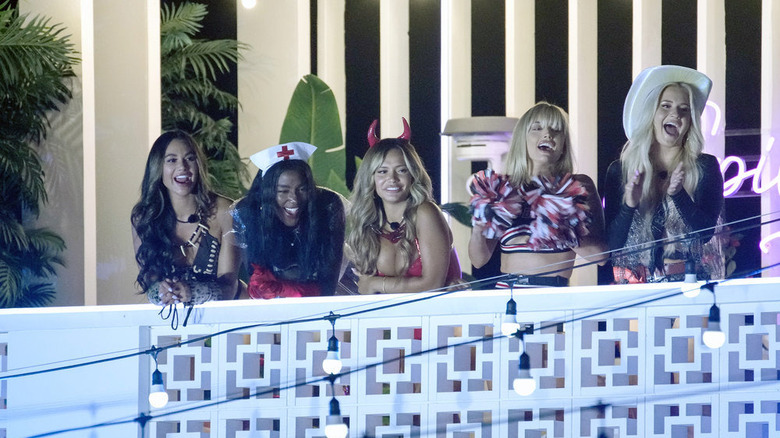 Casey Durkin/Peacock
What would you say has been the biggest personal growth for you between Seasons 2 and 4?
When I was 24, I felt like I had such a good head on my shoulders and that I was very mature for my age because I had been told that so much. Seeing myself react to the situations on TV, I realized that maybe I wasn't quite there yet. Maybe I was closer than most, but I wasn't there. It gave me such an amazing opportunity to see those things that I wanted to change. Everyone should always be open to self-growth.
I'm very open to criticism. I take it. I like the feedback. I wanted to be a better version of myself. I wanted to be someone who didn't get caught up in the little things. I wanted to enjoy my life more. That had to be accompanied by an attitude shift. It wasn't going to happen unless I shifted my perspective on everything — relationships, myself, the world around me.
I can't imagine what it would be like to watch yourself on TV and then get to have that introspective growth. That must be a unique experience.
One of the biggest differences between the first time and this time was that so much of the impression that people got of me was tied to another person. I can't control how another person is acting. I know people like to joke that I was trying to — I wasn't. I can only help what I'm saying and what I'm doing. That's where I was at a bit of a disadvantage the first time — so much of my character was tied into someone else.
I don't ever recommend that. You should be your own person, and I think that's why this time around, you did see such a different side of me. It was much more of ... I was taking control of myself, and my situation, and not letting others affect me in the way that they did the first time around.
Does Mackenzie regret her self-elimination?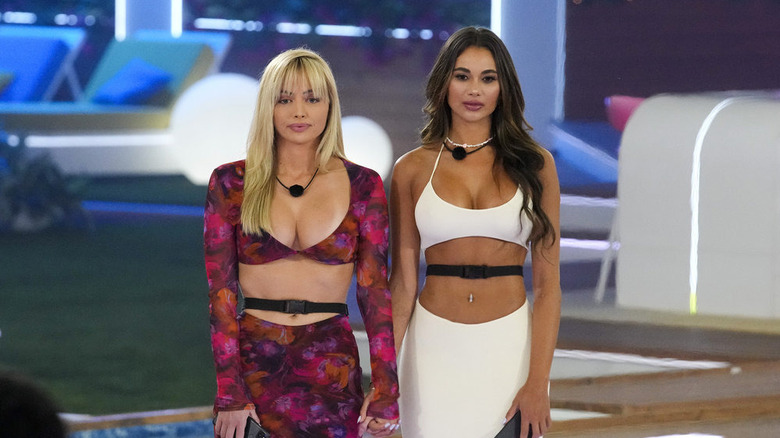 Casey Durkin/Peacock
Your entrance into the villa ultimately resulted in Courtney [Boerner] being sent home; then you opted to leave this week. Do you have any regrets surrounding that decision? How do you feel about that, in retrospect?
I feel really good about it, actually. It's important to know when to leave the party. My first time around, my elimination was unexpected. If I was honest with myself, once things panned out the way they did with Jalen [Noble] — with the way things had shifted in the house — I didn't feel like I should be there anymore. The villa will tell you when it's time to go home, and it's up to you to listen to that.
It was a regret of mine, not choosing to leave the first time, because having that power of being able to control your own fate would have made me feel a lot better about how my experience ended. It's almost like I got to do what I should have done the first time, which was choose to leave when I was ready to go, and when was right for me.
But I do wish that Courtney could have stayed. I don't like the fact that I only got to spend 24 hours with her, because she is truly such a sweet girl. We talked about her every day. We talked about her a lot. But I do also feel like [with] Courtney leaving, there was a void to fill with her departure. It allowed me the opportunity to get to know some of the girls a little bit more. Who knows? It could have been really different. One person can extremely shift every dynamic in the villa, so [it's] hard to say.
Do you have any intention of reconnecting with anyone after the villa? Or are you ready to put your "Love Island" experience to bed?
If they'll have me, I would love to be a part of as much or as little of the Season 4 family as I can. In my short time there, I connected a lot with not just the girls, but also the boys. They did make me a birthday cake. I hope to stay in touch with them, and I would love to meet some of the other islanders.
It's hard because a lot of people tend to be so different in person. Because there were so many bombshells this season earlier, I couldn't even tell you hardly what Felipe [Gomes] or Andy [Voyen] are like. We saw none of them. Obviously, Andy is with Mady [McLanahan]. I don't mean in a romantic sense — I don't even know who I want to be homies with. [Of] the ones that left, we saw sadly very little of them for the most part. But I do hope I get to meet everyone at some point, for sure.
Mackenzie offers her predictions and plans for the future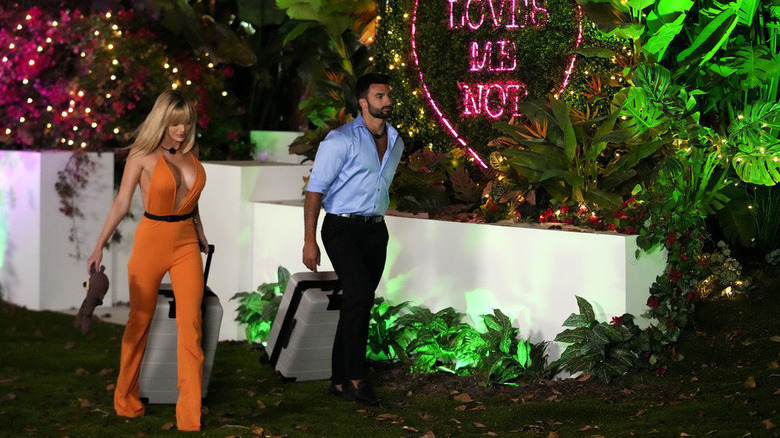 Casey Durkin/Peacock
When you left, you explained that both Chad [Robinson] and Phoebe [Siegel] should be given a chance at love. You're a "Love Island" pro. What are you hoping will pan out between the remaining people and the couples on the show? Do you have any predictions as to who will go the distance?
I meant what I said when I said that all of the couples remaining were so different. When I looked around that circle, everyone knew they had a strong connection of some kind with the person they were with — whether that was a budding one, like Chad and Phoebe, or something that was a day one thing, like Timmy [Pandolfi] and Zeta [Morrison].
They were all so different. I gave them as much advice as I could about what to expect, because I was in one of the longest relationships from the USA that's happened. I tried to give them my advice, and it's up to them as to how they handle everything moving forward. Some of them are going to have to deal with distance. Some are going to have to deal with the pressures of public misconceptions.
Speaking as someone who was kind of polarizing — and people had a lot of opinions about me, if we're honest — that definitely did play a role in my relationship. It came up. It was a concern for Connor [Trott], the things that people were saying.
It'll be interesting because there were so [many] more stable couples this season than I think any other season, which sucked for me as a bombshell. But good for them, because at the end of the day, for a lot of these people, whether it lasts or not, they will remain very close friends.
What's next for you? What's the next couple of months looking like?
I just got a new apartment, so I haven't even gotten a chance to be in it yet. I'm moving in. I just want to get back to my business. I have my own brand, Out of His League. [I'm] figuring out a future for that. Recently, even prior to going on the show, I had been taking a break from socials to reflect on what the future held for me. Podcasting is something that I really do love. Keep an eye out for something, a new project, that will potentially be coming in the next month or two.
"Love Island" Season 4 concluded on August 28. The reunion episode will drop on September 1 at 9 p.m./6 p.m. ET/PT.
This interview was edited for clarity.