Data Reveals America's Favorite Pet Store: Petco Vs. PetSmart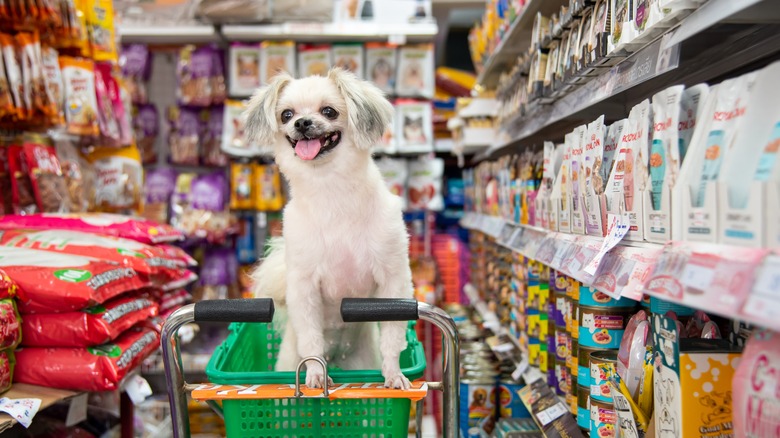 PongMoji/Shutterstock
Whether you're a dog person, a cat person, or you like animals full of colorful feathers or slimy scales, having a pet is one of life's greatest joys. Pet Assure reports that having an animal is a great way to teach children responsibility, trust, and compassion. Pets have also been known to promote active, healthy lifestyles and provide major mental health benefits to people who have experienced loss and hardship; many animals even make incredible service companions for people with disabilities (per Help Guide). From adorable halloween costumes to fancy subscription boxes, pet owners adore their animal BFFs – some pets even have their own social media accounts! Owning a pet can be a ton of fun, but it is also a ton of work.
When deciding which pet to get, The American Veterinary Medical Association recommends getting "only the type and number of pets for which you can provide appropriate food, water, shelter, health care and companionship." A good pet owner should be prepared to invest a good amount of time and money to ensure that their pets live healthy and happy lives.
When it comes time to buy supplies, pet retailers like PetSmart and Petco provide everything your pet might need. But which store is more favored when the pet supply rivals go head to head? To see which store sees more shoppers each month, The List created a graph with exclusive data that tracked monthly foot traffic over the past two years at both pet stores.
Pet owners are flocking to PetSmart
According to The List's graph, pet lovers seem to prefer PetSmart over Petco. When foot traffic of both stores is compared, PetSmart sees nearly 80,000 more monthly visitors on average. Even during the COVID-19 lockdowns in the spring of 2020 — when in-store shoppers were few and far between — PetSmart saw almost twice as many visitors as its competitor.
According to their website, Petco was established in 1965, more than 20 years before the first PetSmart arrived on the scene in 1987. The stores both offer a wide variety of quality products, a robust rewards program, and a training program for pets, but PetSmart offers slightly more to win over customers. Writer and researcher Patrick Algrim reports that one of the reasons PetSmart may have seen more success is because it "offers dog boarding directly, while Petco offers it through a partnership with Rover." 
PetSmart may also be outperforming Petco because they have more store locations. According to ScrapeHero, PetSmart has 1,509 locations open in the United States, while Petco only has 1,391. If you're a die-hard Petco fan, don't worry — per Retail Dive, Petco has expanded at a rapid rate this year. The pet retailer partnered with home improvement store Lowe's to provide new "shop-in-shop concepts" that caters to the needs of customers with a variety of different budgets.