The Real Reason Steffy Married Wyatt On The Bold And The Beautiful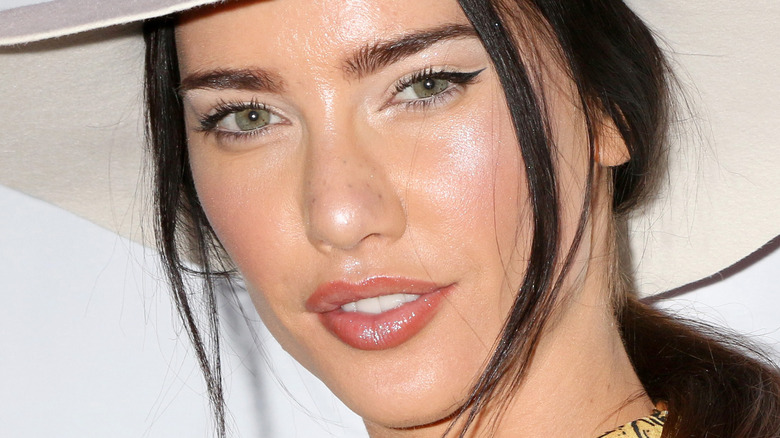 Kathy Hutchins/Shutterstock
Steffy Forrester (Jacqueline MacInnes Wood) and her history with the Spencer men on "The Bold and the Beautiful" has been well-documented. As many viewers can recall, the reason why Steffy slept with Bill Spencer (Don Diamont) while she was still married to Liam Spencer was because her husband had kissed Sally Spectra (Courtney Hope) behind her back at the time, according to Soaps in Depth. Don Diamont, who plays Bill Spencer on the hit CBS soap, told Soap Opera Digest that their affair was definitely one of his favorite storylines. He said, "That was truly an intense and passionate relationship. You consummate their relationship, but yes, it was intense. What might have started out as a flirtatious manipulation on Steffy's part really turned into a heavy-duty love relationship."
And while Steffy's romance with Bill certainly has gotten a lot of attention (because it's peak soap when you are sleeping with your father-in-law, right?), it's her marriage to Wyatt Spencer (Darin Brooks) that a lot of people still can't help but talk about. In fact, it seems like there was a particular reason why Steffy married Wyatt in the first place. 
Steffy and Wyatt's marriage was a hot mess
According to TVOvermind, Wyatt Spencer was in hot pursuit of Steffy Forrester even though she was with his brother Liam Spencer at the time. And in what a lot of people would call an ultimate mama's boy move, Wyatt's mother Quinn Forrester (Rena Sofer) stepped in and tried to help her son, but ended up giving Liam a head injury which caused him to lose his memory, which is one of the terrible, no-good things she's done on "The Bold and the Beautiful." If that weren't enough, she also kept Liam in a cabin during Steffy and Wyatt's wedding. During the same time that Steffy and Wyatt exchanged their vows, Liam held a photo of Steffy while he was cooped up in the cabin and said to himself, "I don't even know who you are, but I feel like I'm losing you. Why can't I remember?" as detailed by Soaps.com.
Liam eventually did get his memory back, but that didn't help the fact that Steffy and Wyatt's marriage was a messy one. That was mostly because Steffy couldn't stand Quinn being the third person in their marriage, according to Soaps in Depth. Wyatt eventually realized that things just weren't going to work out, prompting him to file for divorce and worse, undergo skin laser treatment to get rid of their wedding band tattoos. 
That said, Steffy's marriage to Liam hasn't fared any better, either. 
Liam Spencer is no angel, either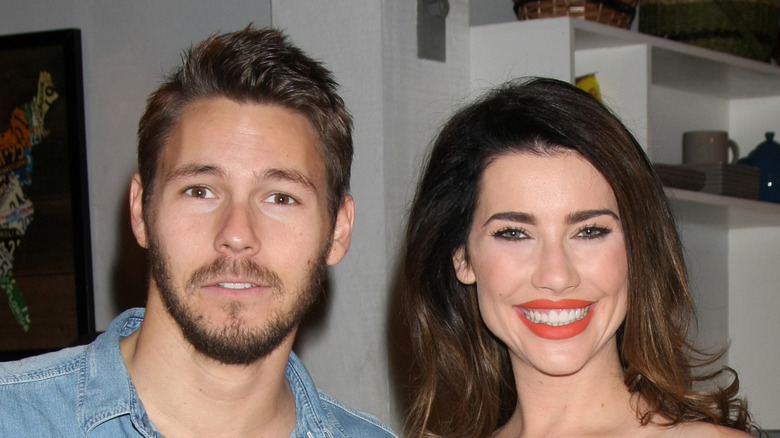 Kathy Hutchins/Shutterstock
Soon after it was revealed that Steffy Forrester was sleeping around with her father-in-law, Bill Spencer, she got pregnant. For a while, she wasn't sure who the father of her child was until it turned out to be Liam Spencer, although there was some speculation that the shady Vinny Walker (Joe LoCicero) might have tampered with the results, according to Soaps.com. 
But before that, Liam pulled the plug on his relationship with Steffy, as detailed by Celeb Dirty Laundry, and went on to seek comfort in the arms of Hope Logan (Annika Noelle), which some would say has been the cornerstone of Hope and Steffy's feud on "The Bold and the Beautiful." With Liam going back-and-forth between the two women so many times, even his portrayer Scott Clifton thinks he's a big of a "waffler." He told Soap Opera Digest in 2020, "Of all the wafflers, I win — I am the waffle king! Okay, first let me say, I don't get Liam. I try really, really hard, but I don't get Liam, and that is the struggle of my job."
With so many people in this fictional town of Los Angeles that the Spencer, Forrester, and Logan families live in, you'd think that people like Liam and Steffy would have more options when it comes to the partners they choose in their lives, right? Well, apparently not.