Filmmaker Says Ivanka And Donald Trump Jr. Will Do Whatever It Takes To Ensure This Happens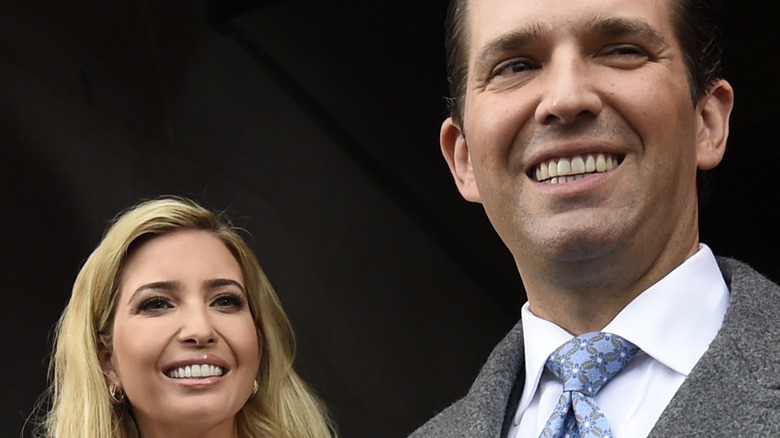 Pool/Getty Images
Ivanka and Donald Trump Jr. were top advisors to their father when he was in the White House. As every American knows, Donald Trump didn't exactly go quietly into the night when he lost the 2020 election to Joe Biden. Likewise, his son has continued to actively defend the GOP leader's agenda on Twitter, while since leaving D.C., Ivanka has mostly remained behind the scenes.
Still, there's no doubt that like her older brother, the former model enjoyed the prestige that came along with her family residing at 1600 Pennsylvania Avenue, having taken on an active role in supporting her father throughout his term. The exciting opportunities she enjoyed included meeting with foreign dignitaries and serving as a proxy for Donald Trump at important meetings — albeit much to the chagrin of some (via Vogue and The Atlantic).
Now that the Republicans are out as the first family, filmmaker Alex Holder, whose documentary footage chronicling the controversial Trumps was subpoenaed by the House in its investigation into Jan. 6, says Ivanka and Don Jr. are chomping at the bit to get back to their former glory (via Politico and Yahoo!).
Ivanka and Donald Trump Jr. may be just like their father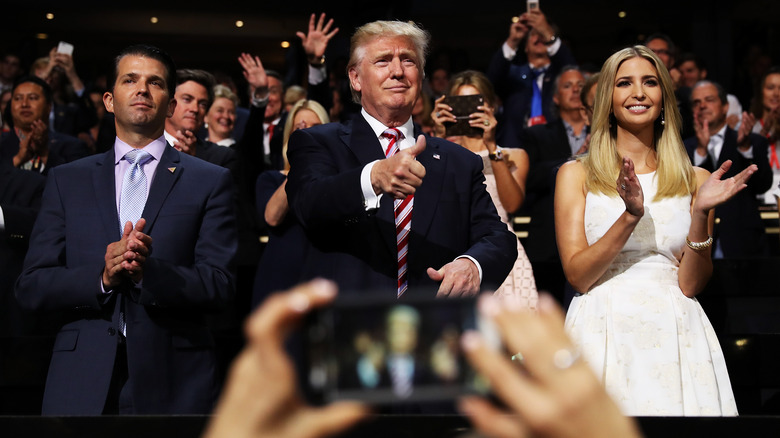 Joe Raedle/Getty Images
Speaking to Tim Miller on "The Bulwark" podcast, Alex Holder, who has been critical of the Trump family after gaining unprecedented access to them during the 2020 campaign, claimed that Ivanka and Donald Trump Jr. "absolutely are obsessed with the power and the influence that you have when you're in the White House" (via Insider).
Holder — he also recently revealed that in his opinion, Eric Trump has a surprising dynamic with his older brother — said on the episode that the former first daughter and son will do literally anything to stay in power, adding that "they can't accept anything else," and do not want their famous father to be associated with having lost.
Ivanka and Donald Jr. certainly sound like a chip off the old block if Holder's claims are to be believed, since just this week, the former president took to Truth Social to demand that he be reinstated as the commander-in-chief following the disclosure that an FBI agent overseeing the Hunter Biden investigation left his job over allegations of political bias (via Newsweek).