The Person Meghan Markle Mentioned Over 50 Times In Her Latest Public Speech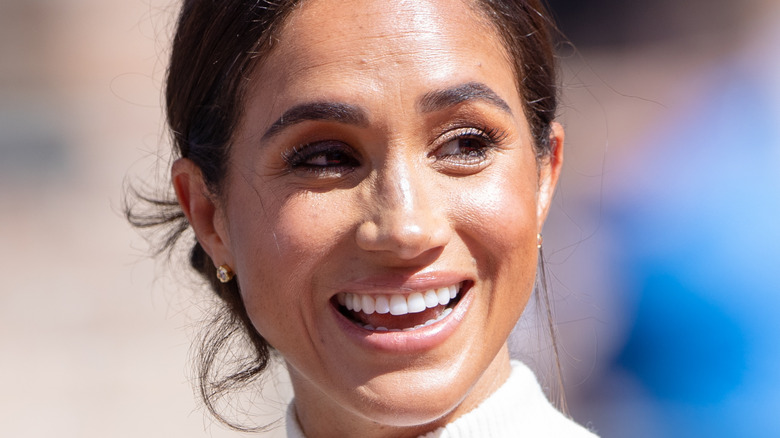 Joshua Sammer/Getty Images
Prince Harry and Meghan Markle have returned to the U.K., as part of a trip promoting their favorite charities. After attending the One Young World Summit in the U.K. on September 5, the Duke and Duchess of Sussex traveled to Germany to promote the 2023 Invictus Games. On September 8, the couple will return to the U.K. for the Well Child Awards. Although they are no longer working royals, the visit is "oddly like a royal tour," according to Hannah Furness, The Telegraph's royal editor.
The duchess has been part of One Young World since she became a counselor for the organization in 2014, per People. Held in Manchester, this pricey conference is One Young World's major event. Per its website, "It is a chance for the individuals responsible for shaping the future of our world, to come together to confront the biggest challenges facing humanity."
For the 2019 One World Summit, Meghan participated in a roundtable discussion with gender equality activists. Harry also made a surprise appearance. "In terms of gender equality, which has been something I have championed for quite a long time, you know, I think that that conversation can't happen without men being part of it," Meghan said at the roundtable, per E! News.
As part of the 2022 event, the duchess was invited to speak on the topic of gender equality, per the Daily Mail. However, Meghan's remarks and her repeated use of one word left the audience puzzled about the speech's intentions.
Meghan Markle talked about herself in her One Young World speech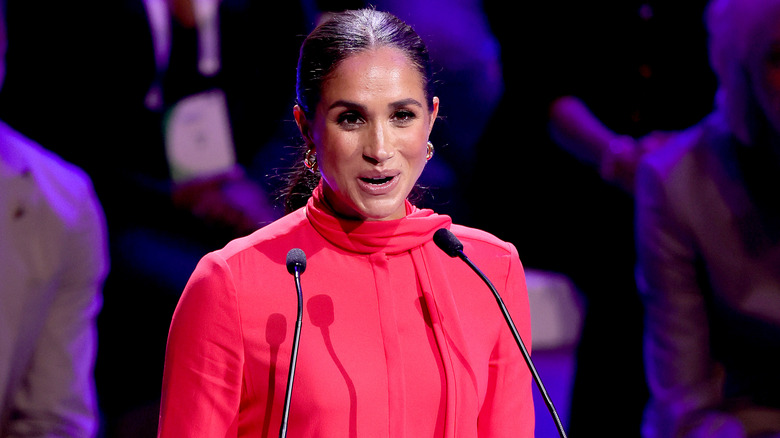 Chris Jackson/Getty Images
Meghan Markle, Duchess of Sussex, spoke in front of an audience of 2,000 people at the 2022 One Young World Summit. While she included one short story about the courage of a woman from Eritrea, the Daily Mail reported that the bulk of the speech was about herself. Jesús Enrique Rosas, a body language analyst, tweeted a copy of the speech, highlighting more than 50 instances in which Meghan talked about herself in the seven-minute talk. In total, Meghan used the word "I" a whopping 44 times in her speech.
Royal experts felt confused about the speech. "It made no sense. It was all about her and related everything to herself," Ingrid Seward, editor-in-chief of Majesty Magazine, told The Sun. "I don't think she knew what she was talking about. It was just 'me, me, me' and praising herself."
Royal correspondent Victoria Ward felt the speech was not Meghan's best effort. "The Duchess has delivered some powerful, memorable speeches in her time but this was not one of them," Ward wrote in The Telegraph.
"She was clearly among friends and the young audience was clearly on her side. They were applauding fairly dull remarks that she was a wife and mother," royal author Phil Dampier told the Daily Mail. "She was using it as a platform to talk about herself and her past involvement with the organisation but it didn't tell the audience anything practical in terms of advice to fulfill their potential."
The Duchess of Sussex has been criticized for talking about herself before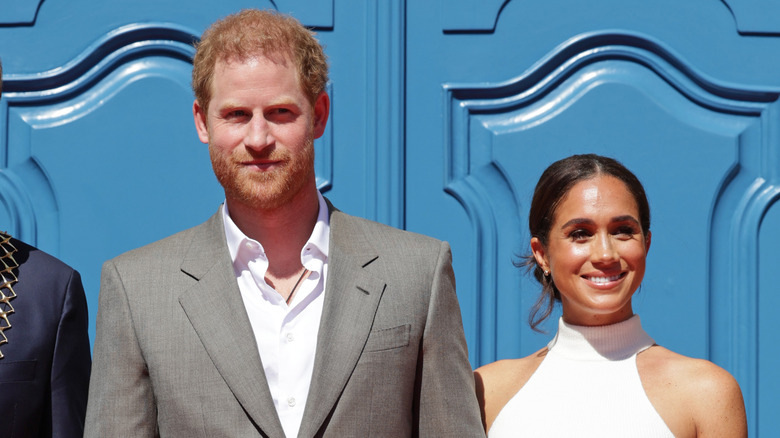 Chris Jackson/Getty Images
The speech at One Young World marks yet another instance in which Meghan Markle, Duchess of Sussex has been criticized for appearing self-centered. During a recent interview with Serena Williams on her "Archetypes" podcast, Meghan said "I" over 200 times. In addition, OG Housewife Bethenny Frankel has slammed the duchess for continually bringing up past royal drama.
Writing in The Telegraph, royal correspondent Victoria Ward believed Meghan's speech was less appealing when compared to the speeches that preceded it. Former Irish President Mary Robinson opened the program with a riveting speech about climate change. Afterward, musician and Band Aid founder Sir Bob Geldof gave an emotional talk about political change. "Listening to Bob Geldof still makes my spine tingle, just like '84. Always compelling," one viewer commented, per Daily Star.
Despite her mentions of herself, Meghan did turn parts of the message towards her audience, saying, "You are also the present. You are the ones driving the positive and necessary change needed across the globe now, in this very moment," per Newsweek. Some found Meghan's speech to be inspiring. Elle called the speech "moving, vulnerable," praising the duchess's honesty in discussing her past insecurities. "I was probably a lot like each of you – young, ambitious, advocating for the things I deeply and profoundly believed in, and also looking around and wondering 'how on earth did I get here?'" Meghan said to the crowd.