A Resurfaced Video Of Kate Middleton Has TikTokers Going Wild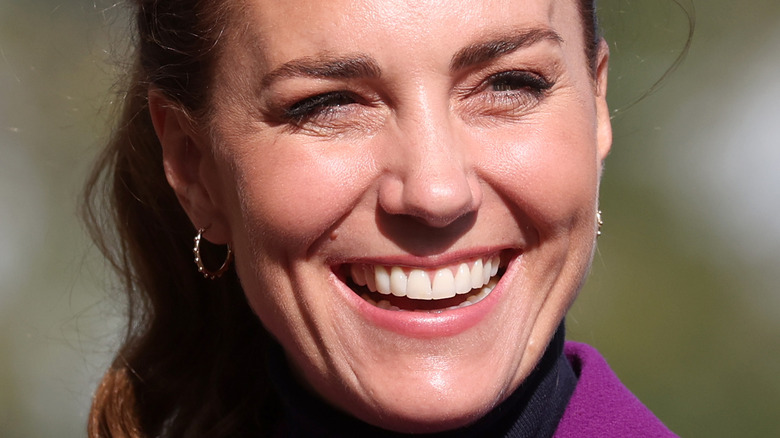 Chris Jackson/Getty Images
Well, this decides it once and for all — Kate Middleton is the coolest royal ever. We already knew the Duchess of Cambridge was relatable, having recently been photographed doing something completely normal: driving her kids around Windsor, the family's new hometown. Meanwhile, Kate is also a fashion icon. We learned that behind the labels and trends are naughty details hiding in plain sight, however.
So to recap, the duchess is just like us but isn't afraid of having a bit of fun with life. The royal mom of three is full of surprises as well. Not only does she secretly love Starbucks, but — are you sitting down? — Kate did something about a year ago that most of us would cringe watching a "Fear Factor" contestant attempt.
As a resurfaced TikTok video reveals, while visiting Ireland in 2021, the future queen consort of Britain — gulp — asked to hold a tarantula (via Newsweek). She even seemed to enjoy the experience, as her husband, Prince William, looked on.
Royal fans compare Kate to another widely-admired princess
Commenters to the TikTok video that shows the Duchess of Cambridge getting up close and (some would say too) personal with a giant tarantula expressed disbelief that prim and proper Kate Middleton actually wanted to hold the spider in her hand. What we couldn't help but marvel at was how her famous sapphire engagement ring, the one that once belonged to her mother-in-law Princess Diana, and is valued at around $460,000, adorned the very same hand in which the tarantula started crawling around (via Express).
"That lady has guts," one fan commented, while many others snickered about how the Duke of Cambridge clearly had no intention of following in his wife's footsteps on this one. Multiple commenters agreed how "brave" Kate was for holding the oversized arachnid, with a notable comment reading, "She is so much like Diana love her."
Indeed, according to National Geographic, the Princess of Wales adored wild animals, and as her mother said, as a little girl, she was drawn to "everything that was small and furry or had feathers." In this way, the daughter-in-law Diana never met most certainly takes after her, with Cafemom noting the many times that Kate has enjoyed the company of wild animals over the years, including encounters with an elephant, alpaca, koala and yes, that tarantula.