Why Things Are About To Get Way Worse For Meghan And Harry's Relationship With The Royals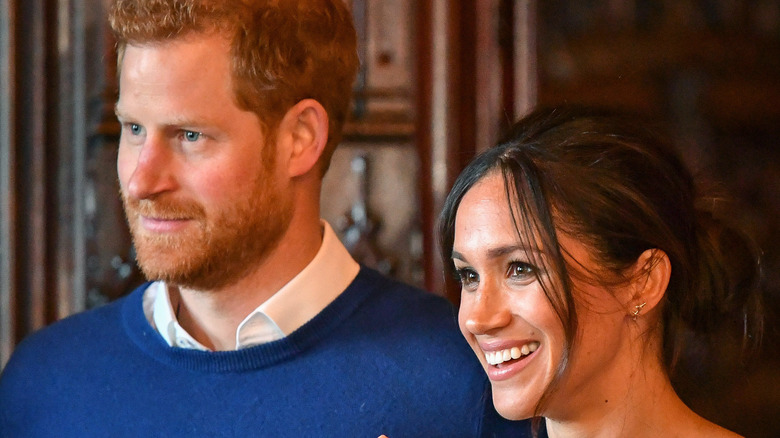 Wpa Pool/Getty Images
Although Prince Harry and Meghan Markle have been having trouble with his family for a while, particularly since they stepped down from their roles as senior royals in January 2020, when Queen Elizabeth's health began rapidly deteriorating, the Duke of Sussex still rushed to Scotland to be by her side. Sadly, Harry didn't get to say his goodbyes to the queen after arriving at her summer home in Balmoral, since she'd already passed away, per TMZ. 
The prince looked completely devastated in photos showing him traveling from England, where he just happened to be visiting alongside wife Meghan Markle at the time. Harry previously met with his grandmother, briefly, during her Platinum Jubilee celebrations in June of this year, with The Irish Sun confirming Her Majesty even sent a car to pick the Sussexes up from the airport. A source subsequently told Hollywood Life they had a great time. 
"Their trip was a whirlwind and jam-packed from the moment they landed but it all went beautifully," the insider confirmed. The duke remained on good terms with his grandmother right up until her death, but sadly things are still strained with the rest of his family, whom Meghan and Harry were notably not planning to see during their stay in Britain (via Express). And, now that the queen has died, sadly the situation could prove to be hopeless. 
The Sussexes might soon regret all their tell-all projects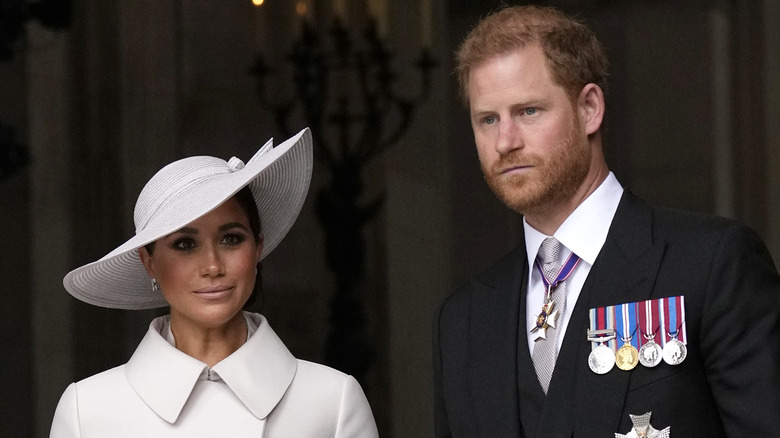 Wpa Pool/Getty Images
Royal watchers were pleased to see Prince Harry dropping everything to be with his beloved grandmother, once it became clear she didn't have much time left, but his rift with the rest of the royal family won't automatically be fixed just because Queen Elizabeth II has passed away. Royal expert Kinsey Schofield reminded TMZ that the long-reigning monarch was often the peacemaker who bridged the gap between the Sussexes and Harry's relatives. Without her, there won't be anybody encouraging them to find common ground.
Moreover, Harry's bombshell memoir will be hitting shelves before the year is out, and although Omid Scobie, friend of the Sussexes and co-author of "Finding Freedom," made it clear Her Majesty has not been disparaged in its pages (via Page Six), there's reason to believe Harry might take aim at stepmother Camilla Parker Bowles. In fact, Schofield reckons things could get worse if the book is as bad as it's expected to be — especially considering it was allegedly King Charles or his new Queen Consort who made the infamous racist remarks about Archie.
Meghan Markle's weekly podcast, "Archetypes," which has several episodes ready to go that were obviously recorded prior to the queen's death, is also concerning. Likewise, the celebrity couple's upcoming docuseries about their post-royal life, which the Duchess of Sussex briefly discussed in her recent interview with The Cut. Suffice to say, there's a long way to go before the family can make amends.
Mixed signals about the state of Prince Harry's family relationships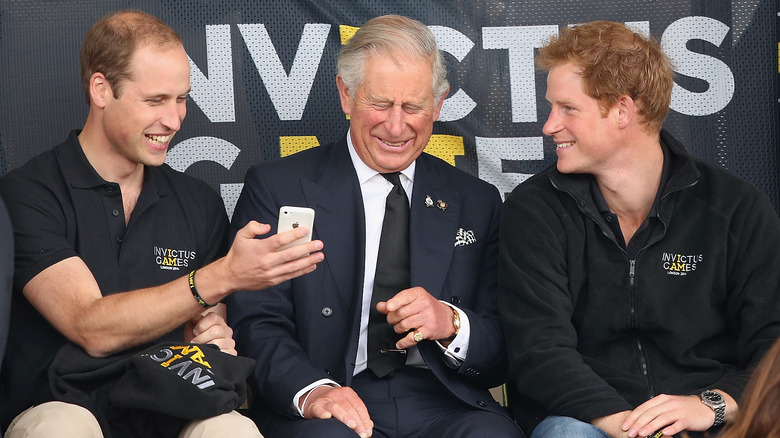 Chris Jackson/Getty Images
Where does the fraught relationship between Prince Harry and his family go from here? Royal aficionados are having a tough time reading the tea leaves. The Duke of Sussex might have rushed to see his beloved grandmother, but 12 hours later, he rushed right back out again, leaving solo before the rest of the family left Balmoral, according to The Daily Beast. It remains unclear whether his early departure was chosen for logistical reasons or as a result of family friction.
King Charles III did mention his youngest son in his first speech as monarch, per Metro. "I wanted also to express my love for Harry and Meghan as they continue to build their lives overseas," he said. The king's words might have been relatively warm, but some fans thought he seemed to be rolling his eyes directly afterward.
For now, both Harry and wife Meghan Markle are expected to attend the queen's funeral, The Guardian notes. Whether he plans to mend fences during his stay in the UK remains to be seen.