The Sweet Way Kate Middleton Reacted To A Fan Is Warming Hearts Everywhere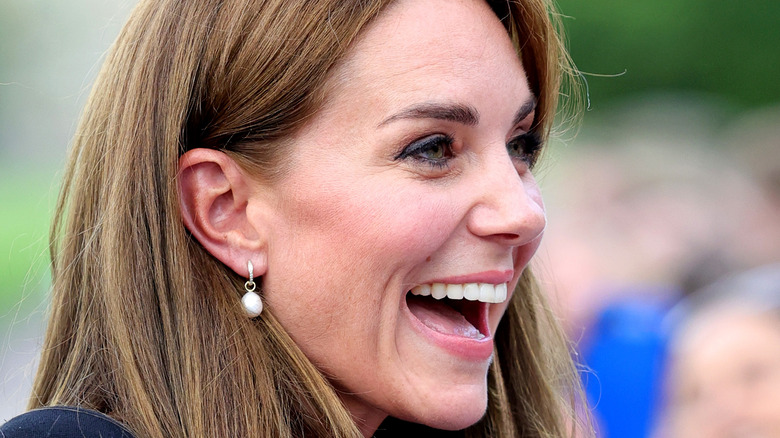 Chris Jackson/Getty Images
When news broke that Queen Elizabeth II's health was deteriorating, several close family members rallied to be by her side. Among them was Prince William, who immediately traveled up to his grandmother's summer home in Balmoral, Scotland. Wife Kate Middleton, meanwhile, stayed behind to look after their children, per The Independent. Buckingham Palace confirmed the long-reigning monarch was under medical supervision after greeting new Prime Minister Liz Truss the day before.
Kensington Palace shared, "The Duchess of Cambridge has remained in Windsor as Prince George, Princess Charlotte and Prince Louis are on their first full day at their new school." Photos of the couple taking the kids to school were released accordingly. Following the queen's death, the newly-minted Prince and Princess of Wales posted an emotional Instagram tribute. Written from William's perspective, he noted, "My grandmother famously said that grief was the price we pay for love."
Now that Charles is king, the couple will be coming to the forefront even more, as Us Weekly points out, with one of their first official duties involving meeting well-wishers at Windsor Castle. Unsurprisingly, Kate's affability took center stage.
The Princess of Wales made everybody feel welcome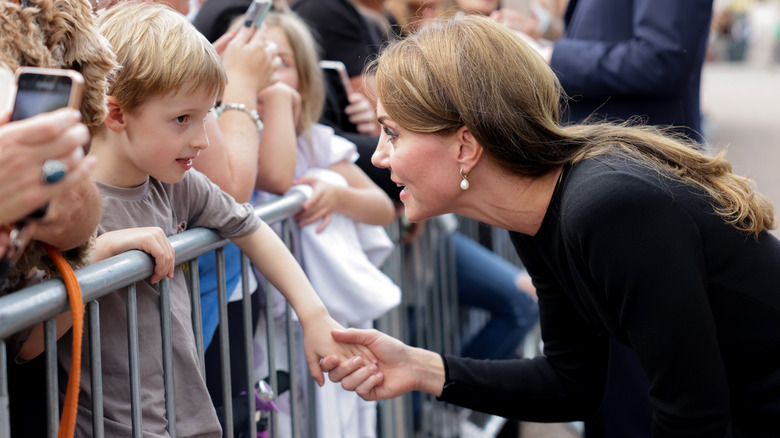 Chris Jackson/Getty Images
Kate Middleton, Princess of Wales, has fans swooning after a sweet exchange with one of Queen Elizabeth's mourners was shared on social media. Per the Daily Mail, Kate was meeting well-wishers outside Windsor Castle when she was spotted patting her cheek after apparently confessing to someone making her "blush" with a kind comment. The conversation isn't audible, but fans noticed Prince William's beloved wife, who became the Princess of Wales upon the death of the queen, saying "I'll blush."
The woman, meanwhile, smiled widely back at Kate. Elsewhere, she also cooed at a baby wearing a cute pink onesie, which was adorable considering William gets worried when Kate is around children because of how broody it makes her. In this particular case, however, the Prince of Wales also chatted amiably with the little tyke. The couple notably reunited with Prince Harry and Meghan Markle, the Duke and Duchess of Sussex, on the day, in a show of solidarity that would have made the queen's heart soar, according to Sky News. 
In fact, royal sources confirmed William called his brother to personally invite the former senior royals to join them at Windsor. Considering the once close brothers have been estranged for a while, it was heartening to see William and Harry back together in honor of their grandmother, even if the reaction to the Sussexes was very different.
Meghan and Harry were sadly not as well received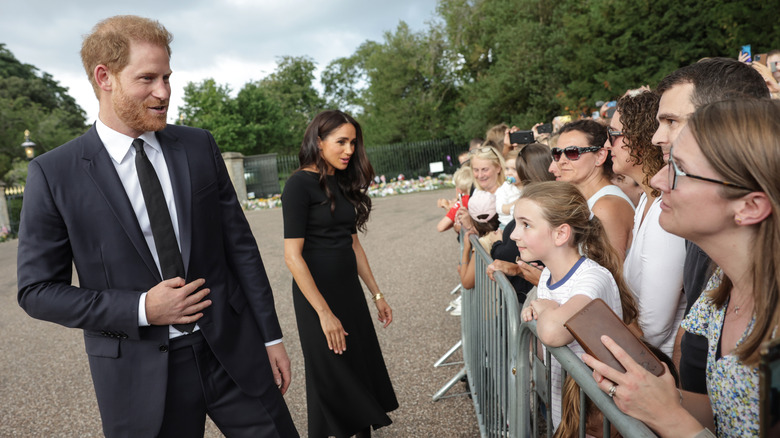 Chris Jackson/Getty Images
Coincidentally, Prince Harry and Meghan Markle, the Duke and Duchess of Sussex, happened to be in Britain, on a quasi-royal tour, when Queen Elizabeth II took a turn for the worse and was ultimately pronounced dead. Express subsequently confirmed the couple were staying on in the U.K. until the royal mourning period is over, much to the consternation of social media. Meghan's trending hashtag on Twitter is anything but flattering, showcasing how huge swathes of royal watchers wish she'd just go back to the States already.
Likewise, an awkward moment caught between Meghan and a royal fan also drew significant ire. As Page Six reported, multiple mourners, who were gathered to pay their respects to the queen outside Windsor Castle, refused to even acknowledge the duchess's presence, let alone shake her hand. There were also suggestions a hug she shared with a member of the public wasn't real, despite the fact the teenager in question confirmed in an interview that she absolutely meant it.
Body language experts discussed whether Meghan's viral hug was genuine, with Mark Bowden, co-founder of TRUTHPLANE, asserting to The List: "Meghan grips tightly and the other woman has a strong facial gesture of pleasure. A mutual feeling of connection and comfort is there." Blanca Cobb, MS PSY, body language expert, speaker, and media personality agreed, acknowledging the former "Suits" star likely felt "uncertain" about the interaction at first, understandably so. However, she soon relaxed into it.