Foot Traffic Data Shows How Well Sears Is Doing Today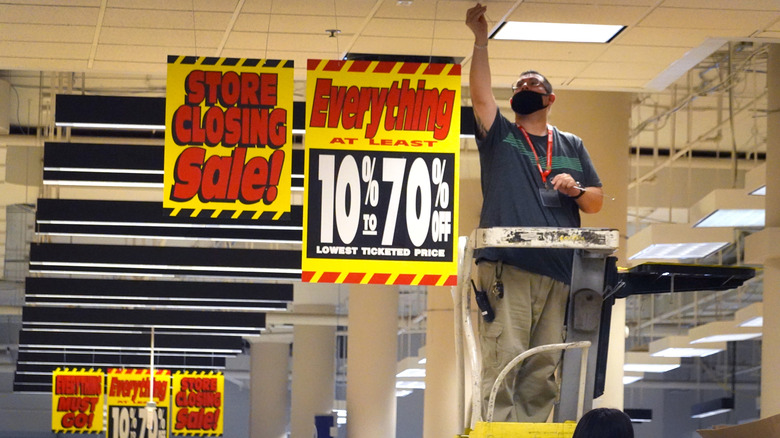 Scott Olson/Getty Images
These days, you can buy just about anything right from your phone — from clothes to Christmas presents, online shopping has taken the world by storm — you can even order your groceries online with just a few clicks. But before the internet, mail-order catalogs were the way to shop from the comfort of your home, thanks in a large part to the Sears company.
According to Brittanica, Richard W. Sears founded Sears as a mail-order watch company in 1886. As the company expanded, Sears began selling everything from clothes to home goods through mail order. The company became so popular, they opened their first brick and mortar store in 1925. Sears remained one of the nation's top retailers until it was dethroned by Walmart in 1991, signaling the beginning of their long end, per Insider.
Now you might be asking yourself, "Wait... is Sears still in business?" Technically, yes, but the presence of the retailer has seriously dwindled since the height of its popularity. According to Investopedia, Sears had 700 stores when they filed for bankruptcy in 2018, a drastic change from the thousands of locations the company operated only 15 years prior. Today, per CNN, there are only "20 full-line Sears stores left in the mainland U.S., [and] two more in Puerto Rico."
To find out just how well those 22 stores are doing in 2022, The List created a graph via Data Herald that tracked foot traffic trends at Sears over the past two years.
Sears is holding on by a thread
Foot traffic data shows that Sears might be on their last leg. According to The List's graph, the once-popular retailer hasn't seen many visitors over the past two years. Prior to COVID-19, Sears saw an average of approximately 1,500 monthly visitors, with an expected spike to 2,500 during the holiday months. Sears was hit hard when the pandemic began, with visitor counts falling to practically zero in the spring of 2020. Averages have been slow to recover, with their highest visitor count in the past 18 months barely reaching 2,200. Sears sees merely a fraction of monthly visitors compared to retail titans like Walmart and Target, who managed to bounce back well after COVID-19.
Per Insider, Sears cancelled their mail-order catalogs in 1993 in an attempt to change with the times; but as shopping trends continue to evolve, the retailer may not be able to keep up. According to Winsight Grocery Business, post-pandemic inflation has caused consumers to favor wholesale clubs and discount stores. Shoppers are less likely to spend money on luxury items from department stores as they navigate rising prices on essentials like gas and food.
In addition to their upward battle with COVID closures, inflation, and changing consumer trends, Sears also doesn't have a great history with its customers — in 2020, Sears was ranked dead last for their customer service. According to Reuters, the shelves of your local Sears are most likely barren, possibly signaling an end to the retail empire.