Royal Experts Reveal Why The Queen's Funeral Will Be Especially Hard On William And Harry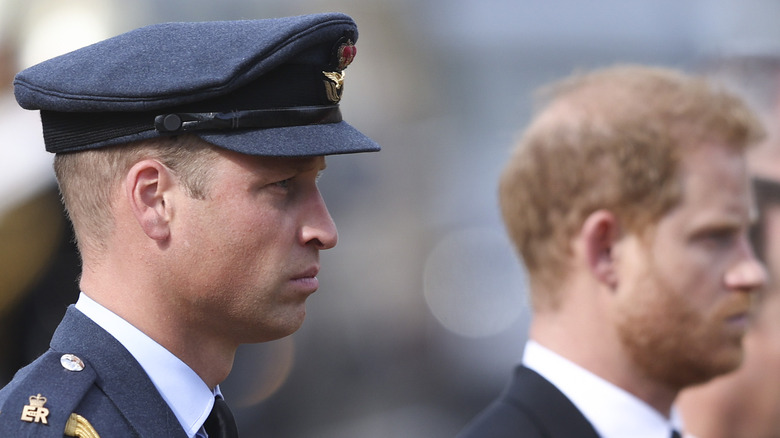 Richard Heathcote/Getty Images
Funerals are difficult for anyone who is grieving the loss of a loved one, but losing a grandmother as an adult is a particularly painful experience. Not only do many grandmothers help fulfill an additional maternal role, but they're oftentimes an integral part of a child's upbringing. As a result, when grandmothers pass away, many feel like part of their identity has been taken away (via Marie Curie).
This immense sense of loss can only be magnified for William, Prince of Wales, and Harry, Duke of Sussex, upon losing their high-profile grandmother. Queen Elizabeth II died on September 8, 2022, at Balmoral Castle in Scotland.
In Prince Harry's heartbreaking tribute, he wrote, "Granny, while this final parting brings us great sadness, I am forever grateful for all of our first meetings—from my earliest childhood memories with you, to meeting you for the first time as my Commander-in-Chief, to the first moment you met my darling wife and hugged your beloved great-grandchildren. I cherish these times shared with you" (via CBS News).
Of course, William and Harry are no strangers to loss. They were left devastated after Diana, the former Princess of Wales, died as a result of a tragic car crash in the summer of 1997 (via NPR). Now, as the brothers prepare for Her Majesty's funeral, royal experts reveal why the service will be especially tough for the brothers.
Balmoral is the spot where William and Harry received devastating news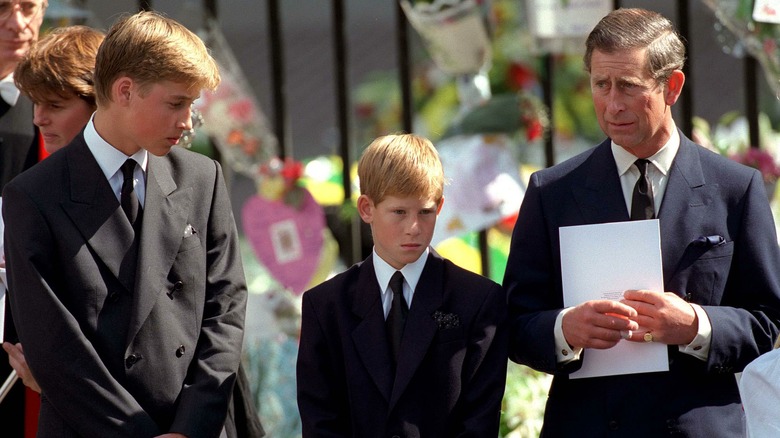 Anwar Hussein/Getty Images
Though Prince William and Prince Harry enjoyed many years of good memories at the queen's estate in Scotland, it was also the place where the brothers, then just 15 and 12 at the time, received the tragic news that their mother, Princess Diana, had died.
During a royal tour in 2021, Prince William told the General Assembly of the Church of Scotland that the nation was the site of "some of my happiest memories, but also, my saddest" (via People). He added, "I was in Balmoral when I was told that my mother had died."
The queen protected the young princes at Balmoral, even ordering all TVs to be kept away from them to shelter them from hearing unsettling details of the crash (via news.com.au). In later years, Prince William shared how much Her Majesty helped him deal with his mother's death. "Having lost my mother at a young age, it's been particularly important to me that I've had somebody like the Queen to look up to and who's been there. She's been incredibly supportive."
Now, 25 years later, around the same time of year that they lost their mother, William and Harry had to make the rushed trip to Balmoral when news broke that the queen's health was failing. Unfortunately, the New York Post reported that neither brother made it in time to say goodbye to their grandmother in person, yet both had to put on a public face while being watched by millions around the world. 
Princess Diana's funeral was also at Westminster Abbey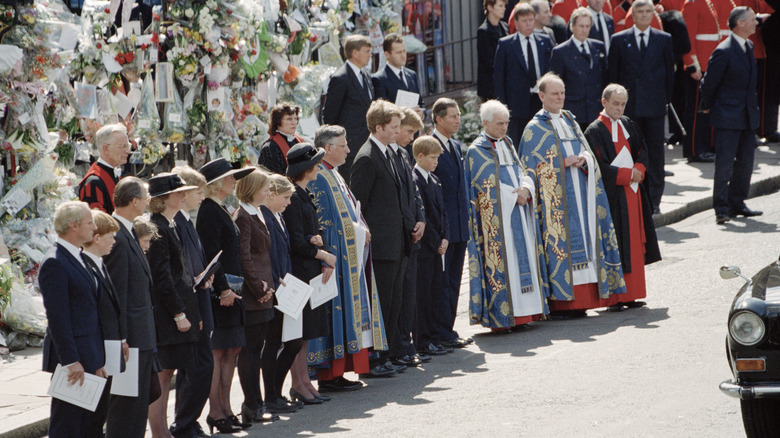 Colin Davey/Getty Images
Queen Elizabeth's funeral is set to take place at Westminster Abbey, which holds even more sad memories for the Prince of Wales and Duke of Sussex. Editor-in-chief of Majesty Magazine, Ingrid Seward, told the Daily Mail that "the Abbey carries so many conflicting memories, both happy and sad. The emotion of the actual funeral service will certainly be hard for them as they remember their own mother's funeral under the same roof of Westminster Abbey."
Prince Harry revealed that walking behind his mother's coffin was a gut-wrenching experience. "My mother had just died, and I had to walk a long way behind her coffin, surrounded by thousands of people watching me while millions more did on television," he once said (via news.com.au). "I don't think any child should be asked to do that, under any circumstances."
As royal expert Richard Fitzwilliams told the Daily Mail, "The memory of that sad time will undoubtedly be with them during these next few days as they, as expected, walk behind the Queen's coffin as it is taken from Buckingham Palace to Westminster Hall, as both were close to the Queen in very different ways."
Princess Diana's funeral was on September 6, 1997, and the queen's funeral is scheduled to take place on September 19, 2022.