Barack Obama Has Nothing But Praise For The Late Queen In New Interview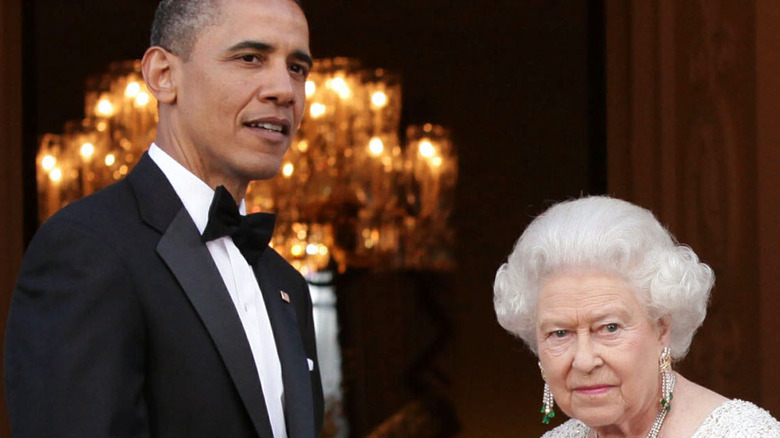 Wpa Pool/Getty Images
September is a historic time when the world mourns Queen Elizabeth II after her death at the age of 96, ending a 70-year monarch reign. While well wishes from all over the globe pour in, information about her relationships with former presidents reemerge. For instance, reports of her close friendship with the 34th American President Dwight Eisenhower are resurfacing, along with her unlikely bond with the Clintons, who shared a touching tribute.
However, there's one former president who wasted no time paying tribute at the time of Her Majesty's death. Barack Obama crafted a lengthy, heartfelt joint Twitter post with his wife, Michelle, citing: "Michelle and I were lucky enough to come to know Her Majesty, and she meant a great deal to us."
In fact, people may recall the time when Obama broke royal protocol by speaking over England's national anthem, "God Save The Queen," after the band thought he had concluded a toast while at an event with the queen. As England continues their official mourning period, Obama is speaking out about Queen Elizabeth again and has nothing but fond memories.
Barack Obama remembers the queen with personal anecdotes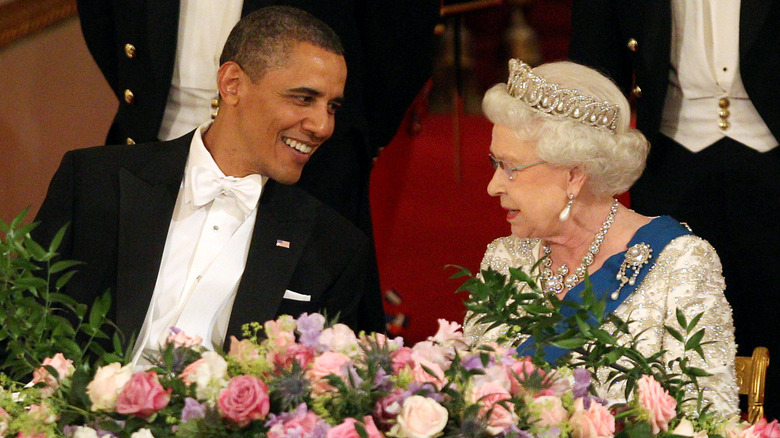 Wpa Pool/Getty Images
In a recent interview with the BBC, Barack Obama went down memory lane, remembering Queen Elizabeth II and how she impacted the Obama family as a whole. He recalled the first time he met the queen was on a visit to London.
"She reminded me very much of my grandmother," Obama told the BBC with a chuckle. "Very gracious, but also no-nonsense. Wry sense of humor. She could not have been more kind or thoughtful to me and Michelle." 
On a later occasion, Obama explained, his daughters, Sasha and Malia, were traveling to England, and the queen reached out to personally invite the Obama girls to tea time (via the BBC). "She then offered the girls to drive in her golden carriage around the grounds of Buckingham Palace," he said. "It was the sort of generosity and consideration that left a mark in my daughters' lives that's still there."
Obama also discussed his time during a 2011 state dinner at Buckingham Palace, where Michelle had gifted Her Majesty a broach, to which the queen later wore at an American Embassy dinner that the Obamas hosted. Obama couldn't help but gush to the BBC, saying: "It was an example of the subtle thoughtfulness that she consistently displayed, not just to us, but everybody she interacted with."