Here's What Tyler Perry Wants You To Know About Meghan Markle And Prince Harry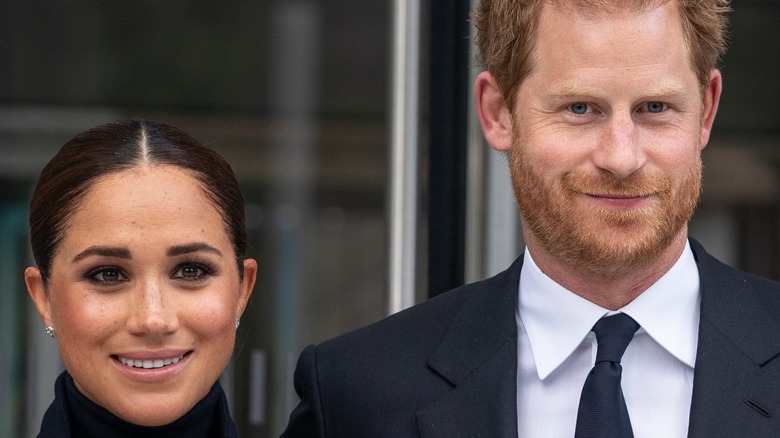 lev radin/Shutterstock
The Duke and Duchess of Sussex have found themselves at the mercy of the online mob once more since returning to the UK, where they ended up staying longer than expected following the heartbreaking death of Queen Elizabeth II. The celebrity couple has now traveled back to Montecito, California, following Her Majesty's funeral, per Page Six. They're likely thrilled to be home, considering the amount of stress the Sussexes were under while mourning the loss alongside the rest of the royal family.
Prince Harry and Meghan Markle's PDA at the queen's procession had the internet divided, with commentators criticizing them for holding hands. As one Twitter user railed, "The reason #MeghanHarry #DukeDuchessSussex get criticized so much is the hypocrisy. It's not that long ago when they publicly spoke with vitriol about our #RoyalFamily." The couple had some defenders too, with another user arguing other couples were holding hands and wondering aloud, "Since when was comforting your husband banned?"
Meghan and Harry's relationship has been the source of public gossip, much of which has been virulently sexist, racist and classist, for quite some time, leading long-time friend Tyler Perry to rush to their defense as the din grows loud once more.
The Sussexes lived in Tyler Perry's house when they first moved to America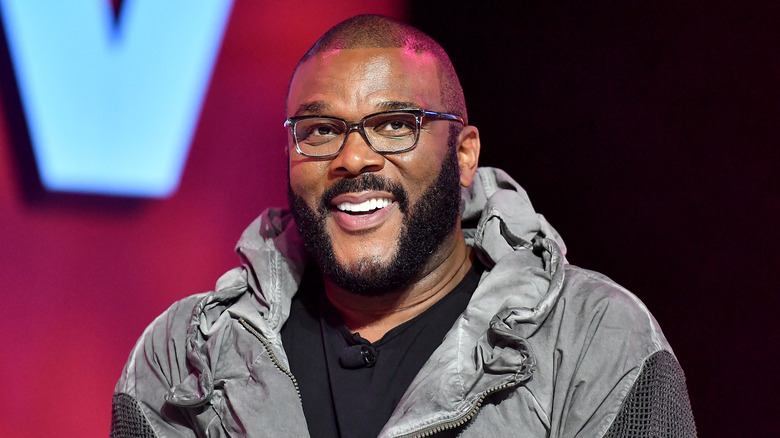 Paras Griffin/Getty Images
Tyler Perry wants to make it clear that what Meghan Markle and Prince Harry have is special. People reports that during an interview on "Today," the prolific filmmaker and close friend of the Sussexes recalled how he took the famous couple in while they were between homes, during their relocation to the States. Meghan and Harry briefly lived at Perry's Los Angeles mansion, shortly after defecting from the royal family. "It was a very difficult time for them," Perry shared.
The "Madea" creator and star continued, "What I know about the two of them, that I wish the world knew, is how much they love — these two people love each other. They found each other — out of all these odds against them finding each other, they found each other. The love they have is really, really moving, and I just wanted to do anything I could to support them." Moreover, Perry wishes he could find a relationship just like theirs, reasoning it's not worth it otherwise.
Perry notably posted a birthday message for Meghan in August, gushing "I'm so incredibly proud to see how happy you, your husband, and your kids are now." His comments echo those of Harry's friend, Ignacio "Nacho" Figueras, who revealed the truth about his relationship with Meghan earlier this month. The duke's polo teammate shared how happy he was for the couple with People, confirming they're absolutely perfect for each other.
Meghan and Harry were in the spotlight again following the queen's death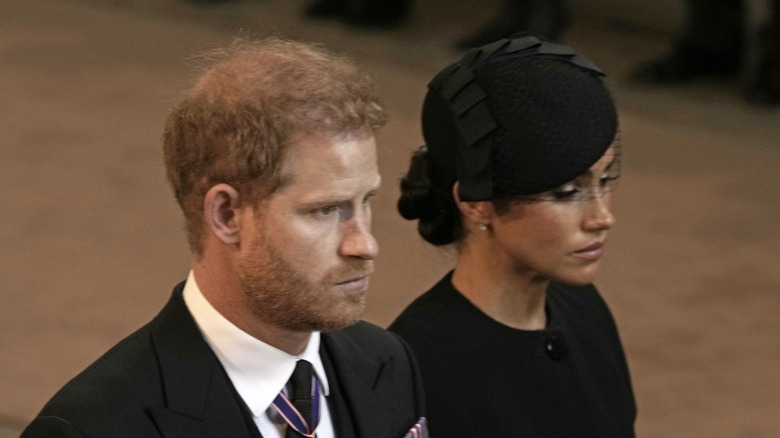 Wpa Pool/Getty Images
The British public had a surprising reaction to Harry and Meghan greeting the crowds at Windsor Castle, but it seems the positive response had more to do with their reconciliation with the Prince and Princess of Wales than the celebrity couple themselves. HuffPost pointed out it was the first time the Fab Four had stepped out together in years. However, there were those who commended the Duchess of Sussex, in particular, for taking part in the walkabout given everything she's been through.
One user wrote, "The courage it must have taken Meghan to do this, in a country where abusing you has become a lifestyle I couldn't love her and respect her more. Her and Harry continue to show grace and bravery in the face so much hate." Sadly, the Sussexes remain very much as outsiders in the royal family, with the couple even seated in the row behind everyone else at the queen's funeral, per Page Six. Moreover, Meghan and Harry were invited and then un-invited from a funeral event.
Newsweek clarified it was genuinely a mistake, since only working royals should've been included. Unsurprisingly, sources close to the couple admitted to The Telegraph they were "baffled" by the sequence of events. Palace aides, meanwhile, maintained they were never expected to attend, or even be asked. Either way, as one Twitter user succinctly put it, "Why is there working versus non working [royals] during this time?"