Why Queen Camilla And Meghan Markle's Friendship Reportedly Never Took Off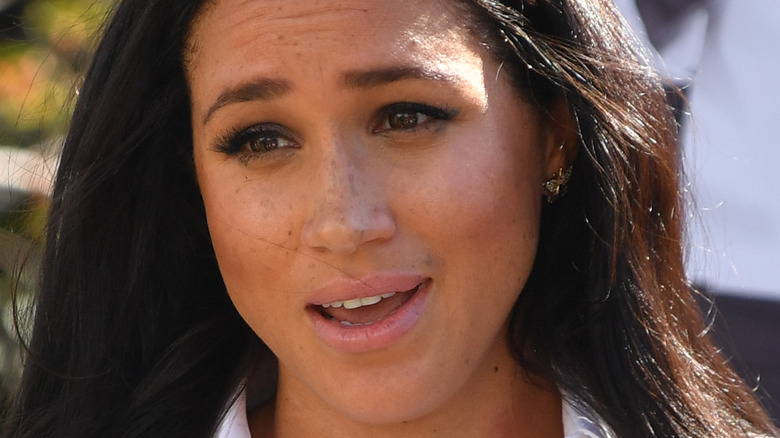 Wpa Pool/Getty Images
Royal fans were relieved, and somewhat surprised, to see the Duke and Duchess of Sussex publicly mourning the heartbreaking death of Queen Elizabeth II alongside the rest of the royal family. Unfortunately, behind closed doors, the atmosphere was tense. In particular, William and Harry's outing after the queen's death was reportedly more uncomfortable than it looked. The estranged brothers, who hadn't been photographed together in over a year, looked to be in good spirits while greeting well-wishers.
However, an insider admitted to People, "They were in a stoic spirit of just getting through it for the queen" rather than bonding with each other, and the mood was "awkward." Page Six confirms the Sussexes have returned home to California, so it remains to be seen when, or even if, they'll be back in the UK again. There's clearly a long way to go before the family can become a solid unit though, especially considering Camilla's reaction to a proposed reconciliation with Harry was reportedly quite dramatic.
Royal expert Katie Nicholl shared in her upcoming book, "The New Royals" (via Vanity Fair), that the queen consort balked at the suggestion of using a mediator to sort through their issues. And yet, the blame for the ongoing hostility between them may once again be laid at Meghan Markle's feet, since she and Camilla never quite managed to find common ground.
The queen consort's attempts to mentor the royal newcomer were rebuffed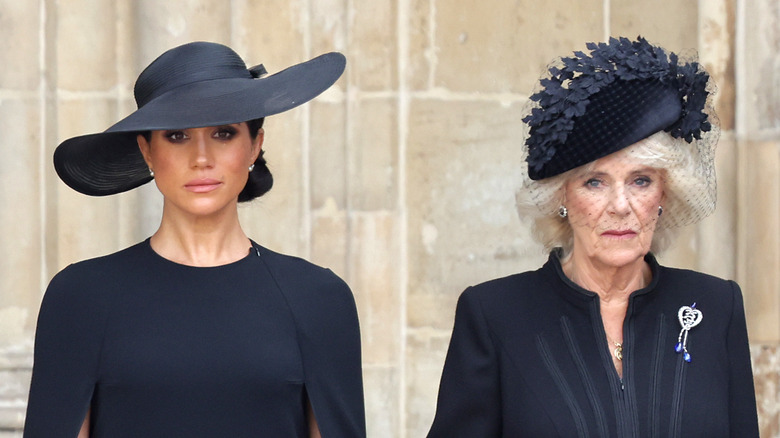 Chris Jackson/Getty Images
A shocking new book claims Meghan Markle "snubbed" Camilla Parker Bowles's attempts to bond with her, upon the former actor initially joining the royal family. Express notes royal biographer Angela Levin makes the explosive admission in her new book, "Camilla, Duchess of Cornwall: From Outcast to Queen Consort." Levin writes about how the queen consort, of all people, knows how tough it is to ingratiate yourself with The Firm and greeted Meghan "warmly" during her first visit to London.
They went out to lunch on several occasions, and Camilla "spent a lot of time offering advice on how to handle the pressure." But the Duchess of Sussex seemed "bored," was often "unresponsive" and generally "preferred to go her own way." Levin spoke to an unnamed source about the fledgling friendship, suggesting the queen consort was quite willing to "mentor" the newcomer, whom she liked very much, but Meghan simply didn't want to know.
Similarly, earlier this year, Levin, who spent an entire year with Prince Harry while researching a biography about him, told TalkRadio: "Camilla was also very helpful to Meghan when she first joined — took her out for lunch and tried to teach her some of the things she needed to know — the restrictions and the disadvantages as well as the positives," per The Sun. Her words seemingly fell on deaf ears, with Meghan content to figure it out on her own. 
Harry's upcoming memoir could make the situation with Camilla even worse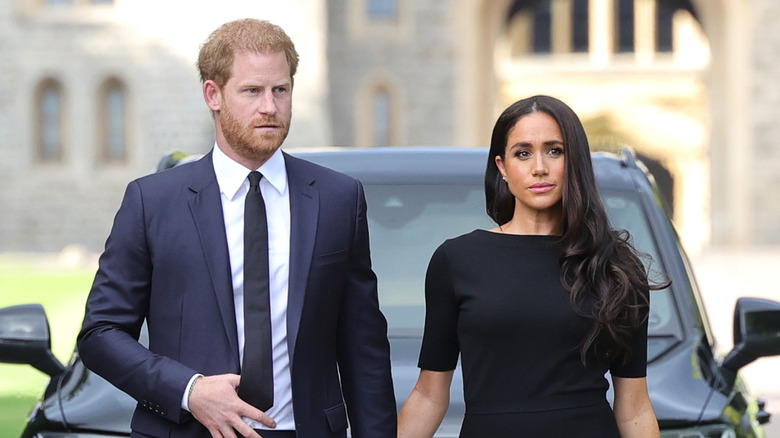 Chris Jackson/Getty Images
The Duke and Duchess of Sussex may have put on a united front with The Firm while grieving Queen Elizabeth II, but experts agree Prince Harry needs to drop one thing if he wants to reunite the royal family — his bombshell memoir. Rumors have swirled for months about its explosive contents, with a publishing source describing the book as "juicy" to Page Six and warning, "There is some content in there that should make his family nervous."
The royal defector is expected to share stories from his upbringing, which could involve targeting his mother-in-law, Camilla Parker Bowles, if certain experts are to be believed. As Princess Diana's former butler, Paul Burrell, opined to The Mirror, "After the reports she was involved in his parents' marriage and then stepped into Diana's shoes as Charles' wife, I suspect Camilla will be in his sights, so I'd say Harry's set to reveal any Camilla secrets."
This is despite the fact, as Angela Levin told TalkRadio (via The Sun), Harry was quite fond of the queen consort and spoke rather highly of her during their conversations about Levin's own book. Either way, the Daily Beast reports Camilla "lives in dread" about what the Duke of Sussex will say about her, not least because she's worked so hard to curry favor with the British public, and indeed King Charles's extended family, in the years since their affair.