The Real Reason Quinn Befriended Carter On The Bold And The Beautiful
Kathy Hutchins/Shutterstock
Quinn Forrester might have gotten her happy ending with Carter Walton (Lawrence Saint-Victor) right before her portrayer Rena Sofer left "The Bold and the Beautiful," but their road to happiness was long. In fact, "B&B" fans made it clear they wanted to see Quinn and Carter together, for better or worse. However, the pair was in an almost impossible situation as Quinn was still married to her husband Eric Forrester (John McCook) during their affair. At the same time, Carter had his own love triangle going on between Paris Buckingham (Diamond White) and Zende Forrester (Delon de Metz). 
To make matters worse, Carter was very close to marrying Paris when Quinn crashed the wedding to proclaim her love. Thankfully, the scene wasn't as dramatic as it could have been. As Saint-Victor told TV Insider, "Paris said to Carter, 'I know you're not over Quinn, but if you want to get over her, get over her with me.'" Yet, Carter's feelings for Quinn ultimately won out, and he left Paris at the altar.
However, "Quarter," as fans dubbed the couple, went through quite a few hurdles before they found happiness with each other.
Quinn and Carter have a complicated history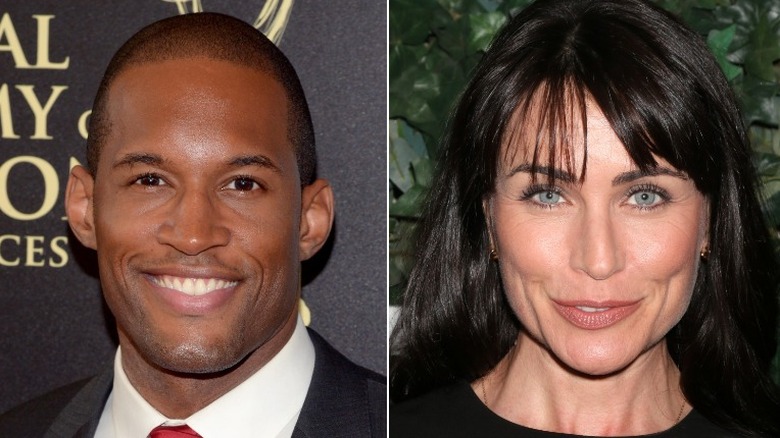 Jason Kempin/Getty & Kathy Hutchins/Shutterstock
If there's anything "The Bold and the Beautiful" fans have learned about Quinn Forrester over the years, it's that she loves drama — especially other people's drama. According to Soaps in Depth, Quinn couldn't help but intervene when Carter Walton broke off his engagement to Zoe Buckingham (Kiara Barnes) after he caught her getting up close and personal with Zende Forrester. Zoe actually asked Quinn to befriend Carter so she could convince him to forgive her. Though Quinn probably should have been focusing on her own relationship problems, she couldn't help but find herself attracted to Carter the more she got to know him. Who can blame her, right? As the two commiserated about their love lives, they got quite busy under the sheets, too. Quinn just couldn't get her hands off of Carter!
Explaining his character's feelings for both Quinn and Zoe, Saint-Victor told Soap Central in 2021, "First, Carter never stopped loving Zoe. You can only be that cold and that angry because you're hurting, and if you're hurting, it's because you care." He added, "If he's in a room with Quinn for long enough, the guilt goes away. And that is scary!"
Even though they both cared about Zoe, Quinn and Carter couldn't stay away from one another.
Quinn and Carter couldn't deny their history
Say what you will about Quinn Forrester cheating on her husband Eric Forrester, but "The Bold and the Beautiful" fans couldn't deny that the chemistry between her and Carter Walton was off the charts. The passion between them was so irresistible that even Eric knew it would be best to step aside and let Quinn be with the man she truly loved (via Soaps).
While there's no doubt that "The Bold and the Beautiful" fans would love to see "Quarter" continue, it looks like viewers will have to wait some time before that might happen. Now that Rena Sofer is no longer on the show, as detailed by Soap Central, some have even suggested that her character should be recast. It seems like with all of the terrible, no-good things that Quinn has done in the past, leaving Carter Walton hanging might be the worst of them all.