The List's Exclusive Survey Shows How Women Prefer To Wear Their Eyeliner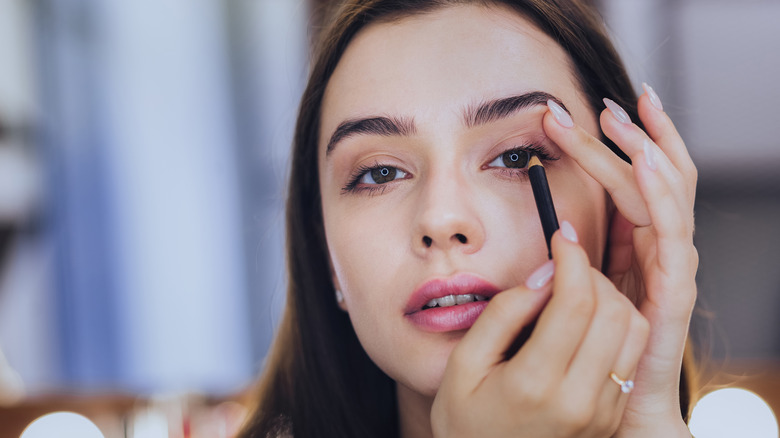 Dmytro Zinkevych/Shutterstock
There are so many reasons to love makeup: From the variety of different colors and styles to the confidence it brings, makeup is our not-so-secret weapon for expressing our inner artist. Whether you prefer a neutral palette or every color in the rainbow, there is no right or wrong way to use cosmetics. Sure, people apply makeup to cover up their insecurities, but it's also used to enhance and celebrate their stunning natural features.
A study conducted by the University of Winchester found that both women and men think the eyes are the "most important facial feature," per Earth. One of the best ways to emphasize the windows to your soul is with eyeliner. Applying eyeliner is all about precision and patience — a chunky wing or a smudged waterline when you are first learning is practically a right of passage. From liquid to gel to a plain pencil, you have a ton of options when deciding how to accentuate your eyes.
To find out which eyeliner trends are totally in style, The List conducted a survey asking 600 people, "What is your favorite eyeliner technique?"
This popular technique proves that less is more when it comes to eyeliner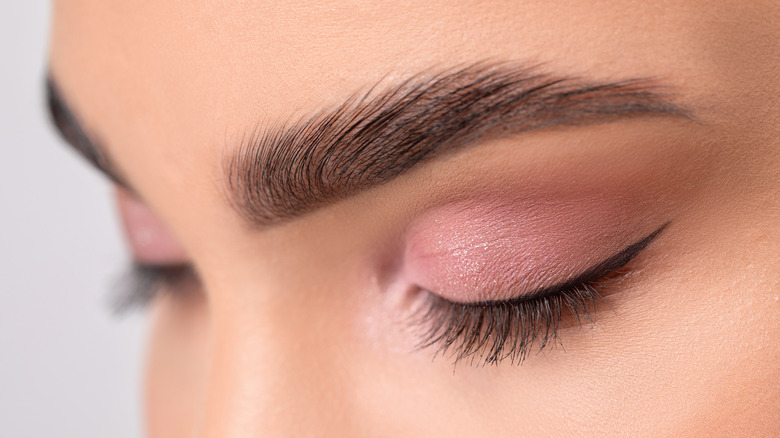 dimid_86/Shutterstock
According to The List's survey, the most popular way to wear eyeliner is the "barely there" method. About 35% of people prefer to look like they aren't wearing any makeup when they apply their eyeliner. This aligns with modern aesthetics like the viral "clean girl beauty trend" that focuses on a fresh-faced look.
Behind the "barely there" look is the cat eye (20.33%) and winged techniques (19.17%), two trends that were all the rage in recent years. While both looks have sharp wings on the sides of the eyes, winged eyeliner is applied only to the top lid, while the cat-eye connects eyeliner from the top and bottom lid to create a fully lined eye with a flicked wing on the side (via Femina).
About 12% of voters prefer something more understated, choosing the waterline technique where eyeliner is applied only to the inner lining of your eyes. Be careful when trying this trend, you may shed a few tears while applying. Just over 8% of voters enjoy the more vibrant things in life, opting for the bright colors eyeliner trend that has become increasingly more popular in recent years.
Smudged eyeliner came in last place with only 5.33% of the vote, but don't be too sad — we heard a rumor that smudged eyeliner will be all the rage again this fall.
Trends may come and go, but makeup is forever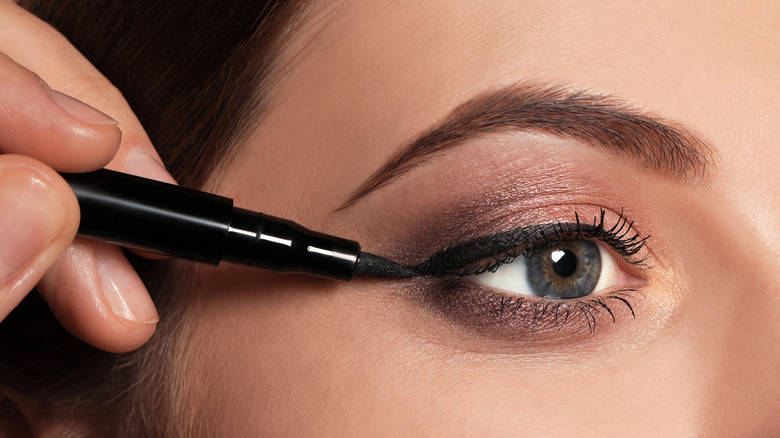 New Africa/Shutterstock
The history of eyeliner dates back to ancient times when people in Egypt and Mesopotamia would outline their eyes with a black paste called kohl. According to Vice, historians in the 20th century discovered that early uses of eyeliner intended to accentuate facial features when they unearthed the Ancient Egyptian queen Nefertiti, whose name means "the beautiful one has come forth." These discoveries ignited the trend yet again, and eyeliner evolved into the cosmetic that we know and love today.
While it may be popular to wear eyeliner that looks like it's "barely there" these days, we remember a time not too long ago when we were coating our eyes in black gel liner like Avril Lavigne and Pete Wentz in the 2000s. It seems like only yesterday that we were struggling to perfect that sharp wing in the corner of our eyes, only to find out people couldn't wait to ditch winged eyeliner in 2022. It goes to show that makeup trends are ever-evolving, reflecting on the past and reimagining it for the future. So if you're a die-hard cat-eye liner kind of gal, don't worry — we're sure it will be back in style before you know it.