The Royal Family's New Post About Queen Camilla Seems To Solidify The Queen's Wishes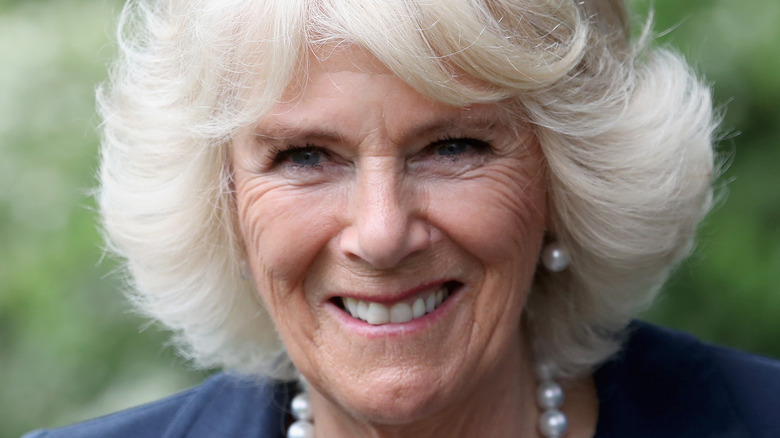 Chris Jackson/Getty Images
In February, Queen Elizabeth II made a surprising announcement in conjunction with her 70th anniversary on the throne. As evidence of how her relationship with Camilla Parker Bowles evolved, she wrote, "When, in the fullness of time, my son Charles becomes king, I know you will give him and his wife Camilla the same support that you have given me; and it is my sincere wish that, when that time comes, Camilla will be known as Queen Consort as she continues her own loyal service."
Previously, the plan was for Camilla to assume the title "princess consort" when Charles became king, a decision that had been in place since the couple's 2005 wedding, per The Washington Post. Charles posted a written response, saying, "We are deeply conscious of the honour represented by my mother's wish. As we have sought together to serve and support Her Majesty and the people of our communities, my darling wife has been my own steadfast support throughout."
After the heartbreaking death of Queen Elizabeth II on September 8, Charles immediately became king and Camilla assumed her new title of queen consort. However, in terms of their online presence, changes were slower to unfold. After her funeral on September 19, the royal family spent an additional seven days mourning the loss of the queen (via the Daily Mail). Afterwards, senior royals revealed revamped social media accounts that demonstrated they were following the late monarch's wishes.
Queen Camilla has a permanent slideshow on Instagram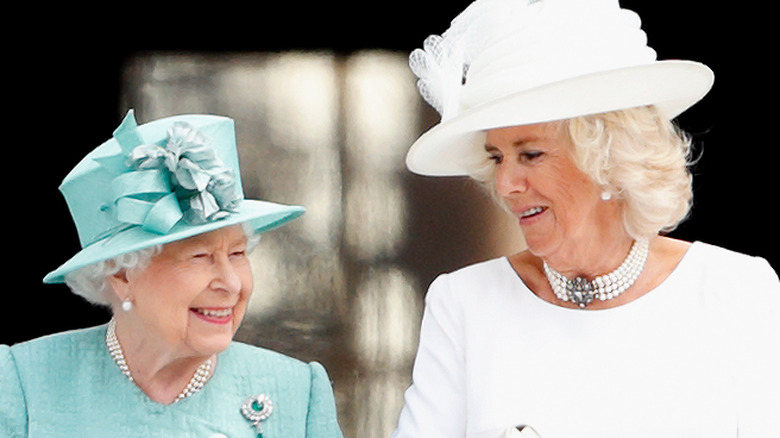 Max Mumby/indigo/Getty Images
When their mourning period concluded, the royal family changed their Instagram profile picture to an image of King Charles and his queen consort, Camilla. Along with a photo of Queen Elizabeth from 1952, they wrote, "The Royal Family account will continue to reflect the work of The King, The Queen Consort and other members of The Royal Family, as well as remembering the life and work of Queen Elizabeth."
In addition, they also posted a permanent slideshow providing an overview of the queen consort's biography, military appointments, and new role. Besides mentioning that the queen consort supports King Charles III in his royal responsibilities, it also discusses Camilla's continuing role as a patron of 100 charities. Of these, the slideshow highlights Camilla's work with the Royal Osteoporosis Society and SafeLives, an organization that helps victims of domestic abuse.
The slideshow's final image features Camilla and Queen Elizabeth smiling at each other, along with the quote about the queen's wish for Camilla to be queen consort. The photo was taken in 2014, during a royal appearance at Dumfries House in Scotland, per The Telegraph.
According to SheKnows, this final photo is directed toward critics who are having difficulty adjusting to Camilla's new role. These detractors have left comments throughout various posts on the account. For instance, a photo of Charles and Camilla with William and Catherine Middleton, the Prince and Princess of Wales included numerous comments referencing the late Princess Diana.
Royal biographers are among Camilla's strongest supporters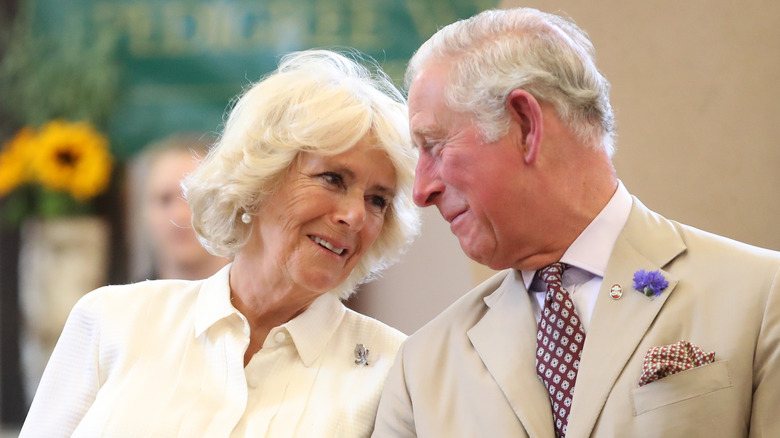 Chris Jackson/Getty Images
Camilla's supporters have been vocal about sharing their enthusiasm for the new queen consort. Royal biographer Angela Levin has been coming to Camilla's defense with her new book, "Camilla, Duchess of Cornwall: From Outcast to Future Queen Consort." Writing in The Telegraph, Levin admitted the late Queen Elizabeth's endorsement of Camilla wasn't enough to silence the critics. However, she notes that a consort's job "has always been a key factor for the stability of the British monarchy." To that end, Levin writes, "Despite everything, Camilla has always supported Charles. He comes first and she will always walk a step behind him when they are at an engagement. It's not because she is shy although she doesn't like being the centre of attention, and is strong and powerful at engagements on her own."
In her 2017 biography of Camilla, "The Duchess," author Penny Junor admitted, "She will never be loved universally," per the Daily Mail. However, Junor praised the positive impact Camilla's love had on then-Prince Charles. Looking to the future, she said, "I have no doubt that Camilla will be the strength behind the crown and do her husband proud."
Royal biographer Gyles Brandreth is exuberant about Camilla's new role and believes she'll follow in her late father-in-law's footsteps. "Famously, the Queen described Prince Philip as her 'strength and stay,' Brandreth wrote in the Daily Mail. "That's exactly what Camilla is to Charles. She is fundamental to the architecture of his life."