Meghan Markle Finally Makes A Statement About The Queen's Death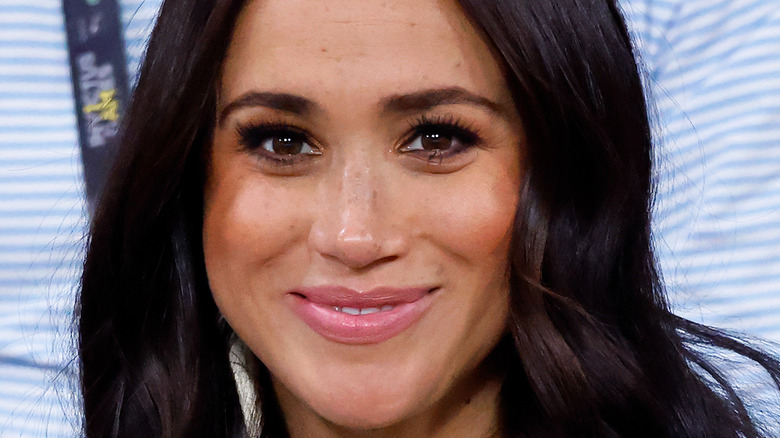 Max Mumby/indigo/Getty Images
Prince Harry and Meghan Markle, Duke and Duchess of Sussex, were in the U.K. when Queen Elizabeth II fell ill and passed away at the age of 96, Elle reported. As a result, the couple was able to participate in all of the mourning services for the late monarch. Harry and Meghan joined Prince William and Catherine Middleton, Prince and Princess of Wales, in greeting mourners outside of Windsor Castle, and Meghan was even caught by cameras getting emotional at the queen's funeral, wiping a tear from her face as she watched the coffin being driven away (via Daily Mail).
Harry also shared a heartbreaking tribute to his grandmother, writing that he was "forever grateful" for all the times he and the queen spent together. He mentioned when Her Majesty met his "darling wife" Meghan, as well as when she met their children for the first time. Prince Harry also spoke about the queen's "commitment to service," her "sound advice," and her "infectious smile." He finished the tribute with a beautiful statement referring to his late grandfather, Prince Philip, saying, "We, too, smile knowing that you and grandpa are reunited now, and both together in peace."
While Meghan has a strained relationship with the royal family, sources revealed that the duchess always had a good rapport with Queen Elizabeth. And now Meghan has broken her silence about the passing of Her Majesty.
Meghan spoke about her admiration for Queen Elizabeth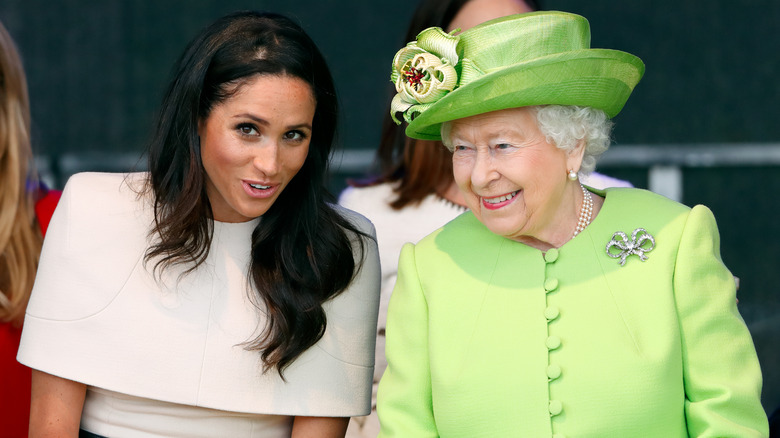 Max Mumby/indigo/Getty Images
Meghan Markle, Duchess of Sussex, has broken her silence about the heartbreaking death of Queen Elizabeth II. During an interview with Variety, Meghan said she felt "fortunate [to have known her]."
"There's been such an outpouring of love and support," Meghan explained. "I'm really grateful that I was able to be with my husband [Prince Harry, Duke of Sussex] to support him, especially during that time. What's so beautiful is to look at the legacy that his grandmother was able to leave on so many fronts. Certainly, in terms of female leadership, she is the most shining example of what that looks like."
As for how Harry is coping with the loss, Meghan revealed that he is "ever the optimist" and he has said, "Now she's reunited with her husband, [Prince Philip]." The couple is also likely waiting to find out if their two children, son Archie and daughter Lilibet, will receive prince and princess titles. Harry's father, King Charles III, is reportedly delaying his decision, with royal expert Katie Nicholl telling True Royalty TV's The Royal Beat (via Daily Mail) that handing over the titles "comes with a caveat, and that caveat is trust. They have to know that they can trust the family."
Meghan Markle honored the queen silently before her first statement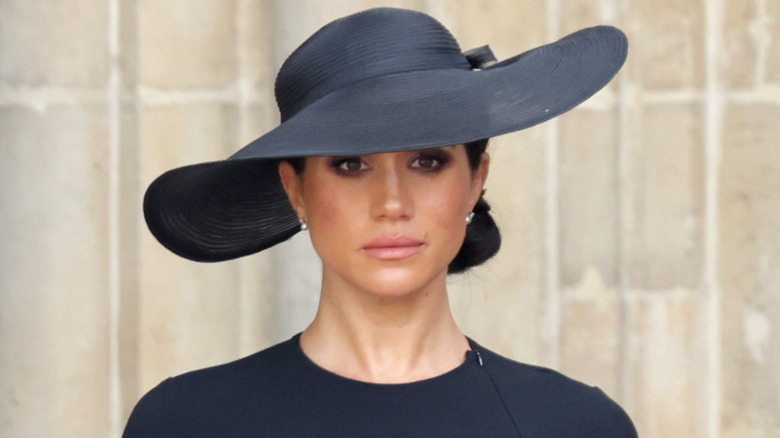 Chris Jackson/Getty Images
Even before Meghan Markle publicly shared her warm feelings about Queen Elizabeth, she honored the monarch in her own special way during the funeral procession. The Duchess of Sussex chose to wear the pearl and diamond earrings that the queen gave her back in 2018 (via Glamour).
That meeting was special because it was the first time the duchess appeared with the queen at a royal event alone, after marrying her husband Prince Harry, as per Hello! Magazine. This first royal engagement marked the beginning of Markle's official place in the family.
Markle only had kind words to say about that first royal event with the queen, reflecting, "We had breakfast together that morning, and she'd given me a beautiful gift, and I just really loved being in her company."
In another homage to the Queen, Markle also wore a cape-style dress to the funeral, capturing another memorable moment between the Duchess and the monarch. It was a version of the same dress she donned in 2018 to celebrate Queen Elizabeth's 92nd birthday (via Marie Claire).