Fans Told The List Their Go-To Way To Curl Hair - Exclusive Survey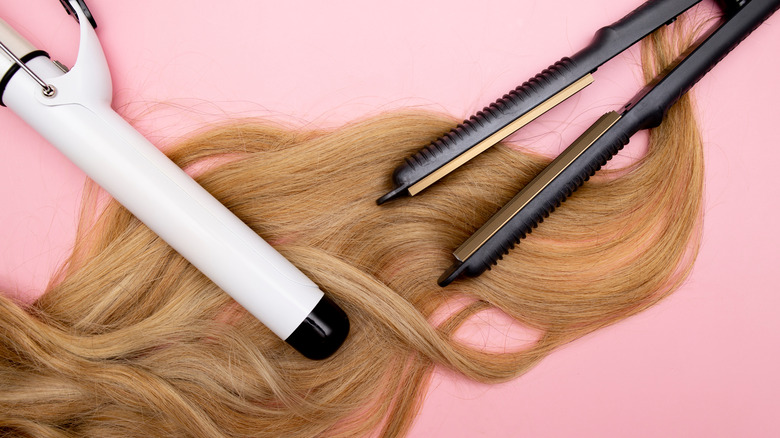 Evgeniya Sheydt/Shutterstock
Every hairstyle is beautifully unique and deserves to be celebrated. But when you're looking to do a little something extra with your hair, nothing screams elegance quite like a romantic wave you can sweep behind your ear while giving your beau a little wink. There's something so whimsical about walking around with a head of soft waves that bounce behind you as you strut about your day. We love having curly hair, but we aren't always pros when it comes to styling our curls. No matter how often we style it, when we start seeing those dreaded creases when curling our hair, it's hard not to give up.
Luckily, these days there are so many hair hacks and styling gadgets that promise to curl your hair quickly and efficiently. Whether you follow every step of the curly hair method each morning or you invest in all the latest tools like the viral Dyson supersonic hair dryer, we can agree that achieving picture-perfect curls takes a bit of time, money, and energy.
To find out which curling method has had the most success, The List conducted a survey asking 600 people, "What is your favorite way to curl your hair?"
This classic curling method is piping hot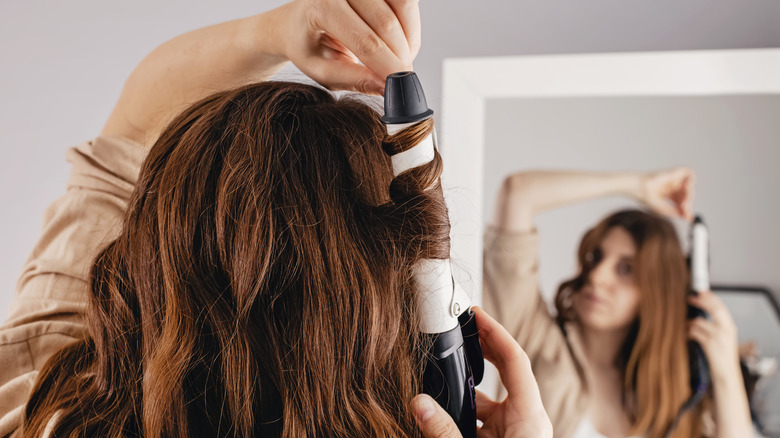 Chiociolla/Shutterstock
According to The List's survey, the most popular way to curl your hair is with a curling iron. With 27.83% of the vote, twisting sections of your hair around a hot iron remains the top choice for achieving the perfect head of curls. Surprisingly, flat irons followed close behind with 23.67% of the vote. Contrary to its namesake, flat irons can achieve a beautiful wave if used correctly. The flat iron curling method is on the rise once again thanks to TikTok, who discovered the best way to curl your hair with a straightener.
17.5% of voters prefer a curling wand, another heating tool similar to the curling iron without the clamp to hold your curls. According to Sleek'e Hair, wands are a great way to achieve timeless retro hairstyles and beachy waves.
Irons and wands work well at effectively curling all types of hair, but can cause dryness and breakage over time. Thankfully, there are ways to get beautiful curls and waves without heat. 12.33% of voters avoid heat by using heatless curls, a method growing in popularity as people seek healthy methods of styling. Blow dryer brushes (13.67%) are another great method of curling, saving you time by drying and curling your hair with one tool with less damage, per Good Housekeeping.
If you're in no rush, try the totally retro hot rollers that 5% of voters still swear by.
Have you actually had curly hair this whole time?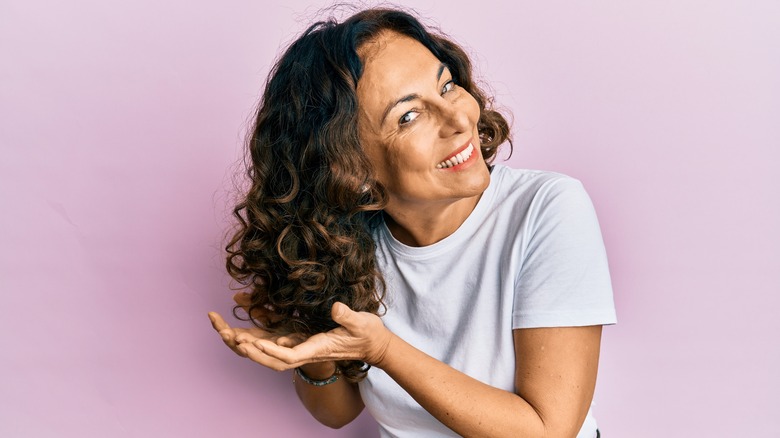 Krakenimages.com/Shutterstock
To some degree, we all want what we can't have: people with straight hair wish for the volume and bounce that curly hair has, while girls battling their curly frizz and flyaways long for sleek and straight hair. But do you really know your natural hair type?
One TikTok user thought she had straight, slightly frizzy hair until she started using the app and realized she had been neglecting her natural curls her whole life. She posted a video applying a curl serum to clean, wet hair and drying her hair in a T-shirt. Afterward, bouncing natural curls appeared on her head.
Per Pro Fashion Hair, it is not uncommon for women to be unsure about their hair type and texture. Stylists clarify, "Hair texture is not how the hair feels when you move your hand through it, but rather the thickness of the individual hairs." When identifying your hair texture, pay attention to the coil patterns. Allure reported that your curls fall into one of three categories: Type 2 (wavy), Type 3 (curly), or Type 4 (coily). There are also sub-sections A-C that classify the width of your curl. So if your hair looks like beachy waves when dry with an "S" pattern curl, you have type 2B hair. Knowing your type of curls will help decide how best to style it and what products to invest in.
If you're still unsure, you can always ask your hairstylist if you have curly hair.