Meghan Markle Tells Fans About The American Fast Food Chain That Prince Harry Can't Get Enough Of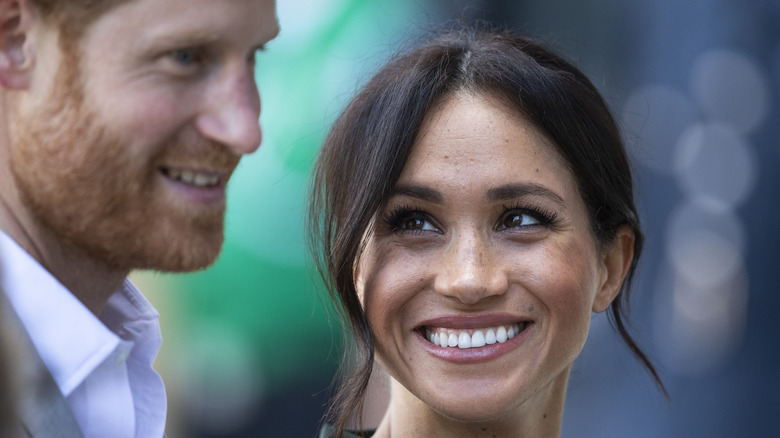 Dan Kitwood/Getty Images
We'll probably never know why Prince Harry and Meghan Markle really left the royal family but suffice it to say they'd had enough. As The Guardian reported, the Duke and Duchess of Sussex initially wanted a "half-in, half-out role," but the queen told them in no uncertain terms the couple was either fully in or out. In an excerpt from her book, "The New Royals," (via Vanity Fair), royal expert Katie Nicholl shared that the queen was "very hurt" when they decided to leave. 
It seems Meghan and Harry ultimately made the right decision for themselves, though, with "Finding Freedom" author and Sussex sympathizer Omid Scobie noting in a piece for Yahoo! News UK that Harry has finally "created the life he has long dreamed about. A life that, dare I say it, he couldn't have achieved if he remained a working member of 'The Firm.'" Don't forget Harry admitted to feeling "trapped" in the royal family during the infamous Oprah interview (via Page Six). 
Now that he and Meghan are settled across the pond, making their own money, and happily raising their two young children, he's fully adjusted to life in America — including, as it turns out, indulging in one of the country's most beloved fast-food chains. 
Prince Harry favors this Californian burger chain in particular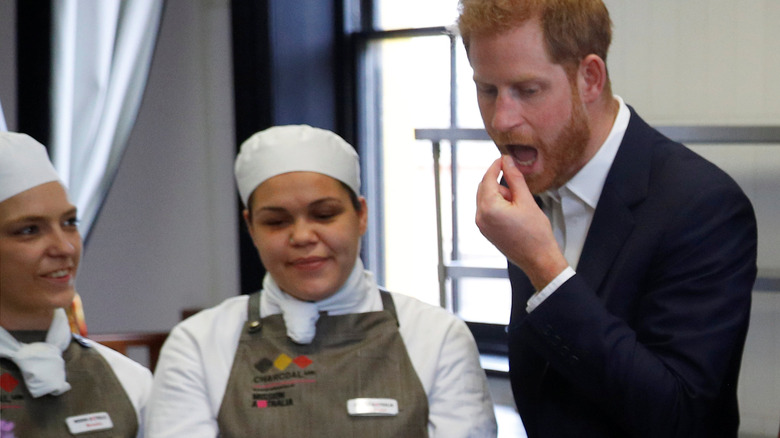 Pool/Getty Images
As it turns out, the Duke and Duchess of Sussex are just like everybody else when it comes to their favorite fast-food chain. During her latest interview with Variety, Meghan Markle reasoned that people assume they live in Hollywood, in the center of it all, when really their home is a two-hour drive away. "We're commuters," she stated, noting, "We drove down recently for a day of back-to-back meetings, equipped with chocolate chip cookies the size of my toddler's head." 
Luckily, they didn't have to subsist on sugary snacks alone. The Duchess of Sussex revealed, "My husband's favorite is In-N-Out. There's one at the halfway point between L.A. and our neck of the woods. It's really fun to go through the drive-thru and surprise them. They know our order." As Entertainment Tonight reported, early in their sojourn in Montecito, royal author Katie Nicholl confirmed the royal defectors were staying under the radar while they got settled. 
However, the Sussexes had "been spotted out and about." In particular, Nicholl divulged, "They often stop at the In-N-Out Burger much to the astonishment of the staff who serve them." She noted that Harry is a known fast-food aficionado, especially when it comes to burgers, so it's not too surprising he favors a bit of In-N-Out from time to time. Funnily enough, Kylie Jenner's go-to cheat meal is also from the Californian chain, suggesting it may be a celebrity favorite. 
Is the Sussexes' California life really all it's cracked up to be?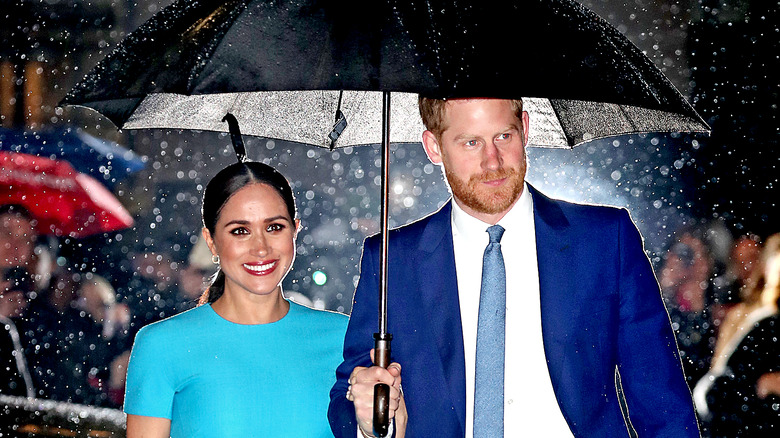 Chris Jackson/Getty Images
They may be partaking in In-N-Out every chance they get — and who could blame them? — but there's reason to believe that life in the States isn't so sweet for the Duke and Duchess of Sussex. A royal author claimed Meghan Markle and Prince Harry's new life isn't living up to expectations, chiefly because they're no longer royals. As Tina Brown explained in an interview with The Washington Post, "They both completely underestimated what it was going to be like to be without the palace platform."
She continued, "What the palace does, of course, it has amazing convening power, there's no one who won't take a phone call if they say 'Buckingham Palace on the phone, Kensington Palace on the phone.' Every major invitation in the world comes through that conduit. All of that is now gone." Brown also suggested the celebrity couple might lose their lucrative Netflix deal, which would obviously hurt their future endeavors. 
The royal expert went even further during a chat with The Telegraph, claiming the Sussexes can't keep up with their celebrity friends due to a lack of funds, and describing them as "D-list" and their Montecito mansion as a "humble cottage." Rumors are swirling that Harry and Meghan are upgrading to an even bigger and pricier estate, so that may no longer be an issue. Clearly, they're putting down roots in a big way.