Fans Told The List Their Favorite Luxury Jewelry Brand - Exclusive Survey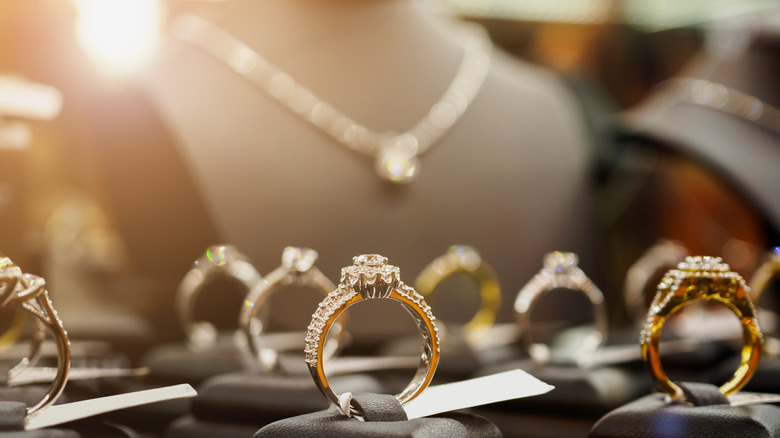 Kwangmoozaa/Shutterstock
It's not everyday that we strut into a luxury store and walk out with a bag in each arm. Usually, we're shopping from the window, pushing up against the glass to admire the sparkling diamonds and shining pearls that glisten against the sun. But everyone deserves to treat themselves every now and then: one day we will work up the courage (and the budget) to buy something beautiful and shiny from a luxury store. When we do, it's important to know which brand will give us the most bang for our buck.
It's true that there are a few luxury brands that just aren't worth your money, but some designers do live up to their hefty price tag. When you decide to invest in a luxury item, you want the best, especially when it comes to jewelry. To find out which jewelry brand people think is really worth the money, The List conducted a survey asking 600 people, "Which is your favorite luxury jewelry brand?"
Diamonds are Tiffany & Co.'s best friend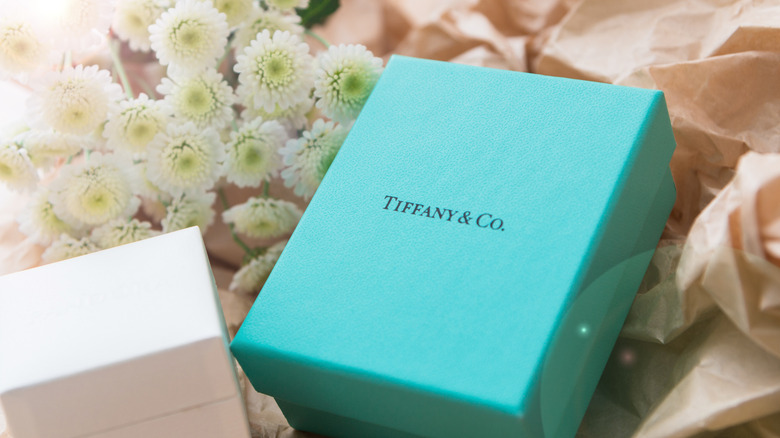 AlesiaKan/Shutterstock
According to The List's survey, the most popular luxury jewelry brand is Tiffany & Co. With 55% of the vote, over half of voters adore the timeless New York jeweler. Tiffany & Co. first opened in 1837, and made a whopping $4.98 in sales on their first day, according to their website. We can't possibly imagine walking out of Tiffany & Co. today with a little blue box for less than $5. The store was always renowned for their beautiful jewels, but became an overnight tourist destination after Audrey Hepburn enjoyed breakfast there in 1961 when the iconic movie "Breakfast at Tiffany's" was released. To this day, you can actually enjoy breakfast in Tiffany's on Fifth Avenue in NYC, although it's called the "Blue Box Cafe" now (Via Washington Post).
Cartier (16.5%) and Swarovski (15.5%) were among other fan favorite destinations for a luxury jewelry shopping spree. Both designers are household names that promise quality jewelry with a bold sparkle for an even bolder price. 6.17% of voters prefer to buy their luxury jewelry from Harry Winston, a timeless jeweler who was known as the "king of diamonds," per their website.
Jewelers Van Cleef & Arpels (3.17%) and David Yurman (3.67%) also received love from voters who enjoy the finer things in life.
These are the accessories you'll want to buy on your next luxury shopping spree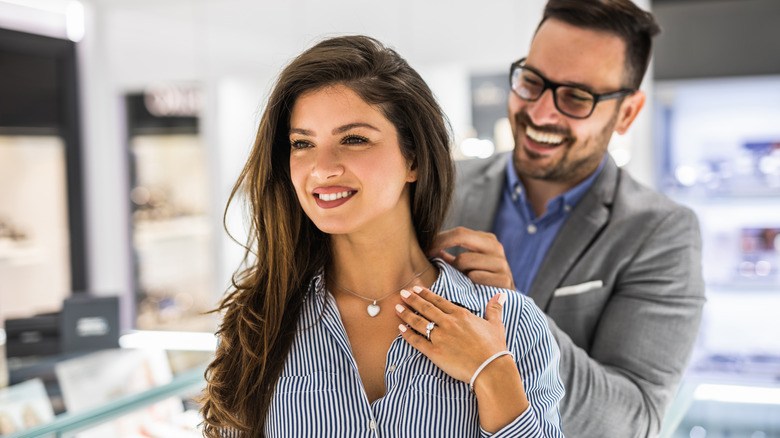 hedgehog94/Shutterstock
When you're shopping for new jewelry, it's important to know what's in style — you don't want to make these accessory mistakes that make you look older. According to Editorialist, designers and stylists are loving chain-link accessories lately, pairing them with minimalist outfits for a sleek, glamorous look. Nordstrom reports that statement pieces are back in style, with large gemstones and "bold, gold jewelry" that takes your fit to the next level.
Or, you could get a permanent bracelet: this forever jewelry trend consists of welding the ends of a bracelet to your wrist for a chic, clasp-less look. Per Vox, if you take care of it, it might last forever (but if you need to take it off, you can easily disconnect it with scissors.) These dainty chains are the new beaded friendship bracelets, and we want one ASAP.
If you find it hard to keep up with forever-changing trends, there are some pieces of jewelry that will never go out of style. If you're looking for something timeless, Who What Wear recommends investing in a classic tennis bracelet, a pair of solid gold hoops, or a simple pearl necklace. If you're looking for something with gemstones, emeralds have been adored for generations, bringing a pop of color to whatever look you put together.
Once you start to build your jewelry collection full of timeless and trendy pieces, here's a guide on how to keep your jewelry organized once and for all.