Why General Hospital Fans Are So Confused By Drew Cain's Sudden High School Memories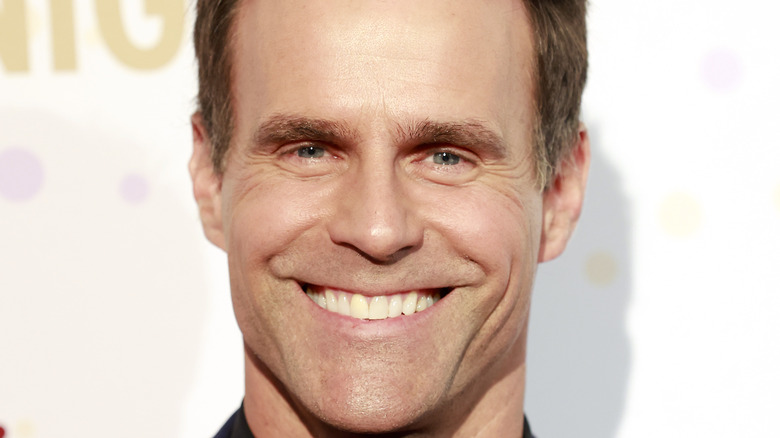 Michael Tran/Getty Images
The latest storyline on "General Hospital" has turned what fans know to be true upside down. Drew Cain (Cameron Mathison) is riddled with a past filled with holes. Though he's come a long way, his character has gone through changes — storyline and actor wise. At one point, Drew believed he was Jason Morgan. He initially came to Port Charles as a Jake Doe, after being hit by Ava Jerome's car and losing his memory, per Soaps.com. 
Revealed later, Jake Doe was actually the one and only legacy character Jason Morgan. But nothing is permanent in the land of soaps, and his life as Jason turned out to be a lie — and a case of swapped memories. Drew's memories can be split into two categories: what he was told about his life before Port Charles, and what was implanted by Dr. Andre Maddox, per Soaps in Depth. 
With the revelation of Drew's real identity came the question of whether or not he would undergo a procedure to recover his own memories at the risk of losing his current ones (including those of his children). He decided against it, and instead created his own path. This new version of Drew is slowly falling for Carly Corinthos (Laura Wright). In a heartfelt moment, the budding supercouple hit a new milestone and confessed their feelings to one another with a romantic backdrop as support. But it was that very conversation that had fans calling out the soap for a major plothole.
Fans are accusing GH's writers of ignoring Drew's history to force him and Carly together
Although Carly and Drew's time in Jacksonville, Florida marked a turning point in their relationship, many viewers were not impressed by the scenes that were actually shot at a Malibu beach. Location aside, Drew's confession to Carly about his high school memories made fans hit pause and rush to Twitter in droves to share their confusion. 
SoapHub pointed out that Drew never erased Jason's memories with his own and therefore can't possibly remember his time as a Navy SEAL. Fans have accused "General Hospital" of their revisionist history for the sake of making Carly and Drew compatible as a couple. In one tweet, a fan questioned the direction their conversation took, writing, "#GH I swear y'all must have forgot Drew doesn't have his memories how is he talking about joining the Navy right out of high school and how he felt. The man literally doesn't know/remember anything about his past. He only has Jason's memories and his new memories."
One possible way the soap can make Drew's memory mishap work
Drew wasn't the only character who was forced to play the memory game. In another tweet, a user brought up the fact that Drew's original memories were actually implanted in Franco Baldwin (Roger Howarth), writing, "Drew does not even have his own memories. He still has Jason's memories. The flash drive with Drew's memories was used on Franco." The procedure was cult leader Shiloh Archer's (Coby Ryan McLaughlin) attempt to cover up a crime he committed, per Soap Dirt.
While this scene has the potential to switch up a significant part of Drew's origin story, some viewers have figured out a way to make it work. In a total plot twist, another fan came up with an interesting theory about a possible route that "General Hospital" can take to fix Drew's current storyline. In their tweet, they wondered whether Drew's interest in Carly is being influenced by his memories of another life, writing, "How long before Drew realizes that the feelings that he has for Carly are really the feelings that Jason had for Carly."