These Are The YouTube Channels You Should Be Following If You're Into Makeup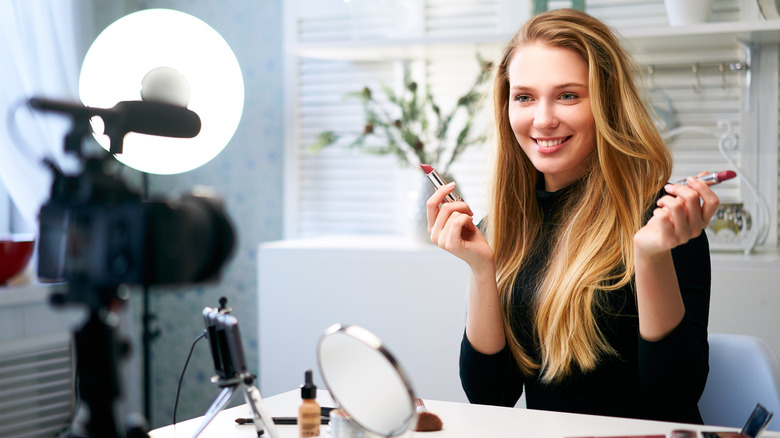 Artie Medvedev/Shutterstock
There are so many beauty influencers out there, it can feel impossible to find the best ones for you. There are YouTube channels for everything from styling curly hair to beauty tips for those 50 and up. When it comes to makeup, many have pretty specific preferences. Thankfully, there are plenty of options that cater to even the most niche interests.
For beginner beauty mavens, Her Campus recommends Jackie Aina. Her channel covers everything from quick makeup routines and skincare to glam looks and everything in between. She takes time to explain her techniques and even has full videos of application tips. Her honest makeup reviews can help you make more informed purchases, and she posts frequent collab videos that can help you learn more about the YouTube beauty world.
Tina Yong is praised by Fashionista for being a great YouTuber for beauty beginners. Her tutorials are easy to follow, and her fun personality will have you smiling. In addition to makeup tutorials, her channel also features product reviews, nail videos, and an entire series of her trying random things.
Highlight your natural beauty or completely transform
If you're a fan of the "less is more" makeup look, Fashionista recommends Haley Kim. Her aesthetic videos and soothing voice make her videos seem more like ASMR than a makeup tutorial, and you'll leave with tips for creating a gorgeous, fresh-faced makeup look. Several of her tutorials are based around drugstore makeup, so you won't feel left out if you're on a budget.
Another natural makeup expert, Lisa Eldridge, landed on Blissmark's list of best YouTubers for everyday makeup. Eldridge is a celebrity makeup artist who shares her tips with over two million subscribers. Even her glam makeup looks are understated and chic, so her channel is perfect for people who prefer to rock their natural beauty.
For those who believe in "more is more," Jackie Wyers can teach you how to basically become a chameleon. Her videos involve full transformations with makeup, hair, and costumes to become pop culture icons. In her most popular video, Wyers transforms into Brooke Shields as she appeared in "The Blue Lagoon." From "Titanic" to "Beauty and the Beast," her stunning looks are entertaining even if you don't plan on recreating them.
When in doubt, go for glam
If you'd rather go to work looking like you just stepped off the runway, there are plenty of great channels for you. Even Nyma Tang's everyday looks will leave you feeling photo-ready. With over 1.34 million subscribers, she's a major voice for Black beauty lovers. Some of her most popular videos feature Tang testing the darkest foundation shade of several major beauty brands, spotlighting a major hole in the industry.
NikkieTutorials is another great channel to follow if you want looks that will leave you feeling fabulous. Her glam makeup tutorials are so flawless, they could be right off the red carpet. She also often features celebrities, such as Adele and Kim Kardashian, on her channel. Her Power of Makeup series shows side-by-side comparisons of just how much makeup can change your look.
No matter what your makeup preferences may be, there's a YouTube beauty guru for you. From clean makeup trends to Hollywood glam, you're bound to find something that makes you feel stunning.