How To Replicate Kim Kardashian's Ponytail Bun
Kim Kardashian is the queen of transformation. A lot of intention goes into every cut, color, and style she rocks on the streets, at event appearances, or her carefully curated social pages. The extreme lengths that Kardashian will go to for fashion are heavily documented.
Balenciaga designed her $425 credit card earrings, which she wore during a September 2022 appearance at "Good Morning America," per Page Six. The latex Balmain suit that she wore to ex-husband Kanye West's Sunday Service back in 2022 was one of the most expensive outfits she's ever worn, and cost a whopping $28,750, Page Six reported.
Kardashian takes her hair just as seriously and entrusts celebrity hairstylist Chris Appleton to make her locks as enviable as her closet. While the Skims co-founder is known for her stunning brunette hair, Appleton and Kardashian have been experimenting with new looks. Her bleached hair at the 2022 Met Gala, which took over 14 hours to perfect, was the center of conversation and drew mixed reactions, per People. Another hairstyle that Kardashian has been sporting has been racking up a lot of attention.
Kim Kardashian's ponytail bun turns heads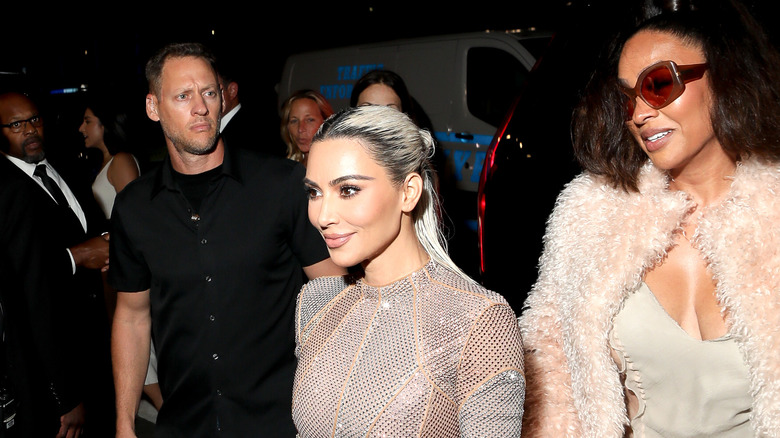 Hippolyte Petit/Getty Images
All eyes were on Kim Kardashian when she showed up at the 2022 Kylie Cosmetics x Ulta Beauty launch party with her hair slicked back in what appeared to be a cross between a bun and a low ponytail, per POPSUGAR. Since then, the internet has been divided over the laidback look. But that hasn't stopped Kardashian from incorporating the ponytail bun into her everyday aesthetic.
The beauty icon rocked this hairstyle again at Fendi Baguette 25th Anniversary Show at New York Fashion Week, and one more time while promoting Hulu's "The Kardashians" on "Good Morning America". In September 2022, Chris Appleton posted an Instagram reel of Kardashian's lowkey hairstyle at NYFW. The hairstylist told Vogue that the updo, which he nicknamed the wet flip bun, is his casual take on its more prim and proper counterpart. "A bun can look quite serious — this one is less done," Appleton explained. Appleton swears by using a bun to hide greasy hair, so it makes sense that he would gravitate to this half-up, half-down do.
Steal this minimalist hairstyle in 2 simple steps
Love it or hate it, the ponytail bun is here to stay, and is also super easy to achieve. In his September 2022 interview with Vogue, Chris Appleton detailed his vision behind the look, and emphasized that the hair placement is everything. "Kim's usual low bun tends to be lower, while this one follows the eyeline," he pointed out. "It snatches the eye."
The wet hair look is what makes this low-maintenance hairstyle stand out. Kim Kardashian's wet and wavy curls at the 2019 Met Gala was one of her most talked about hairstyles for a reason, per W Magazine. To recreate her ponytail bun, you will only need to carve out 5 minutes out of your morning routine. After applying a generous amount of your favorite hair products, gather your hair into a sleek ponytail. Then, pull your locks halfway through your hair tie until it forms a small bun, making sure to leave the rest to hang and boom — instant celebrity hair.