The Sad And Tragic Reason Allie Horton Believed Tripp Johnson Fathered Her Son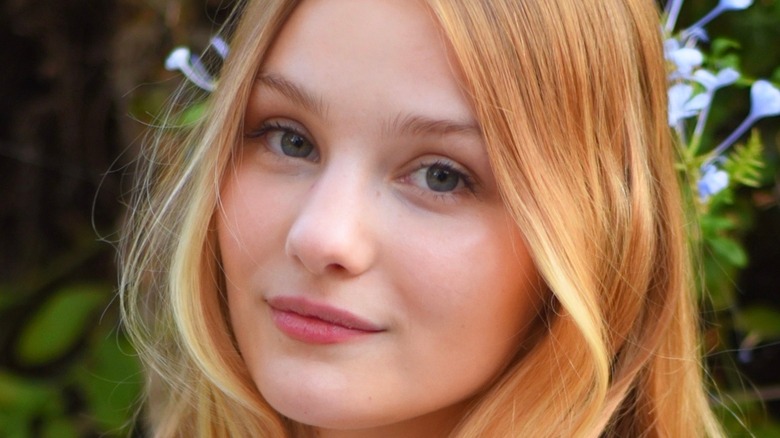 Michael Mattes/Shutterstock
"Days of Our Lives" knows how to give fans legacy characters worth watching. Through the years, there have been so many important legacy characters, whose parents and grandparents have been the heart of the soap opera, per TV Fanatic. Characters like Hope Williams, Jennifer Horton, Sami Brady, Belle Black, Shawn Brady, Stephanie Johnson, Mike Horton, Will Horton, Sonny Kiriakis, and so many more had rich family histories and importance on the sudser before they were even born.
As the years roll on, "Days of Our Lives" continues to create legacy characters, and new babies are born in Salem on the regular. While many of these characters have grown up — usually very quickly thanks to Soap Opera Rapid Aging Syndrome (via TV Tropes) — they don't always have the easiest time in Salem. So many legacy characters have struggled over the years, including the likes of Belle and Shawn's daughter, Claire Brady, and Jack and Jennifer's daughter, Abigail Deveraux — both of whom battled mental health issues. Sadly, Abigail's younger brother, JJ Deveraux, also struggled with his own mental health. 
One legacy character who has also fought against trauma and emotional strain has been Allie Horton.
If you or someone you know needs help with mental health, please contact the Crisis Text Line by texting HOME to 741741, call the National Alliance on Mental Illness helpline at 1-800-950-NAMI (6264), or visit the National Institute of Mental Health website.
Allie Horton's been through a lot in her young life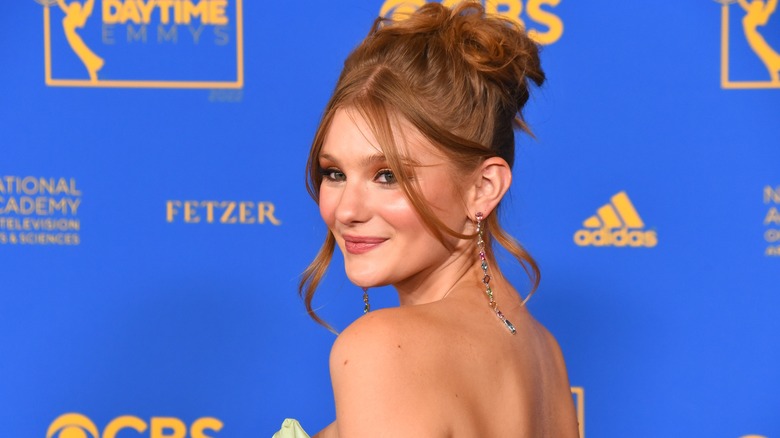 Michael Mattes/Shutterstock
Allie Horton's life hasn't been easy. The "Days of Our Lives" character is the daughter of Sami Brady (Alison Sweeney) and Lucas Horton (Bryan Dattilo), and her life was full of drama right from the start. Sami and Lucas conceived their daughter on the same night that Sami also conceived Allie's twin half-brother, Johnny, with EJ DiMera. Sami's twins having different fathers led to chaos during the pregnancy and after their births. However, that wasn't the end of the trauma for the young legacy character, per Soap Central.
During her childhood, Allie was forced to be separated from her father due to the fact that Lucas spent time in jail. Once he was released from prison, Lucas attempted to bond with Allie, and when Sami went into the witness protection program, Allie went to live with Lucas at the Horton cabin. Later, she split time between her parents' homes until Lucas went to live in Hong Kong (via Soaps In Depth). Sadly, Allie's stepfather, EJ DiMera, was killed (and later resurrected), leading Sami to pack up her family and move to California. Lucas went with her to be near his children and Allie wasn't seen again until 2020 when Lindsay Arnold stepped into the role.
Allie came back to Salem as a young adult hiding a big secret from her parents.
A case of mistaken identity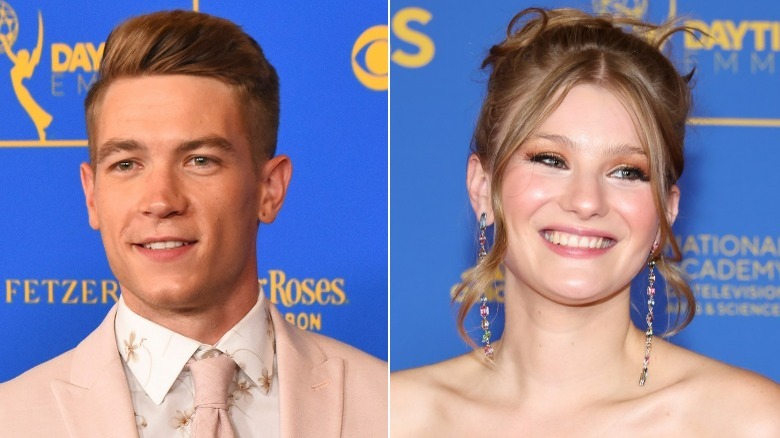 Michael Mattes/Shutterstock & Amy Sussman/Getty
When Allie arrived on the doorstep of her uncle Eric Brady in 2020, she revealed that she was heavily pregnant and wanted to give her unborn child up for adoption (via Soaps). Allie had some options as she narrowed it down between Rafe Hernandez and her brother Will Horton to adopt her baby. Eventually, the story of Allie's pregnancy was revealed, as she told those close to her that she had been raped.
Upon seeing Tripp Johnson in Salem, she remembered spending time with him the night of her attack and accused him of being her rapist. Tripp denied the allegations, revealing that he and Allie were never intimate. However, a DNA test was a match for Tripp, but he was adamant about his innocence. Allie later underwent hypnosis to remember what really happened the night of her attack, and it was clear that Tripp wasn't the person who assaulted her. Instead, another man named Charlie Dale was proven to be her attacker and the biological father of her son, Henry (via Soaps in Depth). It was later discovered that Charlie was Tripp's half-brother, therefore sharing a similar DNA makeup as him. Charlie was later killed, leaving Tripp to grow closer to Allie and her baby.
Allie and Tripp eventually began dating and fell in love, but when Allie cheated on Tripp with her best friend, Chanel DuPree, the couple called it quits and Allie began dating Chanel. However, Tripp remains in Henry's life as his uncle.
If you or anyone you know has been a victim of sexual assault, help is available. Visit the Rape, Abuse & Incest National Network website or contact RAINN's National Helpline at 1-800-656-HOPE (4673).