Tiffany Trump's Husband Michael Boulos Has A Very Familiar Career Path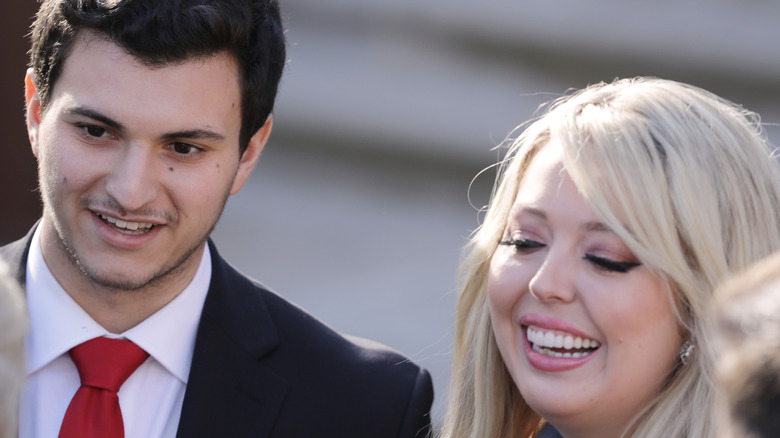 Chip Somodevilla/Getty Images
Three out of former President Donald Trump's four adult children have spouses, while his eldest, Donald Trump Jr. is currently engaged to Kimberly Guilfoyle. Elsewhere, Donald's other kids from his first marriage to Ivana Trump, Eric and Ivanka Trump, are both married to people with successful, respectable careers.
While Eric works for his father as the Executive Vice President of the Trump Organization, according to the official Trump website, his wife Lara Trump — who is very vocal about her support for her father-in-law on social media — hosts a political podcast entitled "The Right View." Perhaps the most well-known couple is his eldest daughter, Ivanka, and her businessman husband, Jared Kushner. 
Recently, Ivanka and the former senior advisor to his father-in-law have taken a deliberate step back after the family's patriarch announced he was running for reelection in 2024. Unsurprisingly, Donald isn't handling his daughter's decision well. That just leaves Tiffany Trump, the second youngest of Donald's five children. Tiffany recently wed her longtime beau, Michael Boulos, in a stunning wedding. After diving into his background, Boulos seems to have more in common with his in-laws than one may think.
Michael Boulos comes from a mega-wealthy family just like his wife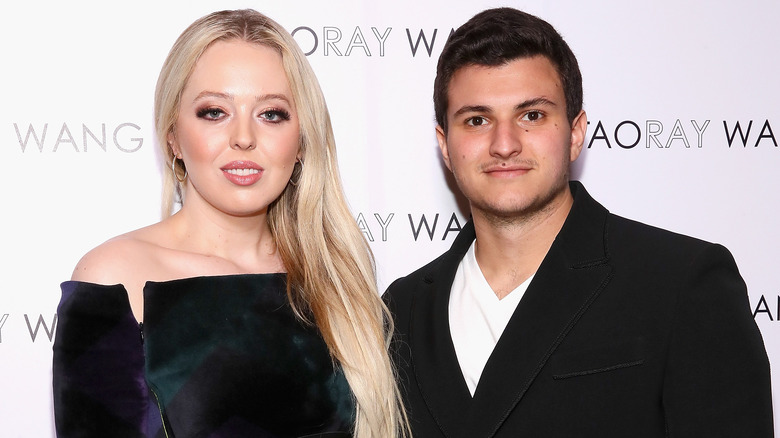 Astrid Stawiarz/Getty Images
Tiffany Trump, the only child of Donald Trump and his second wife, Marla Maples, recently married Michael Boulos at Trump's infamous Mar-a-Lago residence in Palm Beach, Florida (via People). But, unlike high-profile in-laws such as Jared Kushner and Kimberly Guilfoyle, Boulos seemed to fly much lower on the radar. 
In fact, the newlyweds met at Lindsay Lohan's beach club in Greece before taking their relationship public in 2019. Soon, the media found out that Boulos, who is Lebanese-American, is cut from the same cloth as his wife — the cloth being generational wealth, that is. Some might argue that Bulous fits the description of trust fund baby to a T, particularly if you take a look at his résumé.
The Daily Mail confirms that Boulos, who is four years his wife's junior, also comes from the elite class. His father, Dr. Massad Boulos, is a billionaire who created Boulos Enterprises with his brothers. The company works in distributing and trading parts from motorcycles and other power bikes all over Africa, but primarily in Nigeria, where Michael spent much of his upbringing.
Michael, who holds degrees in business, product, and risk management, also works for his family, per Hollywood Life. His net worth is estimated to be around $20 million (via Celebrity Net Worth). Between his family and the Trumps, this new couple is basically set for life even if they don't ever want to work again. 
What the public really thinks of Tiffany Trump and Michael Boulos' marriage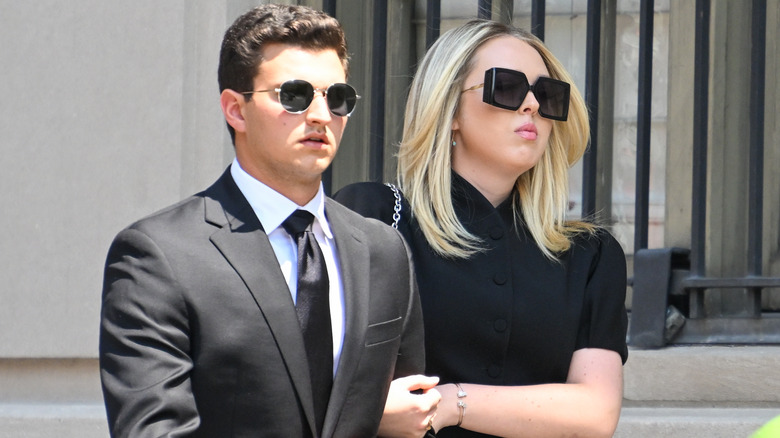 Alexi J. Rosenfeld/Getty Images
Though Tiffany Trump and Michael Boulos' relationship has been public since they first made it Instagram official in 2019, their recent Mar-a-Lago wedding has Twitter talking about one fact that can't be ignored — their age difference.
According to Harper's Bazaar Arabia, Boulos was born on August 27, 1997, whereas Business Insider cites that Trump was born on October 13, 1993, making them four years apart.
November 12 marked the day the two became husband and wife, and while Twitter got in a tizzy about the floral arrangements, others simply couldn't hold back their disdain for their age gap. Many social media users brought up Trump and Boulos' age gap in response to a tweet by political scientist, Richard Hanania, who tweeted, "Biden's granddaughter is three years older than her husband. This is the America that they want."
"Tiffany Trump is 4 years older than her husband, Michael Boulos," one user tweeted. "This is the America they want."
Similarly, another user tweeted: "Tiffany Trump Boulos is 4 years older than her husband, Michael Boulos. This is not a problem for Gen Z and younger Millennials. I hope it's not s [sic] problem for us oldies either.
The 20-something couple have yet to publicly comment anything about their age gap.