The Hallmark Holiday Movie That Every Fan Of The Queen's Corgis Must Watch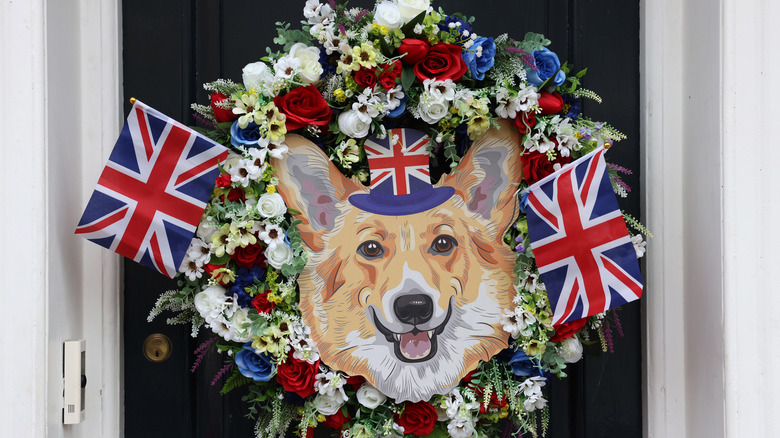 Bloomberg/Getty Images
Dookie, Susan, Holly, Willow, Muick, Sandy ... Mistletoe? If you're a fan of the late Queen Elizabeth II's corgis, you'll recognize the names of some of her most famous pets. And Mistletoe? That's the name of the corgi you're going to fall in love with when you watch the Hallmark Christmas movie "A Royal Corgi Christmas."
The queen was known for always having one of her Pembroke Welsh Corgi companions by her side. According to Reader's Digest, she owned upwards of 30 corgis over the span of 70 years and was even rumored to have taken Susan, one of her first, on her honeymoon with Prince Philip.
She owned corgis up until her death. "I'm glad that in her latter years she had the company of those dogs, which she loved so much," shared Dr. Roger Mugford, an animal psychologist in Britain who treated the queen's corgis (via Newsweek). "I'm pleased her corgis helped her through those tough times, including the loss of Duke of Edinburgh. I think psychologically it was so important for her happiness."
The on-screen royal corgi connection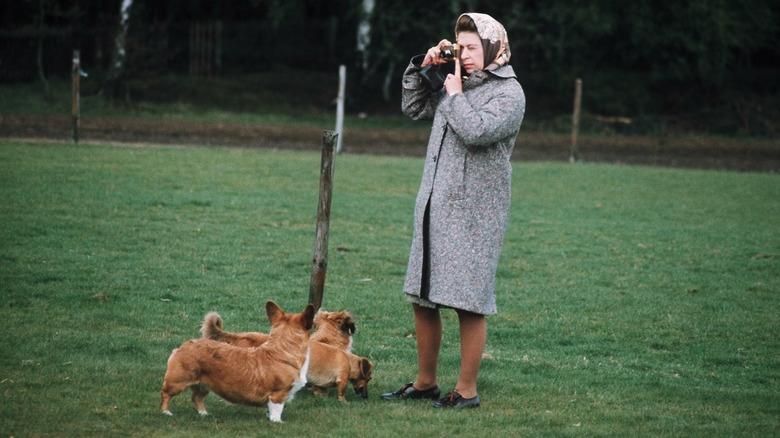 Anwar Hussein/Getty Images
Just as Queen Elizabeth was a fan of the Pembroke Welsh Corgi breed, so, too, was the character Queen Portia in the Hallmark holiday film, "A Royal Corgi Christmas." The film's fictional royal family obtained their two original corgis via a long line of purebred breeding. As the royal trainer in the film declares, "There's a whole binder of lineage if you'd like to see."
According to the American Kennel Club (AKC), Queen Elizabeth created her own royal breeding program and secured many of her corgis from there. Susan, the Pembroke Welsh Corgi that was gifted to her upon her 18th birthday, was the start of the line, which ended 14 generations later with Holly and Willow, per the AKC.
Upon Queen Elizabeth's death, she left behind two corgis, Sandy and Muick. While not from the original Susan line, the two were gifts from her son Prince Andrew, according to Newsweek. 
The premise of "A Royal Corgi Christmas" is that the queen's son, Edmond, is gifting his mother with a new corgi named Mistletoe. Although in the film, the source of this newest addition to the family is a bit more questionable, with Prince Edmond explaining, "I saved him from being a prize in a card game."
Introducing your new favorite corgi: Mistletoe
You can catch glimpses of Queen Elizabeth's last two corgis, Sandy and Muick, via the Instagram of Sarah Ferguson, Duchess of York, who now splits custody of the two pups with Prince Andrew, according to Harper's Bazaar. If you want a new corgi to fall in love with, however, you'll definitely want to watch "A Royal Corgi Christmas."
In the movie, Mistletoe is a mischievous but lovable pup who just needs a little guidance. In real life, he goes by the name of Bonbon and, according to his trainer, was born to be a star. "He's got such a good face. Such a happy face. The face of a film dog," shared Sandra Strong in Entertainment Weekly. 
Bonbon, just like Mistletoe, has no royal background. "He was certainly in character as far as the film was concerned! He came from working stock," Strong said. "He was born on a farm where corgis are still used to herd livestock."
Bonbon pulls off quite a few tricks in "A Royal Corgi Christmas," including pulling a tablecloth full of food, winning a racing derby, and walking across a stage (quite difficult, says Strong, because Bonbon was afraid of the violins on that stage). Even with no prior film experience, though, he immediately took to the limelight. "He loved it," revealed Strong. "He loved every minute of it."