The 'Goth Nail' Trend That Will Continue To Slay In 2023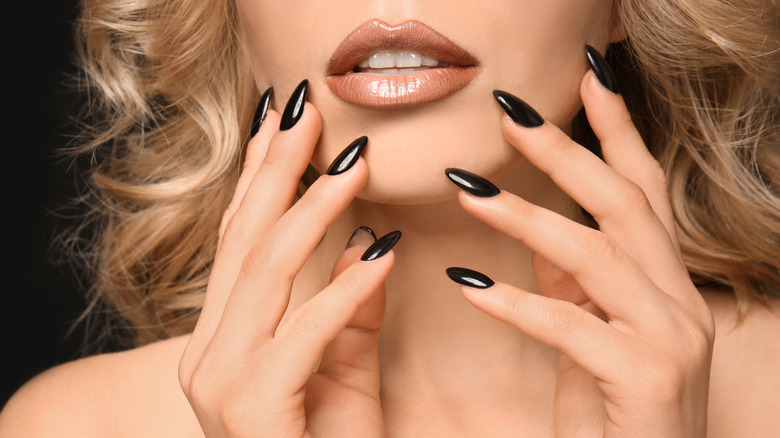 Pixel-Shot/Shutterstock
We may receive a commission on purchases made from links.
In the world of nail art, glowing aura nails and minimalist gray nails are just a couple of styles that have gone viral. Nails may not be the first thing you think of when it comes to trends, but, just like jewelry and clothes, nail styles adjust to the time and season. Some of the nail designs everyone will be asking for in 2023 include pink Barbiecore nails and fresh chrome nails, both of which are sure to be all over your Insta feed.
However, the new nail art trend gaining popularity is something entirely different. Dubbed the "goth nail" trend, this new style is exactly what it sounds like. Welcoming all things dark and spooky, the gothic trend is all about embracing your inner Morticia Addams and wearing dark colors with confidence. If you like the sound of pulling off the goth look and can't wait to transform your nails, here's some inspiration for gothic nail looks and a few tips on how to achieve them.
It isn't just black nail polish ruling the goth nail trend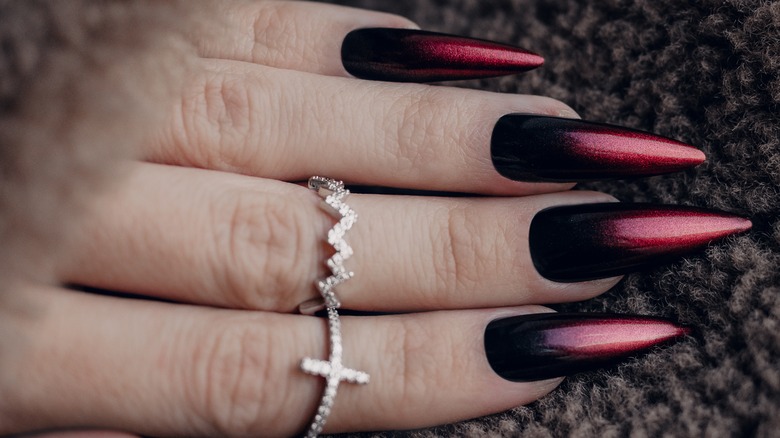 Dmitri Gromov/Shutterstock
Per PopSugar, though most goth nails are black, colors like midnight blue and rich burgundy have been popping up within the trend too. Ombre nails with a pearly white base or tips for a striking contrast have also been seen across TikTok and Instagram. The same goes for length. Whilst acrylics appear to be the most popular choice to allow for more elaborate designs, those with shorter nails can definitely still partake in the trend due to the variety of goth nail styles available.
The trend appears to have stemmed partially from the Y2K revival
According to Bustle, the cross designs that have been seen on a lot of goth-inspired nails originate from the Ed Hardy hype of the 2000s. The Y2K revival trend has definitely infiltrated the fashion game, so it makes sense that it would flow over to one of the hottest nail trends, too. However, the gothic look isn't just about black nails. Celebrity nail artist Brittney Boyce described the current goth nail trend as "glamour rock meets goth" due to the ornate designs that have been emerging from the trend.
Adding charms will elevate your look from gothic to gothic glam instantly
If you like to live life on the dramatic side — and who doesn't? — adding charms and other textural elements to your nails is a great way to make them utterly unique. Speaking to Nylon, nail artist Miya Adams confirmed that "a huge trend across the nail community is using 3D elements," with her personal preference being "large silver or gold metal charms." Though red hearts like the ones in the above picture may not seem very goth at first, bleeding hearts and red roses are quintessential gothic motifs and will contrast beautifully against dark nails.
A nude base can make a design pop more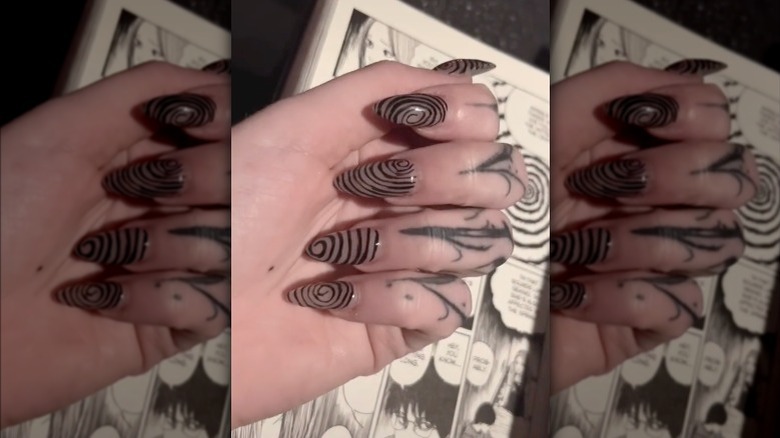 TikTok
Black doesn't have to be the base for every gothic nail design. A nude base can set the stage for patterns like the above, in which "The Nightmare Before Christmas" inspired black swirls stand out even more due to the neutral color beneath. The above design is also a good option for those who hate acrylics or want to stick to their natural nails, as patterns like swirls will work on both shorter and longer nails. Plus, the nude base will hide any imperfections from your natural nails.
Your nails can literally say how you feel
Just like clothes and jewelry can help to show your own personal style, nails are a way to get creative and will allow you to embrace your artsy side. Gothic nails are a statement in themselves, but they can also be a form of self-expression. A cool way to express yourself even more is via text-influenced designs (via Byrdie). Text nails can say anything you like — why not feature Roman numerals on your nails for an old-school gothic effect like in the above example?
A mystical blue shade can be just as enticing as black
Goth nails don't just have to be black. Per Oprah Daily, sometimes a midnight blue or deep navy shade can look just as gothic. Nails featuring a motif or a little sparkle are also a way to make a striking first impression. If nails aren't your forte and you want a look with gems or other added detail, it's probably best to go to the salon. Nevertheless, darker colors tend to look less patchy overall — starting out with a color like midnight blue or navy will tie into the goth trend but is still beginner-friendly.
A dark design on clear nails will make the design stand out more
According to Nylon, tribal goth nails are another borrowed trend from the '90s and 2000s. The print was spotted on everything from t-shirts to car decals and served as the inspiration for many, many tattoos. Though tribal designs look stunning and tie into the gothic trend without being too obviously goth, you should always research the design you like before getting your nails done to make sure it isn't offensive to native cultures.
Single color nails can look just as striking
Not a fan of ornate designs? Go for a glossy dark finish instead. According to nail artist Chyna Stevens, dark purple nails are especially popular during fall and winter (via Bustle). She recommends nail polishes like OPI's Lincoln Park After Dark, Good Girl Gone Plaid, or Black Cherry Chutney, all of which are deeply alluring dark purple shades. Best of all, the glossy look can easily be achieved with shorter nails, or opt for press-on nails like @dewydisposition for a quick and simple nail update.
For more detailed designs, you'll need to invest in some equipment
For intricate nail designs, celebrity nail artist Brittney Boyce revealed that most nail artists use a tool like this striper brush from Orly when undertaking difficult designs (per Bustle). A striper brush allows you or the nail artist to get even the smallest of details right and is best suited to more in-depth designs. A striper brush is also handy for half-half nail designs where precision is key to creating a stunning finishing look.
A corrector pen will help fix any pesky mistakes
In terms of other products, you might want to invest in a nail polish corrector pen like this one from Amazon for any mistakes that do happen, as Cosmopolitan suggests. A lot of gothic nail designs take time due to the detailed nature of the patterns, and you don't want your hard work to be ruined with one slip of the hand.
Finally, don't feel restricted to a particular style. The goth nail art trend is all about celebrating the beauty of darkness and experimenting with traditional gothic motifs, so don't be afraid to get creative.