Samantha Markle Isn't Holding Her Feelings Back About Doria Ragland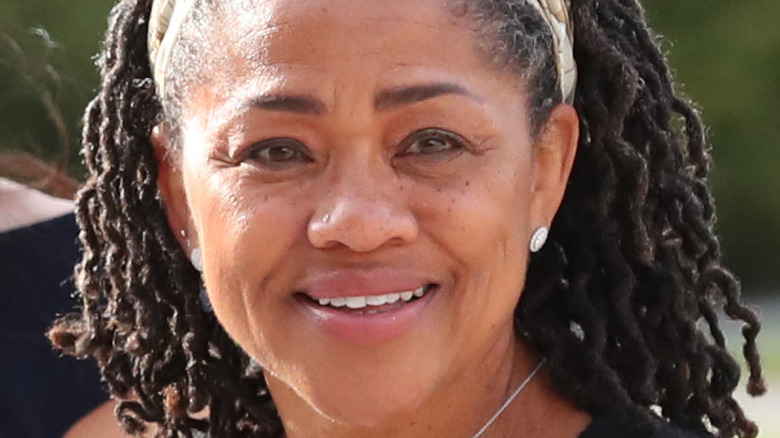 Wpa Pool/Getty Images
Harry, Duke of Sussex, and Meghan, Duchess of Sussex, surely knew they risked incurring the fury of both their families and the media when they decided to tell their story in front of millions of viewers. Now, the bombshells from the Sussexes' Netflix documentary have landed, and critics are responding with ammunition of their own. While King Charles and William, Prince of Wales, are choosing not to respond to the series, members of Meghan's family aren't shy about expressing their opinions. Samantha Markle has already made many disturbing allegations against Meghan in the past. Per Newsweek, Samantha has accused her half-sister of lying about details of her childhood to make her life sound more like a fairy tale than it actually was.
With the release of "Harry & Meghan," Samantha is once more going on the offensive to discredit the Sussexes. She recently appeared on the conservative network "GB News," along with her brother Thomas Markle, Jr., to share her reaction. Harry and Meghan's claims that they left royal life to escape the bullying of the media are "poppycock," Samantha declared, alleging that they'd been making TV deals long before "Megxit." She disputed the claim that the palace didn't permit Samantha's daughter Ashleigh, who shares a close relationship to Meghan, to attend the royal wedding because of her mother's unpleasant behavior. Samantha called this an outright lie, adding, "[It was] conniving and manipulative and evil to do that to a mother and daughter relationship." Ironically, Samantha also took a dig at Meghan's own mother.
Samantha Markle slammed Doria Ragland's professional credentials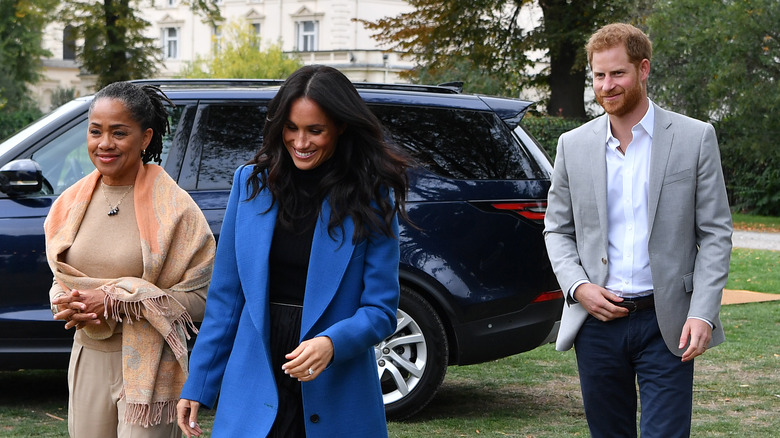 Wpa Pool/Getty Images
Normally preferring to steer clear of media interviews, Meghan Markle's mother, Doria Ragland, sat down for the "Harry & Meghan" Netflix series to share her own perspective. Ragland admitted regretting not preparing her daughter enough early on for the challenges she might face as a biracial woman. But one of Ragland's biggest fears about Meghan was knowing that her child was under such a mental strain that she was contemplating taking her own life. "That she would actually think of not wanting to be here, that ... that's not an easy one for a mum to hear," Ragland said as she wiped away tears (per Daily Mail). "And I can't protect her. [Harry] can't protect her."
The emotional moment may have moved some viewers, but Samantha Markle wasn't one of them. In her GB News interview, she called Ragland's professional credentials into question. "[What] I found so shocking was for Doria to suggest that she was broken-hearted because Meghan was depressed or suicidal," Samantha said. "Well, she's supposed to be a social worker. And if you've got someone you're with all the time — and the world said she was her advisor on all things — if you knew at one point that she was even indicating being depressed and you let it get to suicidal ideations, then you should cash your license in. Because that's poppycock, that's just not true."
If you or anyone you know is having suicidal thoughts, please call the National Suicide Prevention Lifeline​ by dialing 988 or by calling 1-800-273-TALK (8255)​.
Meghan says she has never been close with her half-sister, despite Samantha's claims
Samantha Markle has a long history of criticizing half-sister Meghan Markle and her family. In 2021, Samantha published a tell-all book, "The Diary of Princess Pushy's Sister Part 1," which shared details about growing up with Meghan and stepmother Doria Ragland. According to Express, Samantha frequently referred to Ragland as "the maid" and would often ignore her while others were around.
Contrary to Samantha's claims, Meghan says the two of them have never been close, even in their youth. In the Netflix series "Harry & Meghan," Meghan admits that she knows very little about her half-sister, like her middle name or birthday. "I hadn't had a fallout with her... We didn't have a closeness to be able to have that," she said, via Page Six. "And I wanted a sister!" Meghan explained that she hasn't had close contact with Samantha, who is 17 years older, for over a decade.
Meanwhile, Samantha continues to claim that she was once close with Meghan, although the Sussexes believe she may be lying to please the British media, who were looking for drama within Meghan's family, per CNN.