A Trending Lipstick Finish Could Make Matte Formulas A Thing Of The Past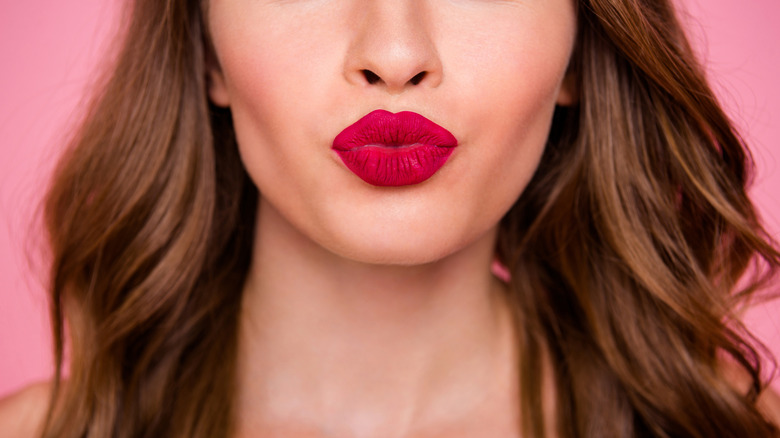 Deagreez/Getty Images
We may receive a commission on purchases made from links.
Matte lips have been all the rage in the last few years, from brands like Rare Beauty's matte lipsticks and lip creams to Kylie Jenner's latest lip looks. But in early 2022, NYX's high-shine lip gloss went viral on TikTok for its smudge resistance and long-lasting wear, and the look has remained popular ever since. You may have been in the know about the glazed lip trend — or if you were Hailey Bieber on Instagram, you went all the way to rocking glazed donut skin. Lip oils have also grabbed center stage on TikTok, and they've even been suggested as a non-sticky version of lip gloss. 
But in 2023, aka the year of the new live-action Barbie movie, we've got nothing against looking plastic and fantastic. When it comes to getting dolled up, we're going all in on our lips, especially since we haven't seen much of them since 2020. With our favorite new lip finish, we're combatting winter weather and gloomy skies with eye-grabbing colors with a mesmerizing shine, combining the best of a bold matte with the fun of a gloss.
Lip care is the first step
The Kardashians' skin-tight latex looks are perfect for showing off your body's curves, so it makes sense that a latex lip finish would leave your lips feeling full and sexy. Whether you're looking to showcase your pout on a night out or steal the show in a Zoom meeting, you can get creative in your interpretation of the latex look.
Of course, applying your lip products in the right order is crucial for achieving the look you want. First, proper lip care creates the right base for your smoothest latex-esque surface. For dry winter lips that may have started peeling, your best move is to use a gentle lip scrub to buff away dead cells. The best lip scrubs are derived from natural products and might include honey, coconut oil, or exfoliators like sugar. 
After buffing your lips smooth, you'll be ready for a lip mask or treatment to beat the cold weather, and the most effective products have helpful ingredients like Vitamin E, hyaluronic acid, and antioxidants. For an everyday lip balm, you might go with pistachio balm from Irene Forte, First Aid Beauty's ultra repair balm, with glycerine and shea butter, or Kosasport's powerful lip fuel formula from Sephora.
After your chosen combo of lip scrub, treatment, and balm, if you have a favorite lip liner, it should go before lipstick in order to preserve your look's saturation and precision.
There's more than one way to get the latex look
Now that your lips are ready, how do you get the iconic plastic pout of your favorite Bratz doll? A tried and true technique breaks the latex trend down to its basic tenants: bold color and lasting shine. One TikTok user suggests applying a lip stain, blotting it as much as you can, then applying a clear or tinted gloss on top.
Instagram tutorials achieve similar looks via different means. One tutorial uses a colored pencil lip liner to define the lips, then small brushes to apply a matte lipstick on the lips, followed by a loaded lip polish. Another tutorial simply used chapstick, followed by Too Faced's liquid lipstick.
Liquid lipstick vinyl from Byredo is also a simple one-step tool for applying color while achieving that bouncy latex shine. For a more traditional product with similar benefits, the brand also offers lipstick with extra shine factor. However, Too Faced's melted latex lipstick is the frontrunner for the product making the most waves with the trend on social media, and it's available on Amazon.
Multi-tone lip looks are still in, so if you're wanting to add artistic flare to this trend, you'll be covered with a glossy finish. Last but certainly not least, Rare Beauty's glossy lip balm is a 2-in-1 that can help you cop the latex look while keeping your lips plump and moisturized through drying winter winds.